The Apothecary Diaries anime's new key visual revealed- Check details here
Anime Corner
The Apothecary Diaries (Kusuriya no Hitorigoto) has received a new key visual starring the main characters of the show. The anime is set to premiere on the 21st of October, 2023 or on the 22nd at 1:05 a.m. Along with this, it has also been known that the show will be aired for two cours.
The upcoming anime is adapted from a novel series written by Natsu Hyuga. It was published by Shosetsuka ni Naro on the 27th of October 2011. The novel was later renewed for a light novel series and was published by Shufunotomo. It was released on the 29th of August 2014 and has 13 volumes so far.
A manga adaption published by Square Enix was revealed. It was serialized in their Monthly Big Gangan magazine. The manga was released on the 25th of May, 2017 and has 11 volumes in total.
Based on a romantic-drama theme, the show will be directed by Norihiro Naganuma at TOHO Animations Studios. Series composition will be done by Akinori Fudesaka and character design by Yukiko Nakatani. Satoru Kousaki is the music composer for the series. OLM will be producing the anime.
Aoi Yuuki will be voicing the main actress Maomao, while the male protagonist Jinshi will be voiced by Takeo Ootsuka.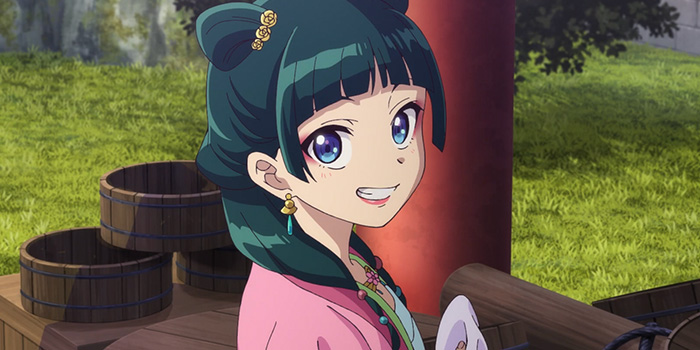 J-Novel Club has licensed the light novel series in the English language. The portal describes the plot of the series as
In the East is a land ruled by an emperor, whose consorts and serving women live in a sprawling complex known as the hougong, the rear palace. Maomao, an unassuming girl raised in an unassuming town by her apothecary father, never imagined the rear palace would have anything to do with her—until she was kidnapped and sold into service there. Though she looks ordinary, Maomao has a quick wit, a sharp mind, and an extensive knowledge of medicine.
That's her secret, until she encounters a resident of the palace at least as perceptive as she is: the head eunuch, Jinshi. He sees through Maomao's façade and makes her a lady-in-waiting to none other than the Emperor's favorite consort… so she can taste the lady's food for poison! At her lady's side, Maomao starts to learn about everything that goes on in the rear palace—not all of it seemly. Can she ever lead a quiet life, or will her powers of deduction and insatiable curiosity bring her ever more adventures, and ever more dangers?