YR Media's Adult ISH Podcast Launches a New Season Offering Listeners a Guide to Young Adult Life
The award-winning podcast, part of Radiotopia from PRX, marks its 10th season of dismantling stigmas and processing the hard stuff with input from a growing community of teens and other 20-something BIPOC folx
YR Media's Adult ISH Podcast Launches a New Season Offering Listeners a Guide to Young Adult Life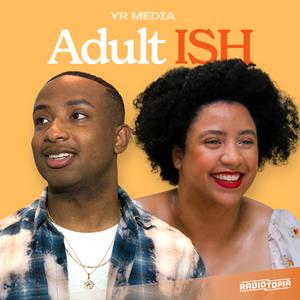 Oakland, CA, Oct. 06, 2023 (GLOBE NEWSWIRE) — Adult ISH, the award-winning advice, culture and storytelling podcast from YR Media, has grown up a lot since launching in 2018 after a national search for hosts who were willing to share their adventures into early adulthood. Now, for Season 10 of the show, Nyge Turner and Dominique "Dom" French will explore new sensitive subjects and demystify taboo topics with genuine curiosity and hope.
They keep the conversations real, lively, and fun in an effort to help dismantle stigmas and process the hard stuff in community with other BIPOC teens and 20-something folx. New episodes of Adult ISH will drop every Thursday, starting October 12, 2023, through December 14, 2023, and will be available for free across all major podcast platforms.
Through nine seasons, Adult ISH hosts have shared personal stories about topics that resonate deeply with listeners, including mental health, identity, relationships and body image. Over the years, the Adult ISH audience has also received sage advice, and gone deep with several influencers and actors including Marcus Scribner of ABC sitcom Black-ish and Free Form's Grown-ish fame; comedian Joel Kim Booster (Fire Island); sexologist Shan Boodram; YouTube content creator Liza Koshy; and best-selling author Mary H.K. Choi (Emergency Contact). Turner and French have also featured new-to-podcasting teen and 20-something co-hosts and up-and-coming stars from YR Media.
As one listener describes Adult ISH: "This show has helped me through times of struggle and self doubt. Y'all are such great people."  Adult ISH, which has been downloaded more than one million times, kicked off in 2018 with episodes about love, dating apps, and ghosting. This 10th Season will delve into new topics including:
Myth of Black Athleticism: Challenging the assumption that Black people are inherently superior athletes, Turner and French shine a light on a harmful stereotype and question the racist tropes mirroring slavers' descriptions of human beings as physical specimens that are rife across sports recruiting.
Art of Conversation: How to keep someone's attention when making small talk. How to keep a conversation going. How to have a challenging discussion and go deep. 
Spotlight on MMIWG2S: Focusing on the crisis of Missing and Murdered Indigenous Women, Girls, and Two-Spirit people, the hosts explore a major issue in the American Indian Alaska Native community, where women make up the nation's highest percentages of people who are murdered, reported missing, or trafficked.
"Our 10th season is a huge milestone. I can't believe all that's happened over the seasons," said Turner. "When we started the show, our goal was to bring tangible advice to our peers trying to navigate the ups and downs of young adulthood, and build a community along the way. Fast forward from 2018 to today and we've pulled back the layers on so many topics that felt taboo to us, driven by our curiosity, passions and life experiences. I'm so grateful for all the people who have been on the journey with us, and for their stories, time and willingness to share."
"I'm so proud of the work we've done on Adult ISH," said French. "Season 10 is not only a time of great celebration, it's a moment to dig deeper and present our listeners with conversations that are more challenging, hilarious and meaningful than ever before."
"As we launch into the remarkable and much anticipated 10th Season of Adult ISH, I am thrilled by the journey of growth and discovery that our hosts have embarked on, as well as how they have incorporated creative approaches including a fictional podcast featuring YR Media's students in our Media Education program," said YR Media CEO Kyra Kyles. "This milestone lines up perfectly with YR Media's 30 years of impact. As we work to continue to expand opportunities for young BIPOC creators, I am excited to see Adult ISH continue to add insight through powerful, provocative conversations."
Adult ISH is available across all major podcast platforms, including Apple Podcasts, Stitcher, Spotify, TuneIn, Overcast, Pocket Casts, and Amazon Music. 
Learn more about the podcast here and follow along on social media:
About Adult ISH
Adult ISH was created in 2018 by Peabody Award-winning YR Media, and has been downloaded more than one million times. Named by CNN and Discover Pods as an unmissable podcast raising marginalized voices, Adult ISH has been deemed essential listening by The New York Times, AV Club, Harper's Bazaar, and Romper. In 2023, Adult ISH won a silver Listener's Choice Signal Award in the Best Bedtime Podcast Individual Episode category. The show has been recognized in prior years by the Ambie Awards and the Public Media Journalists Association. Colorlines stated, "It helps to hear others, who speak the same awkward language, open up about friendship, immigration, therapy, birth control, and more. That's where Adult ISH comes in." 
About YR Media
YR Media is an award-winning leading media, technology, and music training center and platform for emerging BIPOC content creators, who use their voices to change the world. Headquartered in downtown Oakland, California, with a Midwest hub in Chicago, Illinois, the nonprofit has invested 30 years in helping future generations build foundational skills in journalism and multimedia content creation. They produce journalism, music, graphic design, podcasts, and documentaries that disrupt and shape the mainstream narrative. For more information on YR Media, visit yrmedia.org.
About Radiotopia from PRX
Created in 2014, Radiotopia from PRX is the first network of its kind. As a network of independent podcasts, Radiotopia empowers audio creators with the artistic freedom to thrive on their own terms and to bring audiences inspired, high-quality, and well-crafted soundscapes. Programming from across Radiotopia has received recognition from the Peabody Awards, the duPont-Columbia Awards, the Tribeca Festival, and the Pulitzer Prizes. Radiotopia has also been named one of the most innovative companies in media by "Fast Company" and was named network of the year in the inaugural "Adweek" Podcast of The Year Awards.
Immerse yourself in stories and conversations of all kinds — intellectual and emotional, real and imagined, entertaining and thought-provoking. Be part of a community that values bold authenticity and boundless creativity. Discover award-winning audio with vision at Radiotopia.fm.
Attachment
CONTACT: Jazmyn Burton YR Media 510-251-1101 [email protected] 

Disclaimer: The above press release comes to you under an arrangement with GlobeNewswire. AfternoonHeadlines.com takes no editorial responsibility for the same.