XPENG Presents X9 Ultra Smart Large Seven-seater MPV at Auto Guangzhou 2023
XPENG X9 MPV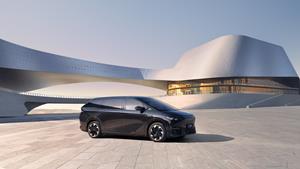 He Xiaopeng, Chairman and CEO, XPENG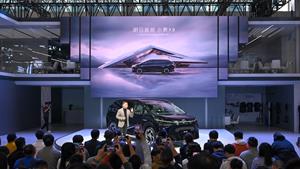 XPENG X9 MPV interior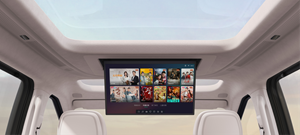 XPENG X9 MPV interior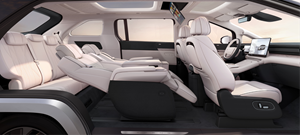 XPENG X9 MPV interior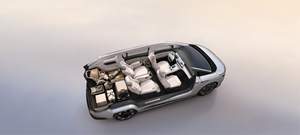 XPENG X9 MPV interior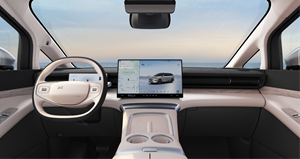 XPENG X9 MPV Tomorrow's Starship
All-new flagship model built on XPENG's SEPA2.0 architecture
Ushers in the next generation of large 7-seater electric vehicles with most advanced smart technologies and product competitiveness
Boasts a starship-inspired body design and a superb in-cabin comfort with luxurious interior space and industry-leading smart capabilities
Presale pricing starts from RMB 388,000 with initial deliveries in January 2024
GUANGZHOU, China, Nov. 17, 2023 (GLOBE NEWSWIRE) — XPENG Motors (NYSE: XPEV and HKEX: 9868), a leading Chinese smart electric vehicle ("Smart EV") company, today presented its latest Smart EV model, the XPENG X9 Large 7-seater MPV, for the Chinese market at Auto Guangzhou 2023, with presale pricing starting from RMB 388,000.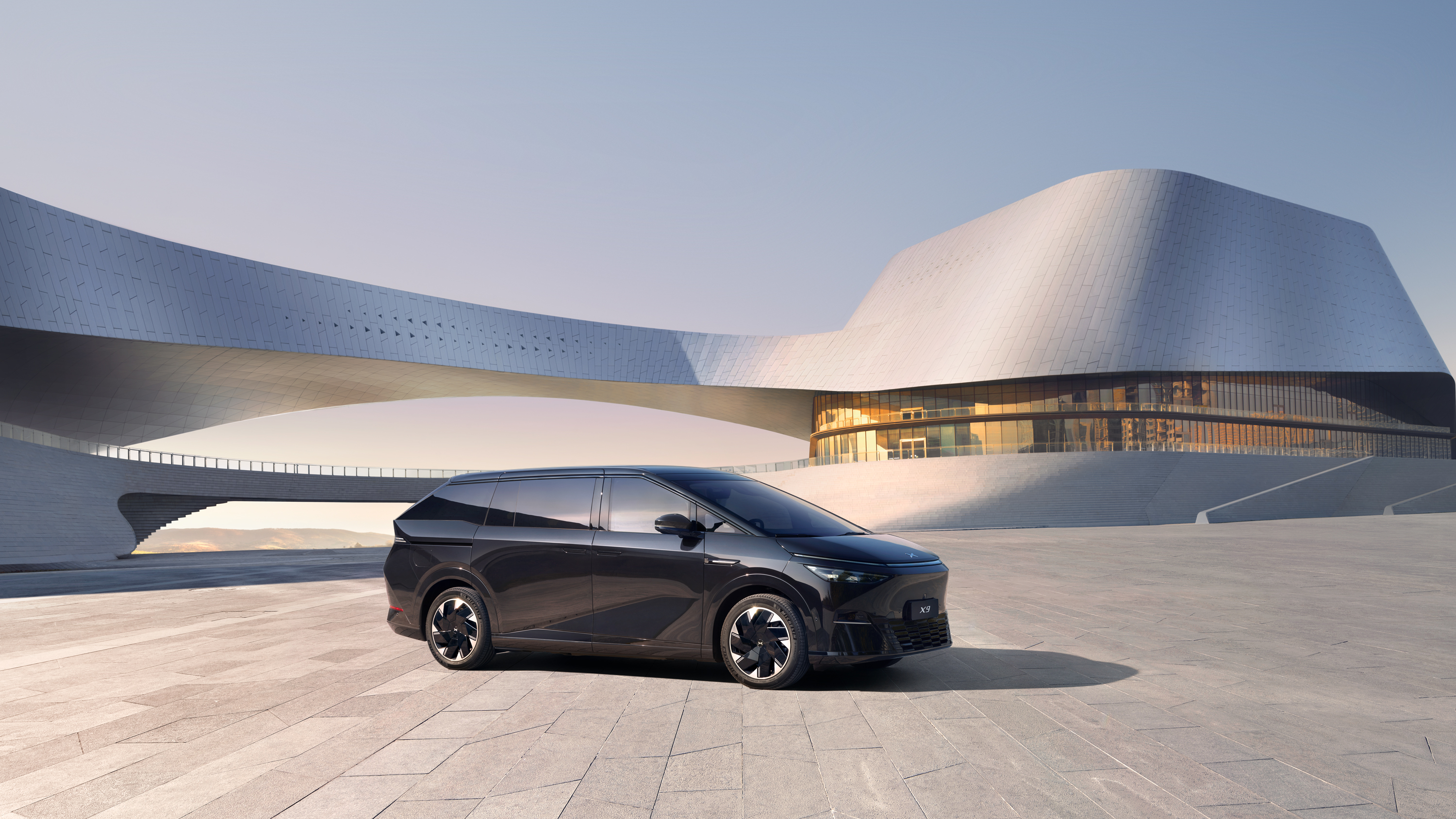 As a brand-new production model based on SEPA2.0, the X9 is set to take the helm as XPENG's flagship offering under this next-generation smart electric platform architecture. Underpinned by full-stack in-house developed smart technologies, including our XNGP, the X9 is poised to be a breakthrough in the MPV segment with groundbreaking design and product performance. With the market launch of X9, XPENG's Smart EV offerings will extend across mainstream sedan, SUV and MPV segments, adding up to a full lineup for the RMB150,000 to RMB400,000 price range.
The core essence of the X9 lies in end-to-end innovation, encompassing product design to smart driving technology, ushering in the next generation of smart electric large 7-seater models while broadening the selection of EV products for consumers. In terms of body design, XPENG X9 strikes a balance between tech-savvy aesthetics and functionality to create an exceptional user experience. The newly minted flagship model features the class-leading three-row seater design with the most spacious third row in MPV segments. Beyond the spacious seating layout, X9's third-row versatility provides immense cargo space to meet users' personalized and diversified needs. With the active rear-wheel steering and China's only car model equipped with intelligent double-chamber air suspension as standard, the X9 offers driving and control performance that is unmatched in its class.
"The X9 exemplifies our dedication to innovation as we strive to make XPENG's industry-leading smart EV technology and state-of-the-art design craftsmanship appealing to a wider range of progressively individualized consumer needs," said Mr. He Xiaopeng, Chairman and CEO of XPENG. "In the face of an increasingly competitive NEV market, we are unwavering in our commitment to delivering next-generation, Smart EV experiences through our full-stack in-house technology development, smart manufacturing and comprehensive sales and service network."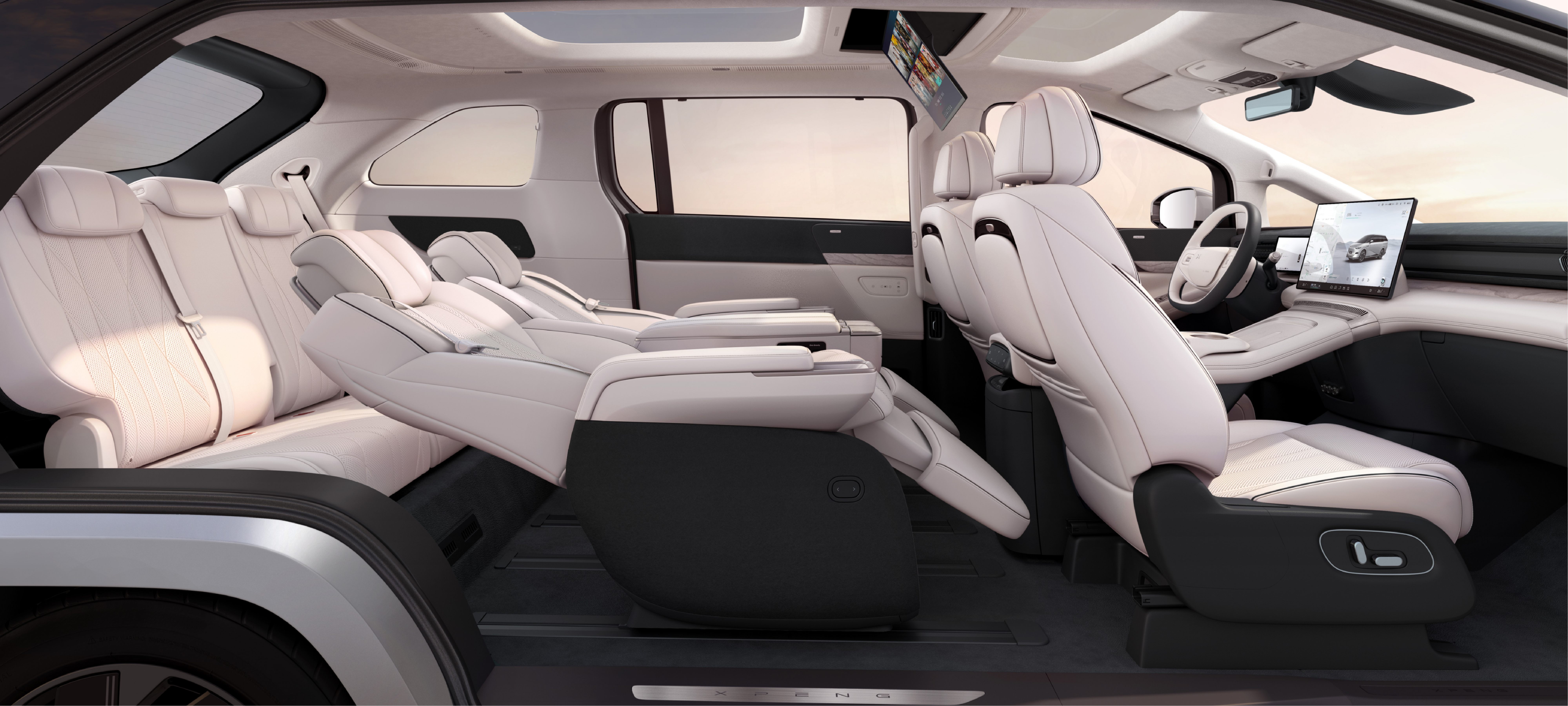 Starship-inspired design and smart mobility experience
Distinct from the typical MPV's box-like body design, the X9's aesthetic is inspired by futuristic technology, infused with warm user care and amusement, featuring the best body ratio and posture of the next-gen MPV, embracing the future. Well-sharpened and elegant body lines combined with 17 optimized anti-drag features, result in an ultra-low 0.227Cd drag coefficient. The groundbreaking 21° A-pillar incline angle along with a 23° inclining rear windshield showcases the X9's design inspiration of tomorrow's starship, while delivering excellent range performance and energy efficiency.
On top of the typical luxury and comfort that traditional MPV models can provide, XPENG X9 brings more tech-savvy elements, delivering a cozier smart cockpit tailored to family-sharing scenarios. In addition to a central panel, the X9 is equipped with a 21.4″ entertainment screen, the largest in its class, perfectly supporting the infotainment needs for shared family experiences.
Class-leading interior space and comfort
X9 provides a host of class-leading features to ensure the largest interior space in its class. These features include a 180mm-wide central aisle in the cabin allowing adults to move around freely between the second row and third row, 1100mm-long electric slide rails for moving the second-row seats, and class-leading cabin height at 1315mm – all of which enable easy access to all seats, especially get in and out of the third row without much bending. Notably, the X9 features a hidden cargo space, offering a max storage capacity of 2,554L taking into account the luggage space for everyone on board.
Equipped with zero-gravity reclining sofas and one-of-its-kind adjustable power headrest and backrest, X9's seats provide better comfort tailored to typical Chinese body shape. X9's class-leading cockpit also boasts a ventilation system called X Free Breath and the world's first wrap-around central AC with quiet and gentle breeze, as well as a smart built-in fridge that can be adjusted from 0-50℃.
Superior safety features and handling performance
The X9 is the world's only mass-produced MPV featuring a front- and rear-integrated die-casting aluminum body structure, ensuring higher body strength and safety standards.
With the world's first active rear-wheel steering system as standard, the X9 can achieve a turning diameter of 10.8m, the smallest in its class, making this large car model as flexible and light as driving a small car. Equipped with intelligent double-chamber air suspension, the X9 enables drivers to adjust car height through adjustable gears with a maximum adjustment range of up to 90mm, thereby improving drive range, passability and handling performance. It also enables automated height adjustments responsive to driving speed, adapting to different road conditions and ensuring driving stability.
About XPENG
XPENG is a leading Chinese Smart EV company that designs, develops, manufactures, and markets Smart EVs that appeal to the large and growing base of technology-savvy middle-class consumers. Its mission is to drive Smart EV transformation with technology, shaping the mobility experience of the future. In order to optimize its customers' mobility experience, XPENG develops in-house its full-stack advanced driver-assistance system technology and in-car intelligent operating system, as well as core vehicle systems including the powertrain and the electrical/electronic architecture. XPENG is headquartered in Guangzhou, China, with main offices in Beijing, Shanghai, Silicon Valley, San Diego and Amsterdam. The Company's Smart EVs are mainly manufactured at its plants in Zhaoqing and Guangzhou, Guangdong province. For more information, please visit https://heyXPENG.com.
For Media Enquiries
PR Department
XPeng Inc.
E-mail: [email protected]
Photos accompanying this announcement are available at
https://www.globenewswire.com/NewsRoom/AttachmentNg/c89935b3-c9f1-48ed-adda-0665cb8ce32f
https://www.globenewswire.com/NewsRoom/AttachmentNg/6f1325b5-e870-46fc-94ca-703130d141cc
https://www.globenewswire.com/NewsRoom/AttachmentNg/66727782-b63e-4704-9f3f-cc597f0fab9e
https://www.globenewswire.com/NewsRoom/AttachmentNg/f552c290-6fa1-4c90-90c0-eac634079812
https://www.globenewswire.com/NewsRoom/AttachmentNg/030ed407-90a4-4459-a499-75f25c4ca0fe
https://www.globenewswire.com/NewsRoom/AttachmentNg/db2d5e0e-55b5-4f52-adc8-0358421ae18b
A video accompanying this announcement is available at https://www.globenewswire.com/NewsRoom/AttachmentNg/619a9101-7e99-4937-8bf5-1bc9e1463b74

Disclaimer: The above press release comes to you under an arrangement with GlobeNewswire. AfternoonHeadlines.com takes no editorial responsibility for the same.