Wound Care Market revenue to cross USD 58 Billion by 2035, says Research Nester
Key wound care market players include Arch Therapeutics, Inc., Convatec Group PLC, 3M Healthcare, ConvaTec Group Plc, Coloplast A/S, Cardinal Health, B. Braun Melsungen AG, Acelity L.P. Inc., Integra Lifesciences Holdings Corporation, and Medtronic plc.
New York, Aug. 01, 2023 (GLOBE NEWSWIRE) — The global wound care market size is slated to expand at ~8.4% CAGR between 2023 and 2035. The market is poised to garner a revenue of USD 58 billion by the end of 2035, up from a revenue of ~USD 22 billion in the year 2022. The rising demand for wound care products is being driven by the increasing prevalence of chronic conditions such as diabetes and other diseases, as well as the rising awareness of the importance of wound care. The World Health Organization reports that there are around 422 million diabetics in the world. In general, 6.3% of diabetic patients around the world suffer from foot ulcers.
Request Free Sample Copy of this Report @ https://www.researchnester.com/sample-request-4823
Foot ulcers can be difficult to heal due to their location on the feet, which are constantly in contact with the ground and put pressure on the ulcer. This pressure can cause the wound to stay open and make it difficult for the body to heal itself. As a result, wound care treatments, such as dressing changes, antibiotics, and specialized wound care products, are necessary to ensure proper healing of the ulcer.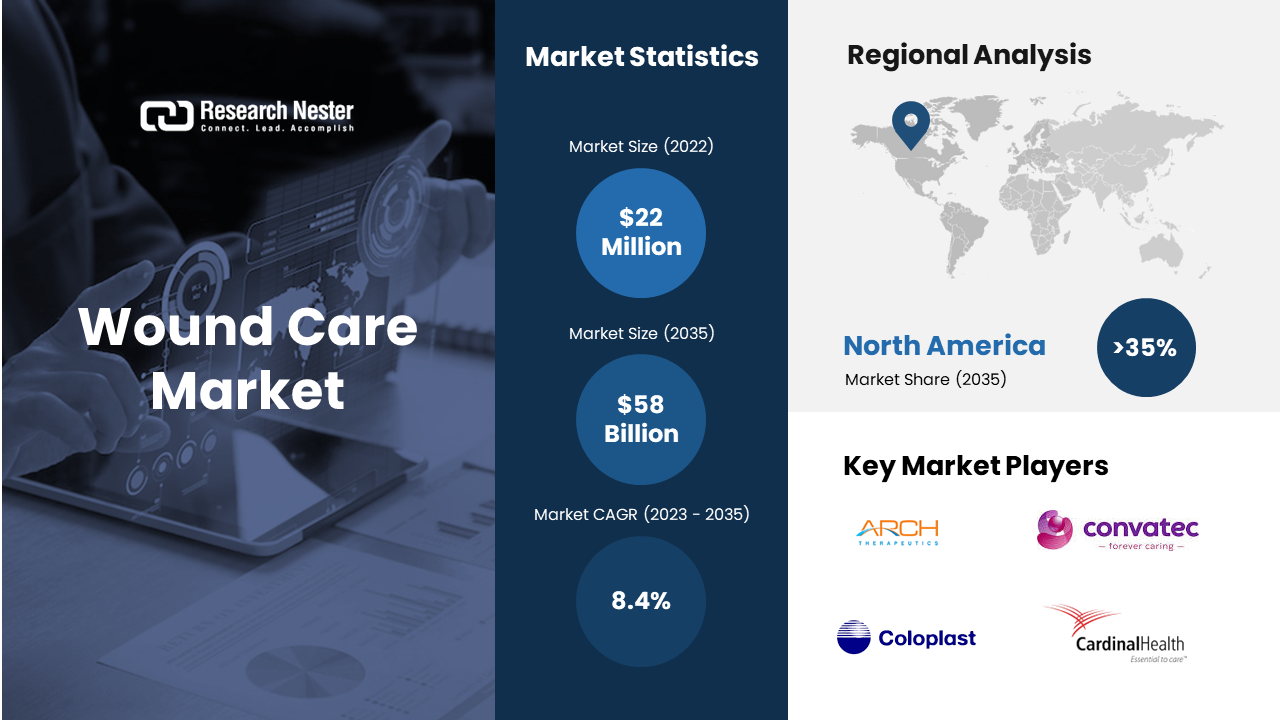 Global Wound Care Market: Key Takeaways
Market in North America to propel the highest growth
The Chronic Wound segment to garner the highest growth
Market in Asia Pacific to grow at a highest rate
Upsurge In The Number Of Burn Cases And Injuries To Boost Market Growth
Burn injuries often require specialized care, and this is driving the demand for wound care products. This includes products such as bandages, dressings, and ointments that help to protect the wound and promote healing. Every year, approximately 180,000 people die from burn injuries around the world. Each year, approximately 486,000 burn injuries in the United States require medical attention, and 40,000 of these require hospitalization. The resulting rise in burn cases is putting a strain on the healthcare system, making it difficult to provide timely and effective treatment for burn victims. As a result, the demand for specialized wound care products has increased significantly.
Wound Care Market: Regional Overview
The global wound care market is segmented into five major regions including North America, Europe, Asia Pacific, Latin America, and the Middle East and Africa region. 
Increased Accessibility to Medical Resources to Drive the Growth in the North America Region
North America is predicted to garner the highest revenue from wound care by 2035. Increased accessibility to medical resources in the region has led to a greater number of people being able to access surgical procedures. There are approximately 40 to 50 million major surgeries performed each year in the United States. A rise in medical technological advancements has led to more and more complicated surgical procedures, increasing the need for post-operative wound care, personnel, and resources in the medical field. Additionally, the availability of funds for healthcare research, the emergence of new technologies such as electromagnetic therapy (EMT), laser therapy, and systemic oxygen therapy, and the increasing number of medical tourism options are expected to support the growth of the industry in this region.
Request Free Sample Copy of this Report @ https://www.researchnester.com/sample-request-4823
Elderly Population Suffering from Chronic Diseases to Fuel the Growth in The Asia Pacific Region
The Asia Pacific wound care market is estimated to garner the largest revenue by the end of 2035. As the elderly population is more prone to wounds, injuries, and illnesses, the need for advanced wound care products and services has increased significantly. In India, 20% of people over the age of 65 have one or more chronic diseases. Around 18% of elderly rural residents and 28% of elderly urban residents suffer from chronic disease. Hypertension and diabetes account for 69% of chronic diseases among the elderly.
Moreover, the increasing awareness among people regarding the availability of advanced wound care products and services is fuelling the growth of the market. Additionally, advancements in technologies and the introduction of new products in the region such as wound dressings, wound closure products, and foam dressings are also contributing to the growth of wound care market.  
Wound Care, Segmentation by Functions
Hospitals
Specialty Clinics
Home Healthcare
The hospital's segment in the wound care market is anticipated to hold the largest revenue by the end of 2035. People with chronic conditions such as diabetes are more likely to experience wounds that require advanced wound care. In addition, advances in medical technology have made it possible to provide more comprehensive treatments such as growth factor therapy and negative pressure wound therapy (NPWT), which are only available in hospitals. Therefore, more people are seeking out hospitals for advanced wound care. US research found that abrasions/contusions were the number one reason for hospitalization, followed by lacerations (21%), and cuts (18%). Additionally, hospitals are better equipped to handle larger wounds, and healthcare professionals can provide specialized care, ensuring that patients receive the highest level of care and maximize their chances of a successful recovery.
Purchase Copy of this Report @ https://www.researchnester.com/purchage/purchase_product.php?token=4823
Wound Care, Segmentation by Applications
Chronic Wounds
Acute Wounds
Chronic wounds are expected to hold 60% of the market share by 2035. Chronic wounds can be extremely debilitating, causing people not only physical pain but also emotional distress. These wounds can negatively affect a person's well-being and ability to function daily. As such, specialized treatments such as vacuum-assisted closure (VAC) therapy and wound care products are needed to effectively treat these wounds.
A growing number of chronic wounds like diabetes pressure ulcers, and other diseases have also contributed to the growth of the segment. Globally, the incidence of diabetic foot ulcers ranges from 9 to 27 million per year. Wound care products assist to reduce healing time by providing a moist environment that promotes healing, and by providing a barrier to protect the wound from further irritation or infection.
A few of the well-known market leaders in the global wound care market that are profiled by Research Nester are Arch Therapeutics, Inc., Convatec Group PLC, 3M Healthcare, ConvaTec Group Plc, Coloplast A/S, Cardinal Health, B. Braun Melsungen AG, Acelity L.P. Inc., Integra Lifesciences Holdings Corporation, Medtronic plc, and other key market players.
Recent Development in the Market
April 25, 2023: First shipment of the AC5 Advanced Wound System has been announced by Arch Therapeutics, Inc. AC5 is designed to improve the healing process for patients by providing more consistent delivery of wound care materials, as well as better control over the wound environment to ensure optimal healing.
January 28, 2022: An agreement has been reached between Convatec Group PLC and Triad Life Sciences Inc. TLS develops novel bio-based products, including those for chronic wounds, burns, and surgical procedures.
About Research Nester
Research Nester is a one-stop service provider with a client base in more than 50 countries, leading in strategic market research and consulting with an unbiased and unparalleled approach towards helping global industrial players, conglomerates and executives for their future investment while avoiding forthcoming uncertainties. With an out-of-the-box mindset to produce statistical and analytical market research reports, we provide strategic consulting so that our clients can make wise business decisions with clarity while strategizing and planning for their forthcoming needs and succeed in achieving their future endeavors. We believe every business can expand to its new horizon, provided a right guidance at a right time is available through strategic minds.
CONTACT: AJ Daniel Corporate Sales, USA Research Nester Email: [email protected] USA Phone: +1 646 586 9123 Europe Phone: +44 203 608 5919

Disclaimer: The above press release comes to you under an arrangement with GlobeNewswire. AfternoonHeadlines.com takes no editorial responsibility for the same.