WorldSkills Team Canada 2024 Assemble to Begin Preparations for WorldSkills Lyon 2024
WorldSkills Team Canada 2024 competitors and team leads gather at Centre de formation horticole de Laval.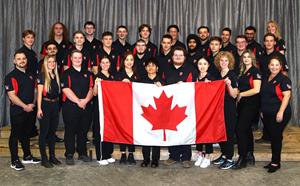 MONTREAL, Oct. 23, 2023 (GLOBE NEWSWIRE) — Last Friday, Skills/Compétences Canada (SCC) hosted a reception at the Centre de formation horticole de Laval, in QC, to introduce the 29 members of WorldSkills Team Canada 2024. They will be competing in 27 Skill Areas, at the 47th WorldSkills Competition, in Lyon, France, in September 2024. The members of WorldSkills Team Canada 2024 represent Canada's best in skilled trades and technologies. While in Montréal, they will also be participating in several activities over the next two days, as part of their training to prepare for WorldSkills Lyon 2024.
"We are very proud of each competitor for qualifying to compete at this prestigious event and will look forward to seeing them excel at the WorldSkills Competition, to earn a place on the podium. These skilled trade and technology champions represent our country's skilled future workforce and will help grow our global economy," said Shaun Thorson, Chief Executive Officer, Skills/Compétences Canada.
During this reception, the WorldSkills Team Canada 2024 competitors along with their experts and trainers were in attendance. The participants had the opportunity to hear their stories and be inspired by their skills journey as they prepare to compete at the world's largest skilled trade and technology competition. In addition, several special guests attended the reception to offer their support to WorldSkills Team Canada 2024 as they embark on this impactful journey. This included guest speakers Dominique Bousquet, Member of Skills/Compétences Canada's National Board of Directors, Shaun Thorson, Chief Executive Officer of Skills/Compétences Canada, Élisabeth Simoneau and Mattéo Bérubé, WorldSkills Team Canada 2022 competitors in Landscape Gardening, and Jean-Pierre Archambault, Assistant General Manager, Centre de services scolaire de Laval. Several Skills/Compétences Canada Member Organizations also attended this event to encourage the competitors for this upcoming international competition.
"At Centre de services scolaire de Laval (CSS), we are aware of all the input and excellence provided by vocational training in terms of quality of labour. It's always a source of great pride to see our students achieving their full potential in a trade they love and becoming experts in their field. The competitors of Team Canada heading to WorldSkills Lyon 2024 embody that excellence, and are ready to blossom on the world stage. These students represent our commitment towards skilled workforce readiness, thereby contributing to the growth of the regional or even global economy. We are proud to support them through this amazing experience. Congratulations to all the Canadian competitors," said Yves-Michel Volcy, Chief Executive Officer of Centre de services scolaire de Laval.
According to Statistics Canada's latest estimate, about 700,000 skilled trade workers are expected to retire between 2019 and 2028, creating an ever-growing need to recruit and train thousands more.
To learn more about WorldSkills Lyon 2024 and to read the competitor and expert biographies, follow this LINK.
About Skills/Compétences Canada
Skills Canada was founded in 1989 as a national, not-for-profit organization with Member Organizations in each of the provinces/territories that work with employers, educators, labour groups and governments to promote skilled trade and technology careers among Canadian youth. Its unique position among private and public sector partners enables it to work toward securing Canada's future skilled labour needs while helping young people discover rewarding careers. Skills Canada offers experiential learning opportunities including skilled trade and technology competitions for hundreds of thousands of young Canadians through regional, provincial/territorial, national and international events, as well as skilled trade awareness programs. Headquartered in Ottawa, Ontario, Skills/Compétences Canada is the Canadian Member organization of WorldSkills. For more information, visit www.skillscompetencescanada.com or call 877-754-5226.
Follow Skills/Compétences Canada on Twitter, Facebook, YouTube, Flickr and Instagram. #WSTC2024
Media Contact: Michèle Rogerson, 613-266-4771, [email protected].
A photo accompanying this announcement is available at https://www.globenewswire.com/NewsRoom/AttachmentNg/7cb6a740-4706-4ccd-9347-ff2959f38295

Disclaimer: The above press release comes to you under an arrangement with GlobeNewswire. AfternoonHeadlines.com takes no editorial responsibility for the same.