Wood Plastic Composites Market revenue to surpass USD 20 Billion by 2035, says Research Nester
Key wood plastic composites market players include Terex Company, Inc., Advanced Environmental Recycling Technologies (AERT), UPM Biocomposites, Fiberon, Azek Company, Inc., Certain Teed Gypsum, Inc., Green Plank AB, Beologic, Tamko Building Products LLC, and Axion Structural Innovations LLC.
New York, Nov. 13, 2023 (GLOBE NEWSWIRE) — The global wood plastic composites market size is slated to expand at 13% CAGR between 2023 and 2035. The market is poised to garner a revenue of USD 20 billion by the end of 2035, up from a revenue of USD 7 billion in the year 2022. Rising need to save the environment is the major factor that is driving the market growth. Many wood products, such as fuelwood and timber, are significant factors contributing to forest degradation, which is frequently the forerunner to deforestation. Others, such as pulp and paper, may be derived from deforestation in Southeast Asia or plantation forests worldwide.
Request Free Sample Copy of this Report @ https://www.researchnester.com/sample-request-5159
According to the experts, fewer natural forests must be chopped in order to supply the growing worldwide demand for wood products. This demand might be satisfied in part by boosting wood production in existing planted forests. Every year, around 15 billion trees are lost to deforestation. The need for fabricated wood has become increasingly important since this need for wood might increase the rate of tree cutting and deforestation.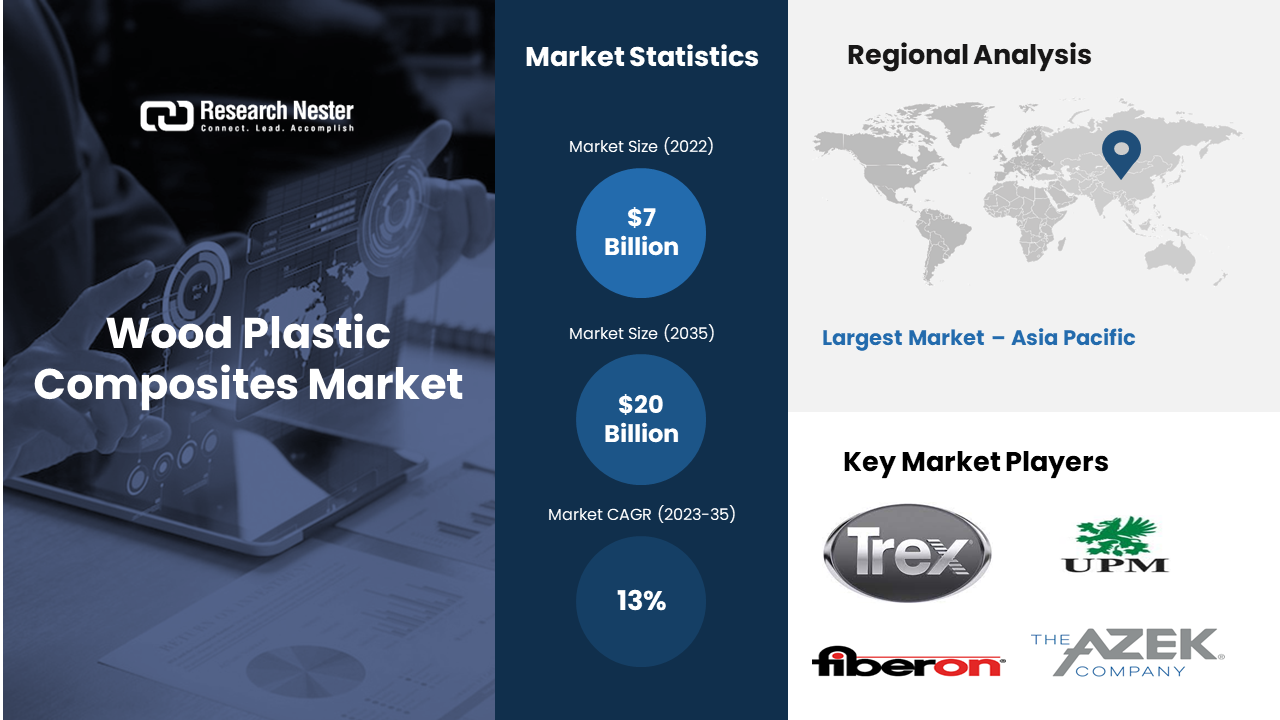 Wood Plastic Composites Market: Key Takeaways
Market in the Asia Pacific region to propel the highest growth
The Automotive Components segment to garner the highest growth
Market in North America region to grow at a highest rate
Rising Carbon Emissions Associated with Wood Product is to Boost the Growth of the Wood Plastic Composites Market
Global wood consumption might increase by 54% between 2010 and 2050, culminating in a counterpart" in the area nearly the size of the continental United States, emitting 3.5 to 4.2 gigatonnes of carbon dioxide to the atmosphere annually for years to come. According to a new study published in Nature by World Resources Institute scientists, timber collections required to satisfy the world's increasing demand for wood goods are expected to account for more than 10% of total global carbon emissions in the next decades. This surge in emissions is almost more than three times the number of aircraft that occurs at a critical juncture in the climate crisis, when carbon emissions must fall quickly to slow increasing record temperatures and avert severe climate disasters.
Wood Plastic Composites Industry: Regional Overview
The global wood plastic composites market is segmented into five major regions including North America, Europe, Asia Pacific, Latin America, and the Middle East and Africa region.
 Rising Focus on the Sustainability of the Building is to Boost the Growth of the Market in the Asia Pacific Region
As sustainability becomes a more important consideration in lease criteria, up to one-third of corporate real estate leaders in Asia Pacific plan to abandon carbon-inefficient buildings by 2025. In addition to this, in China, for example, the government published a new policy in April requiring data on energy consumption, renewable energy usage, and carbon footprint to be included in new construction feasibility assessments, plans for the building, and preliminary design papers. The Asia Pacific region is experiencing an economic boost and rapid urbanization that is leading to the development of more buildings and demand for construction materials, However, in light of the increasing focus on sustainability, the need for sustainable construction materials, such as wood composites is expected to rise.
Growing House Renovation and Decoration is to Elevate Market Growth in North America
According to a recent study, around 55% of Americans made significant adjustments to their home decor in 2020, and nearly 71% aim to take the project to the next level in the new year, after spending more time at home than ever in 2020. Wood plastic composites provide an option for a wide range of designs and can exactly look like the appearance of natural woods, which makes an attractive choice for businesses and homeowners. Furthermore, the growing weight of plastic waste in the region is also expected to drive the demand for wood plastic in North America.
Make an Inquiry Before Buying this Report @ https://www.researchnester.com/inquiries-before-buying-5159
Wood Plastic Composites Segmentation by Product Type
Polyethylene
Polypropylene
Polyvinylchloride
On the basis of product type, the wood plastic composites market polyvinylchloride segment is expected to gain the highest market revenue over the forecasted period. Polyvinyl chloride (PVC, or vinyl) is a versatile and cost-effective material that is used in a wide range of products in the fields of building and construction, medical, technology, automobile, and other industries. The rising construction in the world and growing demand for consumer electronics are expected to drive the segment's growth. It is anticipated that around 2 billion new buildings will be established by 2050, for an overall number of 2.6 billion buildings worldwide. Furthermore, according to the 2022 Buildings-GSR, despite a significant increase in investment and widespread achievement in lowering the energy intensity of buildings, the building industry's aggregate energy consumption and CO2 emissions grew in 2021 exceeding pre-pandemic levels.
Wood Plastic Composites Segmentation by Application
Building & Construction
Automotive Components
Industrial & Consumer Goods
On the basis of application, the wood plastic composites market will find its maximum application in the production of automotive components. China is the world's largest passenger car manufacturer, producing more than 21 million vehicles in 2021 and contributing to about one-third of global passenger vehicle production. Moreover, around 85 million automobiles will be produced worldwide by 2022. This figure represents a six percent rise over the previous year. Wood plastic composites are used for the production of automobile components that are lighter in weight and boost the overall fuel efficiency of the vehicles. Moreover, it can also provide better insulation in the interiors of automobiles, and also reduce noise, and enhances the comfort of the passenger.
 few of the well-known market leaders in the global wood plastic composites market that are profiled by Research Nester are Terex Company, Inc., Advanced Environmental Recycling Technologies (AERT), UPM Biocomposites, Fiberon, Azek Company, Inc., Certain Teed Gypsum, Inc., Green Plank AB, Beologic, Tamko Building Products LLC, and Axion Structural Innovations LLC.
Request for Customization of this Report @ https://www.researchnester.com/customized-reports-5159
Recent Developments in the Wood Plastic Composites Market
Terex Company, Inc. is one of the leading providers of decking and railing made up of alternatives of wood. The company manufactures outdoor living products that have high performance and require low maintenance. The company has recently advanced its interactive deck design tool that gives homeowners an opportunity to plan every area of their outdoor space and the designing could be done with a click on the laptop.
Fiberon announced the collaboration with Hixson Lumber Company. The new agreement with Hixson Lumber places us in a position to collaborate with outstanding distributors in these critical markets, and it offers a substantial growth prospect for the company. As a result of this merger, Hixson Lumber sells Fiberon products such as PE composite and PVC decking, deck fasteners, composite and aluminum railing, and Wildwood PE composite cladding.
About Research Nester
Research Nester is a one-stop service provider with a client base in more than 50 countries, leading in strategic market research and consulting with an unbiased and unparalleled approach towards helping global industrial players, conglomerates and executives for their future investment while avoiding forthcoming uncertainties. With an out-of-the-box mindset to produce statistical and analytical market research reports, we provide strategic consulting so that our clients can make wise business decisions with clarity while strategizing and planning for their forthcoming needs and succeed in achieving their future endeavors. We believe every business can expand to its new horizon, provided a right guidance at a right time is available through strategic minds.
CONTACT: AJ Daniel Corporate Sales, USA Research Nester Email: [email protected] USA Phone: +1 646 586 9123 Europe Phone: +44 203 608 5919

Disclaimer: The above press release comes to you under an arrangement with GlobeNewswire. AfternoonHeadlines.com takes no editorial responsibility for the same.