Webility launches 'Monthly Subscription MINI NFT' Burn service
SEOUL, KOREA, Aug. 14, 2023 (GLOBE NEWSWIRE) — Blockchain mobility sharing economy service, Webility, recently announced on the 14th that it will launch a MINI NFT burning service for users through its official channel. As a result, users can enjoy the benefit of receiving an unlimited monthly pass for Xing Xing Mobility, a shared kickboard service in Korea, by burning the Webility MINI NFT.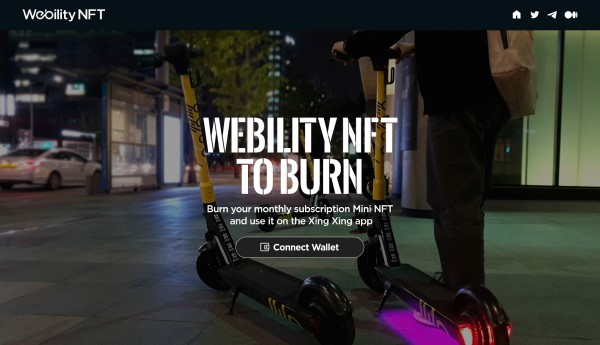 Webility will launch the monthly subscription MINI NFT burning service event for users from August 9th. This event is a method of burning Webility NFTs by accessing the website dedicated to burning, and exchanging them for unlimited pass subscription tickets that can be used for one month in the domestic shared kickboard Xing Xing app.
The process of conducting the event is to transfer the monthly subscription MINI NFT sent to the Burrito Wallet by Webility to the participant's personal metamask wallet, and then to apply for exchange through the Webility NFT burning site. Event winners can access the Xing Xing app and activate an unlimited pass for a shared kickboard for one month through code sent via text message.
The launch of these services is part of the goal of further strengthening the partnership between Webility and Xing Xing, while creating innovative value in the sharing economy ecosystem. Webility added on by saying, "We want to provide a service that is friendly to users and beneficial to daily life."
Webility revealed that it would like to continue to expand partnerships for the development of the sharing economy ecosystem and provide various benefits to users.
Social Links:
Medium: http://medium.com/webility
Telegram: https://t.me/webility
Twitter: https://twitter.com/Webility_
Media Contact:
Brand: Webility
Contact: Media Team
Email: [email protected]
Website: https://webility.io
SOURCE: Webility

Disclaimer: The above press release comes to you under an arrangement with GlobeNewswire. AfternoonHeadlines.com takes no editorial responsibility for the same.