Walter P Moore Expands Global Footprint with Office Opening in Bengaluru
Global engineering firm announces its newest international office location
Walter P Moore opens newest office in Bengaluru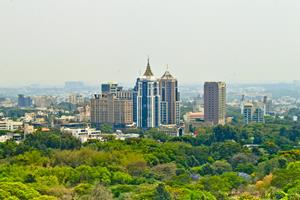 Bengaluru, India, Oct. 04, 2023 (GLOBE NEWSWIRE) — Walter P Moore, a global leader in engineering, is proud to announce the opening of its newest office in Bengaluru, India. This marks the company's second office location in India and its seventh international office, demonstrating our commitment to expanding its presence in key global markets.
"Growing business in India is an important piece of our firmwide growth strategy to expand the company's international revenues. We also continue to pair our India staff with U.S.-based employees to create integrated global teams that deliver the most innovative solutions for our clients around the world," says Dilip Choudhuri, President and CEO of Walter P Moore.
As part of Walter P Moore's global network of over 30 offices, the Bengaluru office will contribute to the company's 90-plus-year legacy of innovation and exceptional service. The expansion also signifies our belief in the potential of India as a strategic market and our dedication to nurturing local talent, allowing us to better serve our growing clientele in Southern India. Positioned at the intersection of three states, our presence in India's "Silicon Valley" allows active participation in the country's growth.
"Our commitment to delivering excellence in India is underscored by the opening of our Bengaluru office. At Walter P Moore India, we are primed and ready to embark on projects of all scales in this dynamic market. We are uniquely positioned to combine international-quality expertise with in-country expediency, deep local insights, and cost-effective solutions. This move exemplifies our dedication to serving our client's needs while contributing to the growth and development of the Indian landscape," says Abhijit Shah, Senior Principal and Managing Director of India.
Shah is supported by Hrushikesh Sandhe, Head of Infrastructure for India with decades of global experience in project engineering and management for water infrastructure projects. As a Principal and India Office Design Manager, Abhishek Bhargava has specific expertise in structural engineering and specializes in the design of commercial and residential tall structures as well as sports facilities.
Walter P Moore specializes in a diverse range of services, encompassing structural engineering for high-rise and long-span structures, building expansions, structural retrofits, peer reviews, structural renovation, enclosure engineering, construction engineering, civil engineering, water resources, and traffic engineering.
Attachment
CONTACT: Kirsten Cornell Walter P Moore 7133945776 [email protected] 

Disclaimer: The above press release comes to you under an arrangement with GlobeNewswire. AfternoonHeadlines.com takes no editorial responsibility for the same.