Vital Voices Launches Female Filmmakers Initiative in Collaboration with Queen Latifah's Queen Collective
Director talent and veteran producers from Queen Latifah's filmmaking program tapped to lead storytelling of Vital Voices' 22nd Annual Global Leadership Awards
Queen Collective Director Jenn Shaw with an all-female crew shooting the honoree film for U.S. Special Advisor on International Disability Rights Sara Minkara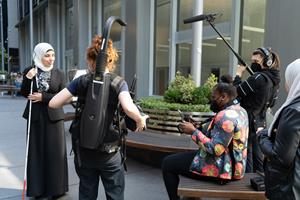 Washington, D.C., Oct. 23, 2023 (GLOBE NEWSWIRE) — Today Vital Voices, in collaboration with Grammy, Emmy, and Golden Globe-winning artist Queen Latifah, proudly announces efforts to bring more female filmmakers to the forefront of its storytelling efforts through a collaboration with Queen Collective. Developed in partnership with Procter & Gamble, Queen Latifah and Flavor Unit Entertainment, the Queen Collective helps create more opportunities behind the camera for diverse creators in the storytelling industry.
Vital Voices' new female filmmakers initiative, DirectHers Cut, is the organization's latest move to scale women's empowerment globally by harnessing the talents of women producers and directors to lead in the storytelling narrative of the women leaders whom the nonprofit will honor during its flagship fundraising event, the 22nd Annual Global Leadership Awards. Secretary Hillary Rodham Clinton, a Vital Voices co-founder, is scheduled to deliver the keynote address.
Loretha Jones (The Equalizer, CBS) has been tapped as executive producer of the Global Leadership Awards honoree films. Under Jones' guidance, three Queen Collective directors have been working with Vital Voices to direct five captivating short films, each dedicated to celebrating the extraordinary accomplishments of the women leaders being honored this year. The Queen Collective directors are Luchina Fisher of Connecticut, Arielle Knight of New York, and Jenn Shaw of New Jersey. 
The films will premiere before a live audience of 1,500 attendees on Wednesday, October 25 at 7:30 pm ET from the Eisenhower Theater at The John F. Kennedy Center for the Performing Arts in Washington, D.C.
"Telling stories that put ladies first and make people feel deeply and think empathetically about all people is what has always driven me as an artist," said Queen Latifah, who launched Queen Collective in 2018 in partnership with P&G and her production company, Flavor Unit Entertainment. 
"Over the last few months in working with Vital Voices on the Global Leadership Awards films, I've seen firsthand how the women leaders being honored are disrupting unjust systems and dismantling gender inequality in the face of incredible challenges. It is an honor and a privilege to serve these women by helping to amplify their voices," said Loretha Jones.
"Cinema is a powerful medium to artfully explore the complex issues women and girls face in communities in every corner of the world. We are truly honored to work with Queen Latifah and her talented team of filmmakers who are choosing to use their art as activism through this partnership," said Alyse Nelson, President and CEO of Vital Voices. 
Grammy and Emmy-winning composer, songwriter, producer, and pianist Emily Bear, Algorithmic Justice League Founder and Author of "Unmasking AI" Dr. Joy Buolamwini, Philanthropist and Fashion Designer Diane von Furstenberg, Author, Actress, and Social Justice Humanitarian Ashley Judd, Chairman, NBCUniversal Studio Group & Chief Content Officer Donna Langley, D.B.E., Co-anchor of PBS NewsHour Amna Nawaz, Hall of Fame Inducted Marketing Executive, Author, and Entrepreneur Bozoma Saint John and more are confirmed to present.
The theme of this year's awards program is the Power of Possible. The films will focus on the advocacy and activism of the following honorees: 
Inna Braverman
Inna Braverman, founder and CEO of Eco Wave Power, is a technology entrepreneur who is harnessing ocean wave power to produce clean energy and fight climate change.
Ava DuVernay
Ava DuVernay will receive the 2023 Global Trailblazer Award for her work as a social impact filmmaker who celebrates and explores themes of human rights and racial equity through cinema, using her art as activism to advance American society – and the world.
Hellen Lunkuse
Hellen Lunkuse is a fearless human rights defender who supports survivors of gender-based violence and advocates for marginalized communities in Uganda. She is founder of the Rape Hurts Foundation, a non-profit serving women, girls and diverse populations in Uganda.
Sara Minkara
Sara Minkara, who went blind at the age of 7, is a pioneering advocate for the rights of people with disabilities. She is our nation's highest-ranking disabled diplomat as a presidential appointee serving in the role of Special Advisor on International Disability Rights, Human Rights and Labor at the U.S. State Department.
Enass Muzamel
Enass Muzamel is a pro-democracy activist and women's rights advocate who is leading critical relief efforts to support women and girls affected by gender-based violence and the ongoing war in Sudan.
Members of the media are invited to REGISTER FOR PRESS CREDENTIALS.
Interviews will be available upon request at: [email protected].
###
About Vital Voices Global Partnership
Now celebrating 26 years, Vital Voices Global Partnership has directly invested in more than 20,000 women leaders across 185 countries and territories since its inception in 1997. Driven by the universal truth that women are the key to progress in their communities and nations cannot move forward without women in leadership positions, Vital Voices has provided early support for leaders who went on to become Nobel Peace Prize Laureates, U.S. Youth Poet Laureates, prime ministers, award-winning innovators, pioneering human rights defenders, and breakthrough social entrepreneurs, including Amanda Gorman and Malala Yousafzai. In an effort to advance and expand this work, in 2022 Vital Voices opened the doors to the world's first global embassy for women, the Vital Voices Global Headquarters for Women's Leadership. It is a first-of-its-kind space that allows for convening, innovation, planning, and action—all in the pursuit of serving women leaders who are taking on the world's greatest challenges.
Find Vital Voices Online:
Instagram: @vitalvoices
LinkedIn: Vital Voices Global Partnership
Facebook: facebook.com/vitalvoices
Hashtags: #vitalvoices #powerofpossible #globalleadershipawards
Attachment
CONTACT: Markette Sheppard Vital Voices [email protected] 

Disclaimer: The above press release comes to you under an arrangement with GlobeNewswire. AfternoonHeadlines.com takes no editorial responsibility for the same.