Video Doorbell Market revenue to hit USD 10 Billion by 2035, says Research Nester
Prominent video doorbell market players include Google LLC, Amazon.com, Inc., SkyBell Technologies Inc., Shenzhen VStarcam Technology Co., Ltd, Panasonic Corporation, dbell Inc., Owlet Home LLC, Assa Abloy AB, Netvue Inc., Night Owl SP, and Vivint Smart Home, Inc.
New York, July 31, 2023 (GLOBE NEWSWIRE) — The global video doorbell market size is projected to expand at ~15% CAGR between 2023 and 2035. The market is expected to garner a revenue of USD 10 billion by the end of 2035, up from a revenue of ~USD 2 billion in the year 2022.The current upward trend can be attributed to the rising demand for home security solutions an increasing preference for DIY home security systems among homeowners and notable advancements in real-time video surveillance technology. According to recent data, the number of surveillance cameras installed globally was projected to exceed one billion by the close of 2021.
Request Free Sample Copy of this Report @ https://www.researchnester.com/sample-request-4993
In specific reference to the United States, it is estimated that there are roughly 122 million households, out of which about 25 million households possess video surveillance systems.With rising criminal activities, individuals are safeguarding their residential spaces against potential threats. Video doorbells have quickly become a popular choice owing to their ease of use and affordability while offering real-time surveillance capabilities at the front entryway.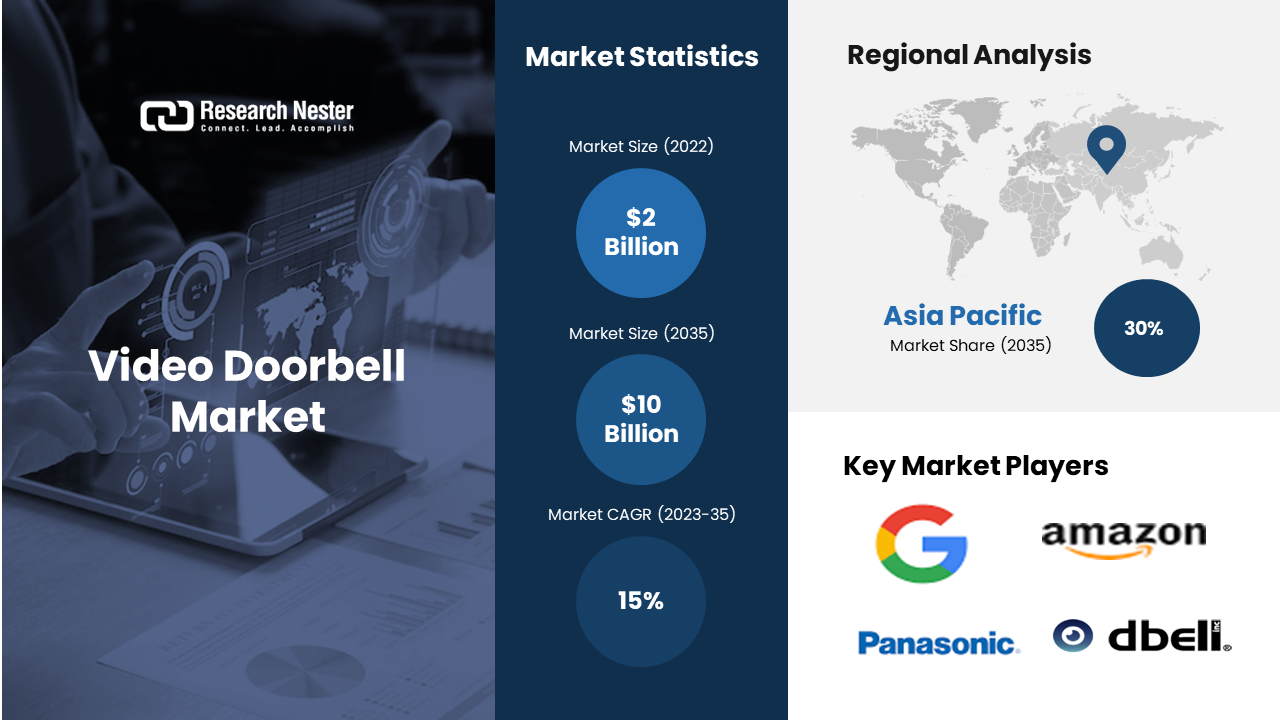 Video Doorbell Market: Key Takeaways
Market in Asia Pacific to propel the highest growth
The online segment to garner the highest growth
Market in North America to grow at a highest rate
Ever-Increasing Adoption of Smart Home Automation Systems and The Increasing Use of Cloud Technology to Boost Market Growth
Smart home automation systems allow users to control their home appliances and systems from their smartphones or other devices. Cloud technology provides a platform for users to store their data and access it from anywhere in the world. These technologies have made it easier for people to manage and control their homes remotely. According to statistics, the count of smart homes stands at approximately 310 million.
Additionally, it has been found that owners of smart home devices in the United States tend to spend an average of USD 1,170 on their technologically advanced household electronics. Video doorbells can be connected to home automation systems, allowing homeowners to monitor and control their front door remotely. This provides a layer of security for the home, and it also allows people to easily communicate with visitors and delivery personnel without having to be at home.
Video Doorbell Market: Regional Overview
The market is segmented into five major regions including North America, Europe, Asia Pacific, Latin America, and the Middle East and Africa region. 
Increasing Smart Cities Initiatives by Government to Drive the Growth in the Asia Pacific Region
By 2035, the video doorbell market in asia pacific region is expected to have the largest market, with revenues of 30%. These countries are investing heavily in smart city technology, such as smart lighting, traffic management, video surveillance, and connected home systems, that are designed to make cities more efficient and sustainable.
As technology continues to develop, more cities are expected to join the trend, leading to an increased demand for video doorbells and other smart city products. For instance, the Government of India has launched the Smart Cities Mission to develop smart cities through urban renewal and modernization. This will necessitate the installation of a variety of new technologies, such as video doorbells, smart lighting, and sensors to improve public safety and increase efficiency in urban governance.
Request Free Sample Copy of this Report @
https://www.researchnester.com/sample-request-4993
Increasing Demand for Home Security and Convenience to Drive the Growth in The North America Region
As of 2035, North America is predicted to generate the biggest revenue for video doorbells, around 25% owing to the increasing demand for home security and convenience. The growing trend of do-it-yourself (DIY) home security systems is also increasing the adoption of video doorbells among households in the region. As of 2021, a notable 16% of American households have embraced the utilization of video doorbells on their front doors.
Additionally, the advancement in technology has led to the creation of smart video doorbells that come with features such as two-way audio, motion detection, night vision, and facial recognition. These features enable users to receive real-time notifications, thus providing an extra layer of security and convenience. The growing awareness about the availability of such technologies is expected to further drive the North America video doorbell market.
Video Doorbell Segmentation by Type
The wireless-type video doorbell segment is projected to secure the largest revenue of 75% by the end of 2035. The ability to monitor one's home from anywhere, anytime is driving the demand for wireless video doorbells. Additionally, the installation of these devices is easy and cost-effective, as they do not require any wires or cables.
Moreover, the rising use of several smart devices in households is also driving the demand for wireless video doorbells as they are integrated with AI and IoT, which further adds to the convenience of the users. A recent survey indicates that 64 million households in the US are actively utilizing smart home devices by 2023. Furthermore, the features that these doorbells offer, such as motion detection, two-way audio, and night vision, make them an ideal choice for home security.
Purchase Copy of this Report @ https://www.researchnester.com/purchage/purchase_product.php?token=4993
Video Doorbell Segmentation by Distribution Channel
In the next few decades, the online segment in video doorbell market is predicted to hold a share of 70% of the total revenue by the end of 2035. Online shopping has become increasingly popular due to its convenience and ease of use. Many people prefer to shop online because they have access to a much wider selection of products than they would in a physical store. It has been estimated that over 2.10 billion people purchase items online as of 2023, which represents a significant increase from the past year. With an estimated 8 billion global citizens, 28% are digital buyers. Additionally, online stores often offer more competitive prices and discounts. Furthermore, customers can compare products and read reviews from other customers, which gives them more insights into the product before making a purchase.
Video Doorbell Segmentation by End User
A few of the well-known market leaders in the video doorbell market that are profiled by Research Nester are Google LLC, Amazon.com, Inc., SkyBell Technologies Inc., Shenzhen VStarcam Technology Co., Ltd, Panasonic Corporation, dbell Inc., Owlet Home LLC, Assa Abloy AB, Netvue Inc., Night Owl SP, Vivint Smart Home, Inc., and other key market players.
Recent Development in the Video Doorbell Market
Google LLC has introduced its second-generation wired Nest Doorbell with the advantage of being smaller and lighter than its battery-powered predecessor. It is about 30% smaller than its predecessor.
Amazon.com, Inc. announced Blink Video Doorbell, which is a wired or wire-free video doorbell that offers up to two years of battery life, 1080p HD day and night video, two-way audio, chime app alerts, and the ability to connect and sound an existing doorbell.
About Research Nester
Research Nester is a one-stop service provider with a client base in more than 50 countries, leading in strategic market research and consulting with an unbiased and unparalleled approach towards helping global industrial players, conglomerates and executives for their future investment while avoiding forthcoming uncertainties. With an out-of-the-box mindset to produce statistical and analytical market research reports, we provide strategic consulting so that our clients can make wise business decisions with clarity while strategizing and planning for their forthcoming needs and succeed in achieving their future endeavors. We believe every business can expand to its new horizon, provided a right guidance at a right time is available through strategic minds.
CONTACT: AJ Daniel Corporate Sales, USA Research Nester Email: [email protected] USA Phone: +1 646 586 9123 Europe Phone: +44 203 608 5919

Disclaimer: The above press release comes to you under an arrangement with GlobeNewswire. AfternoonHeadlines.com takes no editorial responsibility for the same.