Veo Launches Seated and Standing Scooters in San Antonio, TX
New shared mobility provider brings a mixed fleet of vehicles to the city, increasing mobility for riders of diverse ages and abilities
Astro standing scooter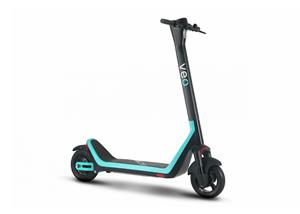 Cosmo seated scooter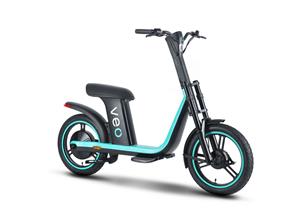 Santa Monica, CA, Oct. 02, 2023 (GLOBE NEWSWIRE) — Today the City of San Antonio and Veo announced a partnership to bring 500 Cosmo seated scooters and 500 Astro standing scooters to the city. Veo began deploying its mixed fleet of vehicles on October 1, just in time for fall riding season.
Veo will introduce a new vehicle type to the city's shared mobility program: a seated scooter with large tires, a throttle, and a low center of gravity that doesn't require riders to stand or pedal. The Cosmo helps riders to get where they need to go if they are unable to pedal or want to sit while traveling. Riders also tend to prefer the seated Cosmo for traveling longer distances.
"Veo is honored to partner with the City of San Antonio to expand accessible, sustainable transportation with seated and standing scooters," said Candice Xie, co-founder and CEO of Veo. "This mixed fleet of vehicles will provide a convenient, affordable, car-free travel option for riders of diverse ages and abilities. We are proud to serve the City of San Antonio and look forward to working together to ensure the program meets the needs of the community."
How to Ride
Locate a ride: Riders aged 18+ can locate vehicles using the free Veo app.
Unlock and go: Using the Veo app, riders scan a QR code and pay $1 to unlock the vehicle. Riders then pay a $0.39 per-minute rate to ride.
End your ride: Upon completion of the ride, riders can park their vehicle in a bike rack or on the perimeter of the sidewalk outside of the pedestrian right of way. Riders must take a photo within the app to confirm proper parking.
Try out Group Ride: Want to ride with friends? Try out Veo's Group Ride feature, which allows one rider to unlock multiple vehicles for their friends. 
San Antonio riders can get $10 in free credit with the promo code TRYVEO23 through October 31. Riders with low incomes can visit veoride.com/veo-access to apply for a discounted rate.
Safe Riding Tips
Yield to pedestrians: Respect pedestrians' right of way and maintain a safe distance while riding. Exercise caution when passing or crossing paths with walkers or joggers.
Wear a helmet: Prioritize your safety by wearing a helmet during your ride.
Activate Education Mode: New or learning riders can activate Education Mode in the app to limit their speed as they get used to riding with Veo.
Meet the Fleet
Veo's mixed fleet in San Antonio features the seated Cosmo scooter and standing Astro scooter.
The Cosmo seated scooter and Astro standing scooter are GPS-tracked, throttle-powered light electric vehicles that operate at a full speed of 15 miles per hour. Vehicle features include: 
Veo's latest operating system, meaning full compliance with local geofences and regulations
Veo Voice, an on-vehicle audible feature that alerts riders when they are entering slow-ride or no-ride zones or an off-limits parking area.
A swappable battery system which lets Veo technicians swap the battery pack on-site, enabling vehicles to be available 24/7.
About Veo
Veo is on a mission to end car dependency by making clean transportation accessible to all. We have provided millions of shared bike and scooter rides in 50+ cities and universities across North America – and we're just getting started.
Veo operates from a set of values that distinguish us in the industry. We are grounded in financial responsibility: Veo partnered with select cities to achieve profitability before scaling. Our in-house design and manufacturing process enables us to constantly innovate and provide cities with the next generation of shared electric bikes and scooters. We develop collaborative, long-term partnerships with cities and universities so we can work together toward a sustainable, safe, and equitable transportation future.
###
Attachments
CONTACT: Paige Miller Veo 9712021444 [email protected] 

Disclaimer: The above press release comes to you under an arrangement with GlobeNewswire. AfternoonHeadlines.com takes no editorial responsibility for the same.