Velocity opens three U.K. greenfield clinical research sites
New Principal Investigators at Velocity Clinical Research. From left to right: Shilpa Muthusamy, MD, Matt Fisher, MD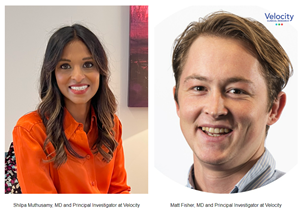 LONDON, Oct. 04, 2023 (GLOBE NEWSWIRE) — Velocity Clinical Research ("Velocity"), the leading multi-specialty clinical sites business, announced it is opening greenfield clinical research sites in Bristol, Leicester, and Romford, demonstrating the company's commitment to the U.K. market.
The sites launch at a time when clinical trial activity in the U.K. has fallen in recent years. The number of patients enrolled in commercial clinical trials in the U.K. has decreased by 44% between 2017-18 and 2021-22.
Velocity's growth is accelerating in the U.K. and Europe, with nine sites in total. The three new sites in the U.K. join Velocity's two existing locations in High Wycombe and North Finchley, and four in Germany. Velocity, to date, has grown via site acquisition. However, it is setting up its own sites in the U.K., demonstrating its commitment to the Sponsors and CROs who need to conduct clinical trials here.
Dominic Clavell, European General Manager for Velocity, said, "Velocity's people know how to run sites. Traditionally, clinical trials in the U.K. have been dominated by the NHS and University-based research, but with funding pressures and the continuing toll of COVID on these institutions, we believe private organisations like Velocity are an alternative solution to deliver faster start up, greater efficiency, and quicker data delivery. We are reaching a critical mass in the U.K. and Europe, which is important for how we care for patients and work with Sponsors."
Velocity Romford started training staff in August 2023, will enrol patients into studies this month, and will be headed by Shilpa Muthusamy, MD. Both Velocity Bristol and Velocity Leicester expect to start enrolling patients at the end of October. The latter site will be led by Matt Fisher, MD. Velocity will announce the Principal Investigator of Bristol's site in due course.
Shilpa Muthusamy, MD is an experienced clinical research physician, and holds a Bachelor of Medicine and Bachelor of Surgery from the University of Nottingham. Dr. Muthusamy has worked as an Investigator, managing Phase 2-4 clinical trials across a wide range of therapeutic areas and indications, including neurology, chronic pain, Alzheimer's disease, rare conditions, and psychiatry. Prior to her career in clinical research, Dr. Muthusamy specialised in anaesthesia and intensive care. She brings with her an extensive knowledge of pharmacology and physiology.
Dr. Muthusamy, Velocity Principal Investigator, said, "I have worked with complex patients, led teams in fast-paced environments, and provided meticulous attention to detail, which I look forward to applying to clinical research. I am passionate about promoting diversity within clinical trials and continuing to provide the best possible outcomes and care for every patient."
Matt Fisher, MD qualified from Bristol Medical School in 2015 and worked as a doctor in general and emergency medicine for five years in the NHS. During this period, he also completed a Graduate Diploma in Law and was an NHS Innovation Fellow. Dr. Fisher started in clinical development roughly four years ago and has worked for both a CRO and a Sponsor. He has led clinical trials in ATTR Amyloidosis from Phase 1-3 for CROs and was involved with regulatory submissions, protocol development, and early stage clinical development strategy at Sponsor level.
Dr. Fisher, Velocity Principal Investigator, commented, "My experience working at Sponsor and CRO level and in Phase 1 trials will be influential for the Phase 3-4 research as the lessons of safety and dosing that are learnt, pave the path to efficacy and regulatory approval. The research I have conducted so far covers a plethora of innovative therapeutic areas, from gene therapy to CRISPR technology and I look forward to diversifying this expertise at Velocity."
Velocity has over 80 locations globally and access to more than 220 principal investigators and one million patients. Velocity's sites are fully integrated via a centralised infrastructure and common technology backbone, allowing for superior patient enrolment and consistent, high-quality data delivery. As a result, CROs and biopharma companies can benefit from simplified access to international clinical research.
About Velocity Clinical Research
Velocity is the leading integrated site organisation for clinical trials. With 80 sites and more than 220 investigators, Velocity partners with pharmaceutical and biotechnology companies to research new drugs, medical devices, diagnostics, and combination products that could improve human health and wellbeing. Velocity offers unified research site solutions to efficiently provide the right patients, investigators, and research staff for clinical trials across the U.S. and Europe.
The company also operates a technology hub in India, where it is unlocking a new era in clinical research by developing innovative systems to leverage expansive site, patient, and historical performance data. To learn more about how Velocity delivers high-quality data, exemplary patient care, and unprecedented efficiency for clinical trials at any scale, visit VelocityClinical.com
CONTACT: Contact: Katie Evans [email protected] +447903073570

Disclaimer: The above press release comes to you under an arrangement with GlobeNewswire. AfternoonHeadlines.com takes no editorial responsibility for the same.