Vehicle Conversion Market Size Customization Trends to Accelerate Growth of CAGR 8.4%, Value to Reach USD 10.4 Billion by 2032
Acumen Research and Consulting recently published report titled "Vehicle Conversion Market Market Forecast, 2023 – 2032"
TOKYO, Aug. 06, 2023 (GLOBE NEWSWIRE) — The Global Vehicle Conversion Market Size accounted for USD 4.7 Billion in 2022 and is projected to achieve a market size of USD 10.4 Billion by 2032 growing at a CAGR of 8.4% from 2023 to 2032.
Vehicle Conversion Market Key Highlights and Statistics:
The Global Vehicle Conversion Market is projected to achieve a substantial valuation of USD 10.4 billion by 2032 propelling from the current cap of USD 4.7 Billion in 2022, exhibiting a remarkable CAGR of 8.4% from 2023 to 2032.
North America presently dominates the market, holding a significant share of above 39% in 2022, primarily driven by the conversions of commercial vehicles.
The commercial conversion segment is anticipated to experience the fastest growth, with a CAGR of 8.9% through 2032.
The development of improved batteries, powertrain components, and integration software are key trends propelling the market forward.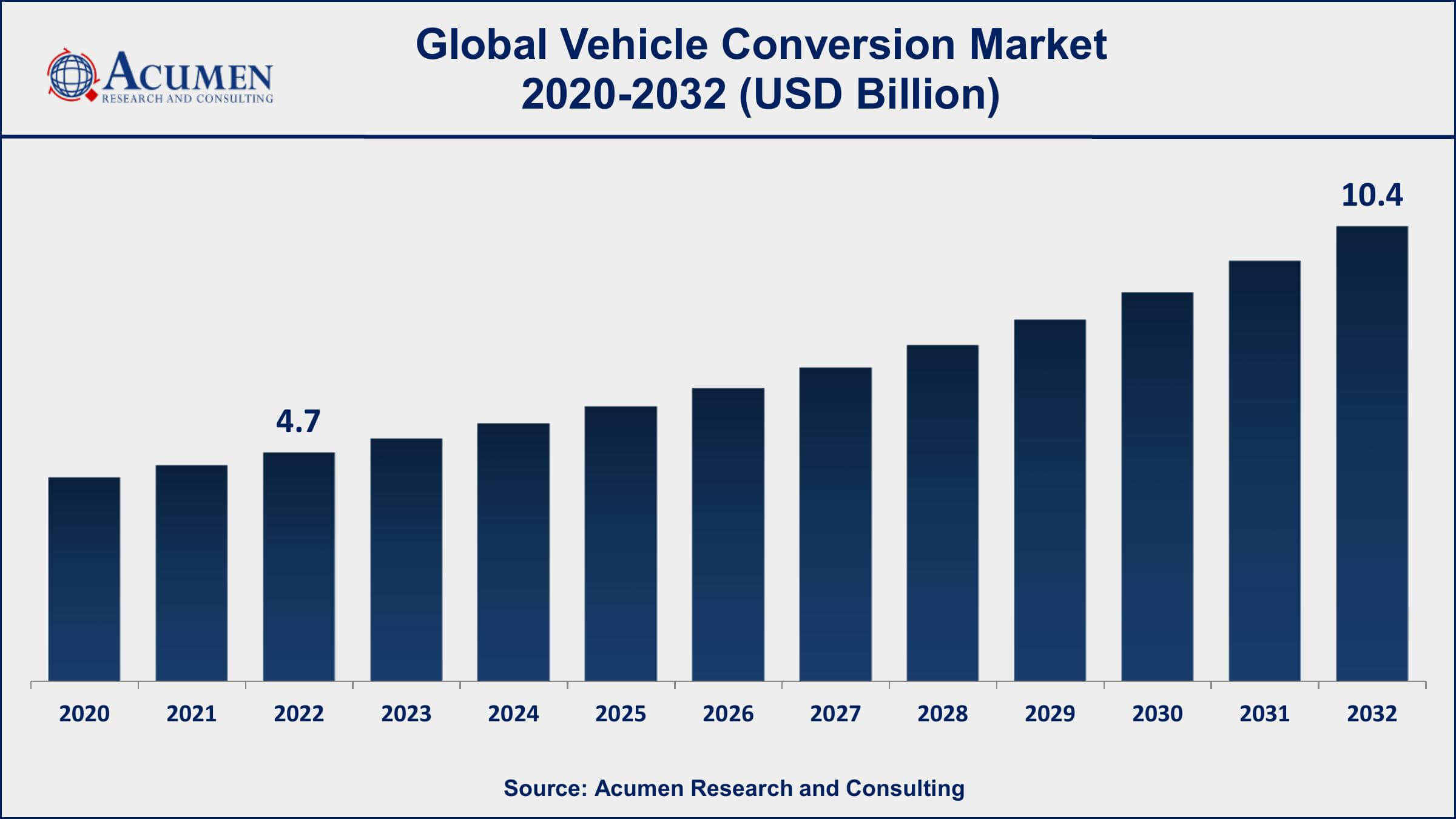 Request For Free Sample Report @ https://www.acumenresearchandconsulting.com/request-sample/3306
Vehicle Conversion Market Report Coverage:
Market
Vehicle Conversion Market
Vehicle Conversion Market Size 2022
USD 4.7 Billion
Vehicle Conversion Market Forecast 2032
USD 10.4 Billion
Vehicle Conversion Market CAGR During 2023 – 2032
8.4%
 
Vehicle Conversion Market Analysis Period
2020 – 2032
Vehicle Conversion Market Base Year
2022
 
Vehicle Conversion Market Forecast Data
2023 – 2032
Segments Covered
By Type, By Vehicle Type, By Conversion Type, And By Geography
Vehicle Conversion Market Regional Scope
North America, Europe, Asia Pacific, Latin America, and Middle East & Africa
Key Companies Profiled
BraunAbility, Vantage Mobility International (VMI), MobilityWorks, ElDorado Mobility, Freedom Motors USA, Revability, Q'Straint/Sure-Lok, Creative Bus Sales, Rollx Vans, AMS Vans, The Braun Corporation, and Mobility Engineering.
Report Coverage
Market Trends, Drivers, Restraints, Competitive Analysis, Player Profiling, Regulation Analysis
Vehicle Conversion Market Analysis and Opportunities:
The market outlook remains positive, stimulated by the rising demand for vehicle customization to enhance performance and cater to changing lifestyles. Consumers are increasingly opting for personalized vehicles for recreational and utility purposes. Additionally, the adoption of EV conversion kits is surging, driven by the growing concern for environmental sustainability and the need to reduce emissions.
However, high conversion and maintenance costs could potentially limit adoption among cost-conscious customers. Moreover, the complexities involved in integrating new components with existing vehicle systems pose technological challenges to the market.
Vehicle Conversion Market Major Driving Forces:
Rising Trend of Vehicle Customization for Enhanced Performance and Utility: The increasing trend of vehicle customization for improved performance and utility is boosting the demand for conversion services and products.
Government Incentives and Emission Regulations Boosting EV Conversions: Government incentives and emission regulations are encouraging the conversion of internal combustion engine (ICE) vehicles to electric vehicles, contributing to market growth.
Improved EV Range and Conversion Platform Efficiency: Advancements in battery technology and powertrain components are extending the range and efficiency of electric vehicle conversion platforms.
Growing Adoption of Autonomous Functionality in Converted Vehicles: The growing adoption of autonomous functionality in converted vehicles is enhancing the overall driving experience and fueling market growth.
Advancements in Battery, Motor, and Powertrain Technologies: Ongoing advancements in battery, motor, and powertrain technologies are driving the development of more efficient and reliable vehicle conversion solutions.
Vehicle Conversion Market Key Barriers:
Lack of Standardization in Aftermarket Conversion Platforms: The lack of standardization in aftermarket conversion platforms can hinder compatibility and limit consumer options.
High Costs Involved in Conversions and Maintenance: The high costs associated with vehicle conversions and maintenance can deter potential customers.
Complexities in Integrating New Components with Existing Systems: Integrating new components with existing vehicle systems can be challenging and require skilled technicians.
Safety and Battery Optimization Concerns in EV Conversions: Ensuring safety and battery optimization in EV conversions is essential for consumer confidence.
Lack of Qualified Technicians for Installation and Service: A shortage of qualified technicians for installation and service can hinder the growth of the vehicle conversion market.
Check the detailed table of contents of the report @
https://www.acumenresearchandconsulting.com/table-of-content/vehicle-conversion-market
Vehicle Conversion Market Segmentation:
Based on the Types
Based on the Vehicle Types
Commercial Vehicle
Passenger Car
Other
Based on the Conversion Types
Recreational Conversion
Mobility Conversion
Commercial Conversion
Other
Vehicle Conversion Market Regional Insights:
The North American and European markets have been well-established players in vehicle conversions, catering to a wide range of customer demands, including wheelchair-accessible vehicles, camper vans, luxury conversions, and specialty vehicles for various industries. The demand for customized vehicles in these regions is fueled by factors such as a strong automotive culture, a high level of disposable income, and a preference for unique and personalized vehicles.
On the other hand, the Asia Pacific region is witnessing a surge in demand for vehicle conversions due to evolving consumer lifestyles, rising disposable incomes, and an increasing preference for bespoke automotive solutions. Countries like Japan, China, and Australia, in particular, are experiencing a significant uptick in demand for vehicle customization, ranging from luxury and high-end conversions to practical and functional modifications. Rising urbanization, a growing middle-class population, and an increasing focus on leisure and adventure travel are some of the key factors contributing to this trend in the region.
Buy this premium research report –
https://www.acumenresearchandconsulting.com/buy-now/0/3306
Key Companies in the Vehicle Conversion Market:
Leading players in the vehicle conversion industry include Stealth EV, EV Dynamics, Altigreen Propulsion Labs, Elektro Ferretti, Roush Enterprises, and NextGen Electric Conversions. These companies are at the forefront of providing cutting-edge vehicle conversion solutions and continuously investing in efficient powertrain integration and digitization to meet customer demands.
Browse More Research Topic on Automotive Industries Related Reports:
The Worldwide Automotive Night Vision System Market accounted for USD 3,345 Million in 2021 and is expected to hit USD 8,370 Million by 2030, with a significant CAGR of 11.1% from 2022 to 2030.
The Global Electric SUV Market size accounted for USD 43 Billion in 2021 and is estimated to reach USD 320 Billion by 2030, with a significant CAGR of 25.5% from 2022 to 2030.
The Global Outboard Boats Market size was accounted for USD 5,683 Million in 2021 and is estimated to reach USD 10,669 Million by 2030, with a CAGR of 7.5% from 2022 to 2030.
Browse Our Official Website Press release:
https://www.acumenresearchandconsulting.com/press-releases/vehicle-conversion-market
About Acumen Research and Consulting:
Acumen Research and Consulting is a global provider of market intelligence and consulting services to information technology, investment, telecommunication, manufacturing, and consumer technology markets. ARC helps investment communities, IT professionals, and business executives to make fact-based decisions on technology purchases and develop firm growth strategies to sustain market competition. With the team size of 100+ Analysts and collective industry experience of more than 200 years, Acumen Research and Consulting assures to deliver a combination of industry knowledge along with global and country level expertise.
For Latest Update Follow Us on Twitter , Instagram and LinkedIn
Contact Us:
Mr. Richard Johnson
Acumen Research and Consulting
USA: +13474743864
India: +918983225533
E-mail: [email protected]

Disclaimer: The above press release comes to you under an arrangement with GlobeNewswire. AfternoonHeadlines.com takes no editorial responsibility for the same.