Vantage-TAG continues rapid Q1 sales pace of industry leading GPS Fleet Management System adding $2 Million to existing order book of $14 Million.
DSG Global Inc.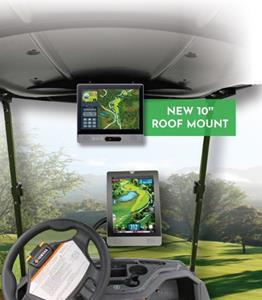 Industry leading Vantage-Tag Systems continues to introduce innovative solutions.
SURREY, British Columbia, March 16, 2023 (GLOBE NEWSWIRE) — DSG Global, Inc. (OTCQB: DSGT) ("DSGT" or the "Company"), a wholly owned subsidiary of DSG Global announces sales to 20 prime courses so far in Q1 2023 representing $2 million in sales to bring the order book total to $16 million.
The momentum from the PGA Show in January 2023 continues to accelerate with the introduction this April of the new Infinity 10" orientable HD screen. The new Infinity 10" HD screen has the unique distinction of either steering column (Portrait) or roof mount (Landscape) giving operators ultimate flexibility depending on which carts their fleet is comprised of an industry first.
"Coming out of the 2023 PGA Show after introducing the brand new 10 Inch 'Orientable' mount Infinity system, we are off to a record year with GPS sales. We have signed 20 new course deals throughout North America, valued at over 2 million dollars in the 7 weeks since the January PGA show and on track for 100 new course installations with GPS revenues of over 10 million dollars." stated Patrick Parenti Senior VP, Global Sales.
"The response from operators has been excellent. They are no longer constrained by the mounting requirements of other systems and can offer their customers the best system in the ideal viewing position regardless of cart brand." continued Parenti. The new Infinity 10" HD will continue to offer a full suite of functionality, complete new graphics and all the enhanced features that golfers and operators alike rely on such as 3D Flyovers, F&B ordering, 'Look ahead' feature for safety, Cart lockdown, and Geo-fencing and the complete backend golf course management system etc.
VTS remains committed to enhancing the golfer experience and creating new revenue opportunities for the operator like the popular programmatic advertising. The company is now in discussions with several key players to offer real time sports betting in jurisdictions where permitted (many more have pending legislation) directly from the Infinity interface later this year, which the company predicts will be extremely popular with golfers.
For a personal demo go to https://vantage-tag.com/book-a-demo/ or contact
Patrick Parenti – SVP Global Sales
P. 1.877.589.8806 x3
The VANTAGE ADVANTAGE HOT LINE 1-877-589-8806 #2
About DSG Global
DSG Global is an emerging global technology company with an array of interconnecting businesses in some of the fastest-growing market sectors. With roots in the golf industry, in which it specializes in fleet management with patented analytics, mobile touch screen engagement and electric golf carts under the Vantage Tag Systems (VTS) brand.
About Vantage Tag Systems
Vantage Tag Systems (VTS) provides patented electronic tracking systems and fleet management solutions to golf courses and other venues that allow for remote management of the course's fleet of golf carts, turf equipment and utility vehicles. Its clients use VTS' unique technology to significantly reduce operational costs, improve the efficiency plus profitability of their fleet operations, increase safety and enhance customer satisfaction. VTS has grown to become a leader in the category of fleet management in the golf industry, with their technology installed in vehicles worldwide. VTS is now branching into several new streams of revenue through programmatic advertising, licensing, and distribution, as well as expanding into commercial fleet management, single rider golf carts, the new Lithium Vantage Golf Carts, and agricultural applications.
Additional information is available at http://vantage-tag.com/
CAUTIONARY NOTE REGARDING FORWARD-LOOKING STATEMENTS
This news release contains forward-looking information. Such forward-looking statements or information are provided for the purpose of providing information about management's current expectations and plans relating to the future. Readers are cautioned that reliance on such information may not be appropriate for other purposes. Any such forward-looking information may be identified by words such as "anticipated," "proposed," "expects," "intends," "may," "will" and similar expressions. Forward-looking information contained or referred to in this news release includes but is not limited to the Company's ability to secure manufacturing facilities and supply chains, the benefits the Company expects to derive from existing and planned products, and the Company's ability to achieve production and sales targets, generally.
Forward-looking statements or information are based on several factors and assumptions, which have been used to develop such statements and information, but which may prove to be incorrect. Although the Company believes that the expectations reflected in such forward-looking statements or information are reasonable, undue reliance should not be placed on forward-looking statements because the Company can give no assurance that such expectations will prove to be correct. Factors which could cause actual results to differ materially from those described in such forward-looking information include, but are not limited to negative cash flow and future financing requirements to sustain operations; dilution; limited history of operations and revenues and no history of earnings or dividends; competition; economic changes; delays in the Company's expansion plans; regulatory changes; and the impact of and risks associated with the ongoing COVID-19 pandemic, including the risk of disruption at the Company's facilities or in its supply and distribution channels. The forward-looking information in this news release reflects the current expectations, assumptions and/or beliefs of the Company based on information currently available to the Company.
Additional factors that could cause actual results to differ materially from those anticipated by our forward-looking statements are described under the captions "Risk Factors" and "Management's Discussion and Analysis of Financial Condition and Results of Operations" in our Annual Report on Form 10-K for the fiscal year 2022 and our subsequent Quarterly Reports on Form 10-Q and Current Reports on Form 8-K, all filed with the Securities and Exchange Commission. Forward-looking statements are made as of the date of this release, and we expressly disclaim any obligation or undertaking to update forward-looking statements. The forward-looking statements or information contained in this news release are expressly qualified by this cautionary statement.
Attachment

Disclaimer: The above press release comes to you under an arrangement with GlobeNewswire. AfternoonHeadlines.com takes no editorial responsibility for the same.