UV Stabilizers Market revenue to surpass USD 3 Billion by 2035, says Research Nester
Major UV stabilizer market players include Clariant AG, SONGWON Industrial Group, BASF SE, Valtris Specialty Chemicals Inc., Solvay SA, ADEKA Corporation, Evonik Industries AG, SABO S.p.A., Everlight Chemical Industrial Corp., and Mayzo, Inc.,
New York, Oct. 10, 2023 (GLOBE NEWSWIRE) — The global UV stabilizers market size is slated to expand at ~6% CAGR between 2023 and 2035. The market is poised to garner a revenue of USD 3 billion by the end of 2035, up from a revenue of ~USD 1 billion in the year 2022.The major element influencing the growth of the market is the growing production of automobiles. Around 84 million motor vehicles were manufactured in 2022, all across the world. This was an increase of about 4% in contrast to 2021. Hence, the demand for UV stabilizers is growing in the automotive sector.
Request Free Sample Copy of this Report @ https://www.researchnester.com/sample-request-3886
Additionally, the world is going through drastic climate change which has further raised the temperature globally. Since 1880 to till now, the Earth's temperature has increased by an average of 0.14° F (0.08° C) per decade, or nearly 2° F overall. The extent of ozone depletion and the resulting increases in UV-B incidents on the planet's surface are influenced by increased global warming, which causes accelerated stratospheric cooling. UV radiation and heat exposure may lead to upholstery damage, dashboard cracking, paint oxidation, and other material problems over time. Hence, the demand for UV stabilizers growing in automotive.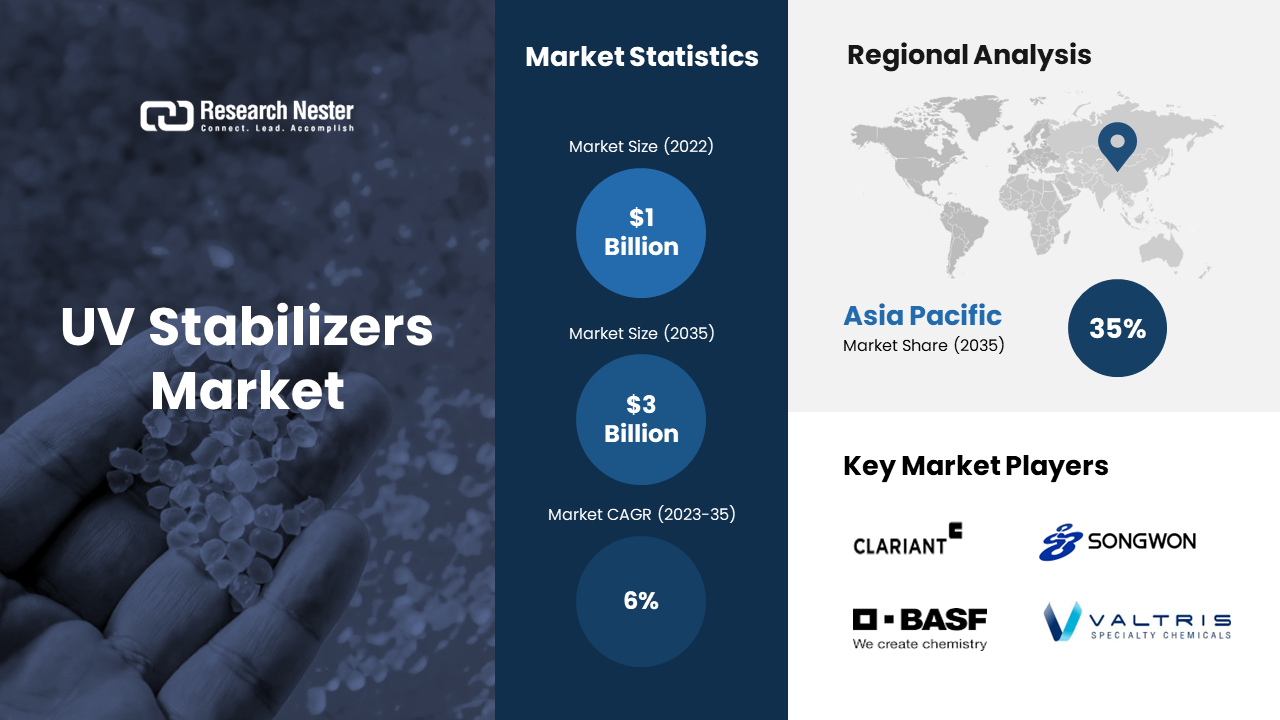 Growing Agriculture Activities to Boost the Growth of Global UV Stabilizers Market
As the number of people continues to increase, the agriculture sector plays a crucial role in addressing food security concerns. The population of the world is projected to rise by approximately 2 billion people during the course of the next 30 years, from the present 8 billion to 9.7 billion in 2050, with a potential peak of roughly 10.4 billion in the middle of the 1980s. The achievement and sustainability of the agricultural economy depend heavily on increasing the lifespan and efficiency of agricultural materials. Plastic may be used for a variety of things, including netting, silage and bale wrap, greenhouse and mulch films, and more. These plastic artefacts need to be able to survive inclement weather, pesticides, and heavy use. As a result, adding additives including UV stabilizers makes it easier to create strong materials for long-lasting agricultural solutions that support a sustainable, circular economy.
UV Stabilizers Market: Regional Overview 
The market is segmented into five major regions including North America, Europe, Asia Pacific, Latin America, and the Middle East and Africa region.  
Growing Urban Population to Influence the Market Growth in Asia Pacific
The UV stabilizers market in Asia Pacific is expected to garner the highest share of about 35% over the coming years. This could be owing to growing urban population in this region. More over 2.2 billion people, or 54% of the world's metropolitan population, reside in Asia. Asia's urban population is projected to increase by 50% by 2050, or by a further 1.2 billion people. Hence, with this the demand for building and construction is also projected to grow, further dominating the market growth in this region.
Make an Inquiry Before Buying this Report @ https://www.researchnester.com/inquiries-before-buying-3886
Rising Demand for Packed Food to Drive the Expansion of Market in North America
The market for UV stabilizers in North America is also estimated to have significant growth in the market over the coming years. The growth could be dominated by growing demand for packed food. Each year, grocery store customers in the United States buy over 3 million distinct packaged food and beverage items, and additional products are regularly added to the shelves.
UV Stabilizers, Segmentation by Type
UV Absorbers
Hindered Amine Light Stabilizers (HALS)
The hindered amine light stabilizers (HALS) segment is poised to capture largest revenue of about 58% over the projected period. The main element for this segment expansion is growing construction activities. According to estimates, there were 794,431 built-up areas (BUAs) worldwide in 2016. This figure is expected to increase to about 849,406 residents by 2022. In addition, 2 million new buildings are anticipated to be built by 2050. Since, they are extensively utilized in paints & coatings in construction sector in order to protect them from cracks due to heat and UV rays, the segment is growing.
UV Stabilizers, Segmentation by Application
Packaging
Automotive
Building & Construction
Adhesive & Sealants
The packaging segment is projected to have significant growth in the market over the coming years. This growth is set to be influenced by growing demand for cosmetics products. However, despite the fact that women may dominate the cosmetics market, males are purchasing more cosmetics compared to ever before, and nearly 39% of consumers are interested in goods that are gender-neutral in terms of beauty and cosmetics. Men's skincare products experienced an about 6% increase in sales merely in the past year. Hence, in order to ship these products safely to the customer by protecting them from getting damage the market demand is growing packaging sector.
Request for Customization of this Report @ https://www.researchnester.com/customized-reports-3886
A few of the well-known industry leaders in UV stabilizer market that are profiled by Research Nester are Clariant AG, SONGWON Industrial Group, BASF SE, Valtris Specialty Chemicals Inc., Solvay SA, ADEKA Corporation, Evonik Industries AG, SABO S.p.A., Everlight Chemical Industrial Corp., Mayzo, Inc., and others.
Recent Development in the UV Stabilizers Market 
The intentions for a 20% increase in Benzaldehyde capacity in Europe were disclosed by Valtris Specialty Chemicals Inc. From plastic additives to therapeutic uses, benzoaldehyde has a variety of uses.
SABO S.p.A. and Songwon Industrial Co., Ltd. have formed a cooperation for the global distribution of the "SABOSTAB HALS portfolio and oxanilide UV Absorbers".
About Research Nester
Research Nester is a one-stop service provider with a client base in more than 50 countries, leading in strategic market research and consulting with an unbiased and unparalleled approach towards helping global industrial players, conglomerates and executives for their future investment while avoiding forthcoming uncertainties. With an out-of-the-box mindset to produce statistical and analytical market research reports, we provide strategic consulting so that our clients can make wise business decisions with clarity while strategizing and planning for their forthcoming needs and succeed in achieving their future endeavors. We believe every business can expand to its new horizon, provided a right guidance at a right time is available through strategic minds.
CONTACT: AJ Daniel Corporate Sales, USA Research Nester Email: [email protected] USA Phone: +1 646 586 9123 Europe Phone: +44 203 608 5919

Disclaimer: The above press release comes to you under an arrangement with GlobeNewswire. AfternoonHeadlines.com takes no editorial responsibility for the same.