UPDATE Edmonton Startup Week Celebrates 10 Years of Innovation, Founder Success Stories, and Community Building
Edmonton Startup Week, produced by Edmonton Unlimited, returns October 10-14th with a milestone tenth anniversary – bringing together the brightest minds in entrepreneurship and innovation.
Launch Party 13, Class of 2022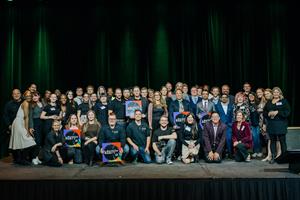 Attendees gathering at Edmonton Unlimited on 10107 Jasper Ave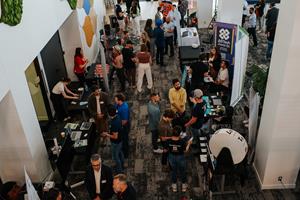 Edmonton, Alberta, Canada, Oct. 04, 2023 (GLOBE NEWSWIRE) — EDMONTON, ALBERTA, October 4, 2023— Edmonton Startup Week, the flagship event showcasing entrepreneurship, innovation, and community collaboration, is back for its 10th consecutive year. This five-day celebration brings together founders, investors, community champions and government stakeholders in Edmonton's startup community to foster innovation, drive impact, and build our city's thriving culture of entrepreneurship. As one of the many Startup Weeks celebrated by entrepreneurs around the globe, Edmonton's city-wide event has evolved over the last decade, bringing together thousands of attendees and more than 60 events led by dozens of community partners.
"Edmonton Startup Week is part of a dynamic international movement that unites visionaries, problem-solvers, and aspiring entrepreneurs of all stripes, further positioning our city as an inclusive global innovation capital," said Edmonton Unlimited CEO Catherine Warren. "Our tech ecosystem has experienced a 96% surge in value since 2022, now at an impressive $1.3 billion. Join us as we kick off another year of inspiration, collaboration, and transformation."
From October 10th to 14th, Edmonton Startup Week offers an exciting lineup of thought-provoking sessions, interactive workshops, startup tours, social gatherings, and parties. Attendees can connect with high-growth local startups and industry experts, including HealthCities, Alberta Machine Intelligence Institute (Amii), Interactive Arts Alberta, 500 Global, and more. Participants can customize their experience by building a schedule from over 70 diverse events, including this year's highly anticipated Launch Party, featuring Edmonton's top ten "startups to celebrate" in 2023. The festival covers a wide range of topics spanning professional development, technology trends and community building. It is a must-attend event for all, from seasoned innovators and investors to budding entrepreneurs, job seekers, and those curious about innovation. 
"I can't believe it's been 10 years since we originally organized the first Edmonton Startup Week. At the time, it was a way for us to combine flagship gatherings like Launch Party and Startup Crawl, alongside grassroots meetups and events, into a one-week startup community extravaganza. What I love most is that Startup Week is open for anyone to discover, celebrating the year that was and being excited as a community for what's to come, whether you're a student or investor, new founder or seasoned entrepreneur." – Ken Bautista, Co-Founder, Makespace & Flightpath Ventures
"Each year, Edmonton Startup Week brings us together to celebrate the achievements of the local business community, to welcome new ideas, and to spark collaborations amongst entrepreneurs from the Edmonton region, all of whom share a goal of making Edmonton a more vibrant and opportunistic place to call home. Edmonton's start-up community has made our region more globally competitive and economically resilient, and the City of Edmonton is proud to support local innovators in the start-up space as we work together to build an Edmonton for all of us. Happy Startup Week, Edmonton!"  – Mayor Amarjeet Sohi, City of Edmonton
Launch Party, the keystone event of Edmonton Startup Week, recognizes and showcases ten of Edmonton's hottest startups on Thursday, October 12, at 6:00 pm at the Edmonton Convention Centre. Since 2010, 115 celebrated companies have launched their businesses and raised more than USD $398.8M in investment and $25.7M CDN in grants to grow and scale.
With 10 companies chosen to participate after a competitive application and community-supported selection process, one company is set to receive a $10K prize on the big night. The 2023 honorees will make their pitch at Launch Party, providing these founders-to-watch with direct access to customers and investment:
Edmonton Startup Week runs from October 10 to 14 and features more than 70 free events, workshops, panels, and socials throughout the city. Register here.
"It's truly exhilarating to reach this incredible milestone – a decade of consecutive Edmonton Startup Weeks! As one of the original co-founders of Startup Edmonton, it's great to see how far we've come. Edmonton Startup Week has become an integral part of our city's economic vitality, and startups have been the beating heart of this growth. They're the engine driving job creation and economic stimulation in Edmonton. Edmonton Startup Week serves as a shining example of just how crucial startups are to our community's fabric. Our government will always be here to support them and ensure they thrive." 
– Honorable Randy Boissonnault, Minister of Employment, Workforce Development and Official Languages
Alberta's tech sector is booming. We have more tech companies, more jobs and more venture capital investment than ever before – and we're just getting started. Edmonton's Startup Week is the perfect time to celebrate this momentum by networking with fellow entrepreneurs, innovators, and investors.
-Honorable Nate Glubish, Minster of Technology and Innovation
"Alberta Innovates is dedicated to driving innovation and economic growth in our province. As we celebrate a decade of Edmonton Startup Week, we are thrilled to continue collaborating with the innovation ecosystem to drive a brighter future for Alberta—one filled with opportunities and boundless potential."
 – Douglas Holt, Associate Vice President Investments, Alberta Innovates
"The Edmonton Regional Innovation Network is a proud supporter of Startup Week as an important celebration of entrepreneurship and of the people shaping the entrepreneurial ecosystem,
to build connections and provide the community with a platform to share projects and ideas to support Edmonton's innovation ecosystem". 
-Olle Lagerquist, Co-Chair, Edmonton Regional Innovation Network
About Edmonton Startup Week:
Edmonton Startup Week is an annual celebration of Edmonton's thriving startup culture and entrepreneurial spirit. Founded in 2013, the event has grown into five days of electrifying workshops, networking, and innovation, attracting over a thousand participants annually. Edmonton Unlimited produces Edmonton Startup Week, partially funded by Alberta Innovates through the Edmonton Regional Innovation Network.
About Edmonton Unlimited
As the City of Edmonton's innovation agency, we position Edmonton as an inclusive global innovation capital, supporting innovators as they create companies and solutions to solve the planet's toughest challenges, including the climate emergency, public health, food security, digital inclusion, and Reconciliation. We help Edmonton's entrepreneurs translate their ideas into tangible, growing companies by providing local innovators with the right assistance at the right time. These made-in-Edmonton solutions are uniquely designed to meet international market demands, attract enlightened investment, and bolster our reputation as a destination of choice for entrepreneurs, accelerators, and bold multinationals. We contribute to the city's enduring economic vitality, resiliency, and identity while fueling jobs, economic opportunities, and civic pride for all Edmontonians.
About Alberta Innovates
Alberta Innovates manages nearly 1,300 projects in a portfolio valued at $1.33 billion. We work with innovators in all sectors of the economy and all corners of the province to drive entrepreneurship, applied research and industry development. With our impact-based funding programs and services, we are transforming energy systems for a net-zero world, promoting the responsible use of land and water, leveraging provincial strengths in agriculture, and contributing to improved health and well-being by harnessing digital tech and data. We are also advancing emerging technologies and strengthening entrepreneurship for a strong and diversified economy. We operate in 11 locations with more than one million sq. ft. of industrial testing and lab facilities, and 600 acres of farmland. We employ nearly 600 highly skilled scientists, business and technical professionals. From funding to commercialization, we are Alberta's innovation engine! Hear what entrepreneurs say about our coaching and support.
Learn how Alberta Innovates.
Attachments
CONTACT: Shamelle Pless Edmonton Unlimited 7806807562 [email protected] 

Disclaimer: The above press release comes to you under an arrangement with GlobeNewswire. AfternoonHeadlines.com takes no editorial responsibility for the same.