Universal Tennis Announces On-Site Activations at 2023 BNP Paribas Open
Activations include the UTR College Match Challenge featuring powerhouse collegiate programs USC and Pepperdine, the Universal Tennis Foundation Hurd Award recipients announcement, and a tournament-long demo court to engage fans on-site
The UTR College Match Challenge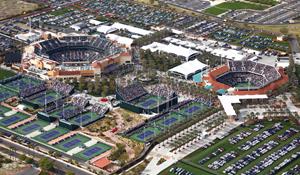 Palo Alto, CA, Feb. 09, 2023 (GLOBE NEWSWIRE) — Universal Tennis has announced a collection of new programming to take place on-site during the 2023 BNP Paribas Open, to be held March 6-19 at the Indian Wells Tennis Garden. These new elements will add to the already world-class experience for fans coming to Tennis Paradise.
Universal Tennis continues to lead the growth and exposure of collegiate tennis with another UTR College Match Challenge. Similar to the announcement last month with the 2024 Australian Open, the UTR College Match Challenge: BNP Paribas Open will showcase the University of Southern California and Pepperdine men's teams. 
"We are proud to be able to continue to elevate college tennis at the highest levels of the sport," said Mark Leschly, Universal Tennis Chairman & CEO. "This battle of SoCal teams will be an exciting start to a great final day of tennis at the BNP Paribas Open."
The teams will compete in a regular season dual match on the morning of Sunday, March 19, providing fans on-site the opportunity to witness the talent and energy of college tennis prior to the men's and women's BNP Paribas Open finals. 
"Having the chance to play at a venue like the Indian Wells Tennis Garden is going to be truly special and a memory we will keep forever," said Brett Masi, USC Head Men's Tennis Coach. "College tennis is on a roll right now and for us to be able to showcase our sport in front of the crowd down in Indian Wells will only help in showing the world how truly special college tennis is!"
Currently ranked No. 9 based on UTR Power 6 Rankings, the USC men's team will face a No. 24-ranked Pepperdine squad. The two teams have battled in highly competitive dual matches over the past few seasons. 
"We are grateful to Universal Tennis and the BNP Paribas Open for the opportunity to be showcased at a world-class event," said Adam Schaechterle, Pepperdine Head Men's Tennis Coach. "Universal Tennis has been a wonderful partner to college tennis, and we appreciate their desire to promote our product on such a massive stage. Our student-athletes are thrilled to compete alongside the top professionals in our sport. We look forward to Pepperdine fans and supporters joining us in the desert!" 
Last year, Pepperdine upset a higher-ranked USC team in their only meeting. In 2021, the teams faced off twice, with the Waves winning during the regular season and the Trojans getting revenge in the second round of the NCAA tournament on their way to the quarterfinals. 
USC has won the NCAA championships on a nation-leading 21 occasions, most recently in 2014 and for four years in a row from 2009-2012. Pepperdine has won once in its program history, back in 2006. 
During the tournament, Paula Hurd and the Universal Tennis Foundation will reveal the recipients of the Universal Tennis Foundation Hurd Awards. Continuing in the tradition started by the late Mark Hurd and Oracle, the Universal Tennis Foundation Hurd Awards are $100,000 player grants awarded annually to an aspiring American male and female tennis player who has shown a commitment to continued development in international tennis and exhibited exemplary sportsmanship in college tennis. More information on the Universal Tennis Foundation Hurd Awards can be found here.
Universal Tennis will collaborate with Tennis Warehouse to create a fan engagement on-court experience throughout the tournament with high energy, music, prizes, guest appearances, and more. The BNP Paribas Open Demo Court featuring Universal Tennis and Tennis Warehouse will run from March 8-12 and 15-18, with tournament guests able to participate in drills, clinics, games, and equipment demos with chances to win prizes and share a court with pro players. Tennis Warehouse will provide multiple racquet options at the demo court for fans to try out and purchase on-site.
"We are always excited to add new elements and activities to enhance the on-site experience here in Tennis Paradise," said Philippe Dore, BNP Paribas Open Chief Marketing Officer. "We're confident that the new programming provided by Universal Tennis and Tennis Warehouse this year will offer fans even more to love about their time at the Indian Wells Tennis Garden."
About Universal Tennis
The mission of Universal Tennis is to connect and grow the sports of tennis and pickleball with innovative events and a global digital marketplace centered around level-based play. The Universal Tennis Engagement Platform is anchored by the UTR Rating, the world's most accurate singles and doubles tennis rating system. Universal Tennis provides the tools and solutions to make the UTR Rating relevant and valuable to players, coaches, and organizers in their local tennis communities. Universal Tennis is creating opportunities and pathways for players from all over the world, in all stages of life, to find better matches and unlock a more fun and flexible tennis experience. Go to UniversalTennis.com to sign up, activate your player profile, and join the global tennis community. Watch our video and connect on social @UniversalTennis to learn more.
Starting in early 2023, Universal Tennis will offer one home for tennis and pickleball, beginning a new chapter by bringing a pickleball rating and technology solutions to another racquet sport. Universal Tennis will enable its customers to use its pickleball rating and event management software to create accessible, competitive level-based events.
Attachment
The UTR College Match Challenge
CONTACT: Universal Tennis Ben Makarenko [email protected] 
Disclaimer: The above press release comes to you under an arrangement with GlobeNewswire. AfternoonHeadlines.com takes no editorial responsibility for the same.