Undetectable AI Surpasses Two-Million Active Users
Undetectable AI is proud to announce a new milestone of reaching over 2,000,000 active users on its platform. This achievement further establishes Undetectable AI as a fast-growing AI-enabled tool.
Sheridan, WY, Sept. 30, 2023 (GLOBE NEWSWIRE) —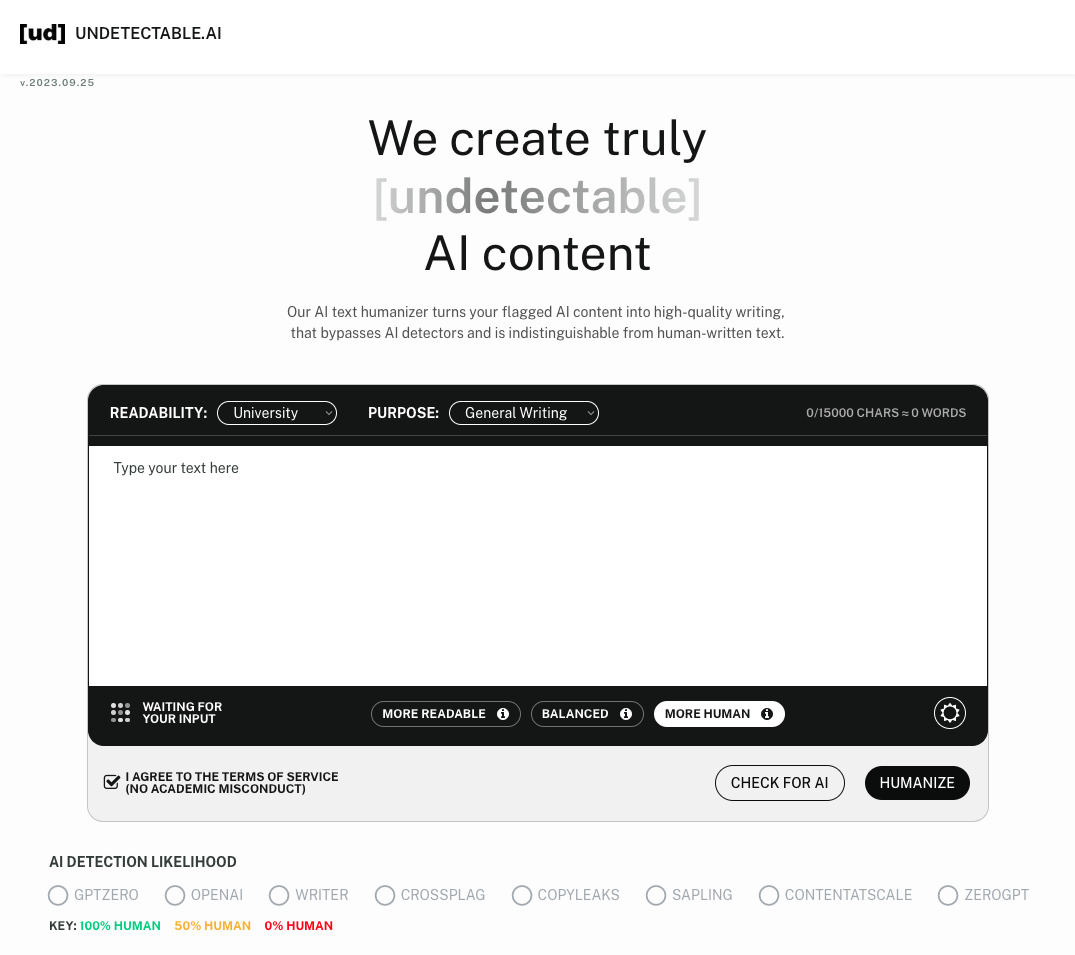 Undetectable AI, a platform specialized in creating human-like AI-generated content and AI detection bypassing technology, has achieved a new monumental milestone by garnering a user base of over 2,000,000 people.
In light of this milestone, the official company website now features a badge on the front page that says "Trusted by over 2M+ Users."
The platform is proud to announce this accomplishment, potentially underscoring content creators' growing trust and reliance on Undetectable AI's innovative tool designed to blend machine efficiency with human-like content creation seamlessly.
CEO, Christian Perry states "Surpassing the 2 million user mark is a significant milestone that reflects the growing demand for high-quality, human-like content in today's digital age. It's not merely about reaching numbers; it's about the value and trust we have established among content creators who seek to produce engaging content while avoiding detection by AI content detectors."
Key Features of Undetectable AI
Turn flagged AI written content into text that reads like human written content
Output natural sounding AI-text that can evade detection and bypasses AI detectors
AI detection tool that combines multiple AI detection tools in one.
Three main output modes (two to bypass AI detectors, one for crafting human written sounding content for a blog post, product copy, or general long form content)
Two AI content humanization generations each generation (All users can "re-roll" their humanized outputs to get a second one for free that can bypass AI detection)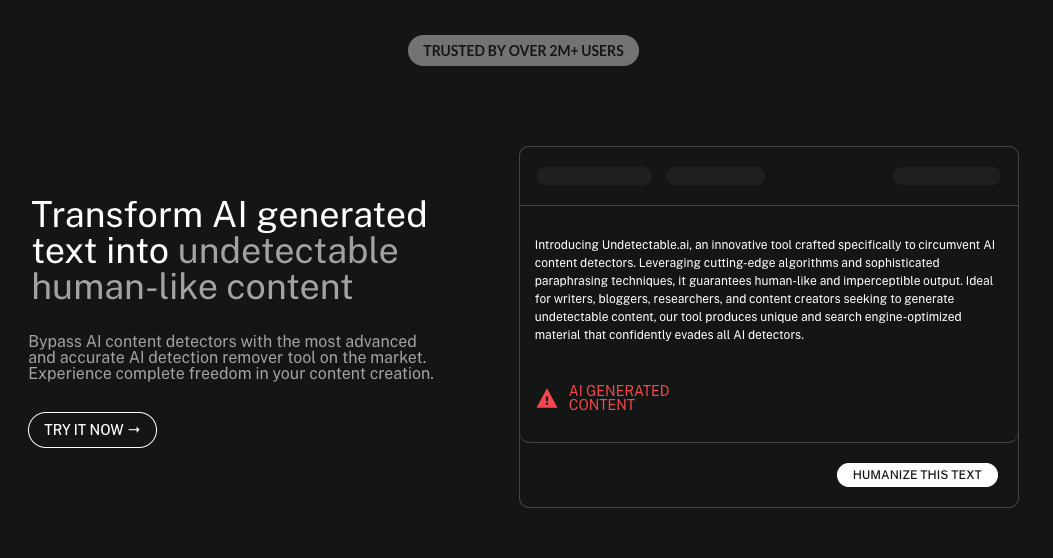 Built In AI Content Detectors Expansion
Undetectable.ai also features a free tool to scan an AI-generated output (or regular copy), allowing users to see if the text will likely be marked as flagged AI content.
The Undetectable AI content detectors are currently being improved to increase speed and accuracy and to serve the diverse and growing user base better.
Expansion And Company Mission
Undetectable AI aims to be at the forefront of addressing the common challenges content creators face in the digital arena. 
The platform's proprietary AI writing tools enable users to craft content that resonates with human readers without raising flags from AI content detection tools.
The proprietary AI detection bypass technology aims to ensure the AI generated content remains authentic and undetectable, thus providing a vital edge in a competitive online arena.
"Undetectable AI is not just an AI tool; it's a companion for content creators, aiding them in navigating through the intricacies of ai content detection while allowing them to focus on what truly matters – engaging their audience," said CTO/Developer Bars Juhasz.
"I believe we have achieved this growth because our tool is not just an AI writer, rather our platform completely changes the writing style typically produced by AI writers or paraphrasing tools, into something that sounds like a real person wrote it." -CCO Devan Leos
The platform's AI writing tools are engineered to generate human-like content that mirrors the natural flow and diversity of human writing; this is achieved by leveraging advanced machine learning algorithms and language models, which form the backbone of Undetectable AI's ai generated text creation capabilities and technology.
Undetectable AI's multilingual support is a recent example of the platform's increased expansion to a global audience.
The platform now supports over 50 languages, making AI writing and content creation a breeze for non-English speakers. This feature amplifies Undetectable AI's commitment to inclusivity and global communication, enabling content creators from various regions to produce human like content effortlessly.
"Our multilingual support is not just a feature; it's a statement of our global outlook, and rapidly growing user base. We believe in breaking down language barriers to make AI generated and assisted content creation accessible to everyone, everywhere," says CCO Devan Leos.
Further, Undetectable AI's AI detection tools are meticulously crafted to virtually ensure users across various languages can seamlessly bypass AI content detectors, a feature that the company believes sets it apart in a market crowded with AI writing tools.
The platform's AI content detection bypass technology now leverages a myriad of multi-lingual techniques to improve, not merely disguise AI-generated text; aiming to make it indistinguishable from genuinely produced human-written content.
"Our tool is not just about making AI writing undetectable, it's about fostering communication, improving content workflow, and furthering the ability to use AI tools to craft content that resonates with human readers." says CCO Devan Leos
Undetectable AI takes pride in its AI content detection-based tools, which are continuously being refined to stay ahead of the evolving AI detection algorithms.
These continuous improvement efforts aim to ensure that Undetectable AI remains a reliable and cutting-edge platform for content creators who seek to produce high-quality content without the fear of being flagged as AI generated.
The AI content created using Undetectable AI's sophisticated tools goes through ongoing rigorous checks to ensure it meets the high standards set for human like content.
Its AI writing tools are programmed to adhere to a diverse range of multi-lingual sentence structures, vocabulary usage, and punctuation, thus mimicking the nuances of human writing.
"In a digital ecosystem where content detectors are becoming increasingly stringent, having a tool that can proficiently generate human-like content while evading detection is invaluable. Undetectable AI stands as a great tool for content creators in this regard," says CEO Christian Perry.
Undetectable AI's commitment to quality and authenticity through its suite of features is designed to aid content creators in creating better content also optimizing it for SEO.
The platform's content optimization features are engineered with the goal of enhancing the SEO rankings of the ai generated content, thus potentially increasing content visibility on search engines and attracting a wider audience.
The mission of Undetectable AI is not just about providing sophisticated ai writing tools; it's about making these tools accessible to a wide spectrum of users. The official platform offers a variety of flexible pricing plans designed to cater to different user needs, from individuals and small-scale content creators to growing businesses and larger teams with higher content needs.
Q4 Pricing Statement
There are currently no current plans to increase or change the pricing of the core product in Q4.
The Individual Plan, priced at a $9.99 per month, allows access to up to 10,000 words, making it a cost-effective option for individuals and small-scale content creators. For small teams and growing businesses, the Team Plan, priced at $19.99 per month, provides a generous limit of 25,000 words.
Larger teams with higher content needs have the option to choose the Business Plan, which is priced at at $49.99 per month, offers an increased limit of 50,000 words.
For businesses with high-volume needs, custom pricing is available under the Enterprise Plan, providing a tailored solution to meet their specific requirements.
"The tiered pricing structure ensures that Undetectable AI's capabilities are accessible to all, irrespective of their scale of operations. We believe in empowering content creators with the right tools to generate ai content that resonates with their target audience," said CEO Christian Perry.
"Not only does Undetectable AI excel in bypassing ai detectors, but it also shines in its capacity to generate content that mirrors human writing closely." -CEO Christian Perry
The AI generated text crafted using Undetectable AI embodies a diverse range of sentence structures, vocabulary, and punctuation, significantly reducing the chances of being flagged as ai generated by content detectors; and all features (other than word usage limits) are available the same across all tiers.
Undetectable AI aims to serve as a potent and affordable tool for content optimization. Beyond mere content creation, it aims to aid users in enhancing their content for SEO and readability; a critical aspect the company has noticed may help achieve higher rankings on search engine results pages (SERPs) in some cases and attracting a wider audience.
The AI content optimization feature ensures that the content is not only engaging but also SEO-friendly, thus enhancing its visibility online.
"In today's fast paced and highly competitive world, having content that is both engaging and SEO-optimized is considered very important by our users. Undetectable AI's content optimization feature is a feature we implemented for users aiming to rank higher on search engines and attract a wider readership" – CTO/Developer Bars Juhasz.
Further, the continuous enhancements and updates to the platform aim to signify Undetectable AI's dedication to helping their users stay ahead in the evolving world of ai generated content creation.
The platform's entire team has an ongoing goal of providing a reliable, cutting-edge solution for people worldwide, and making Undetectable AI the preferred choice among the community.
Expansion Of Accessibility And Diversity
Undetectable AI believes the ability to create authentic, engaging, and undetectable ai generated content is becoming more important for accessibility-related AI-assistance.
The platform's ability to output content so authentic it can bypass AI detection has opened up new avenues for people from all walks of life, allowing them to leverage the power of artificial intelligence while maintaining a human touch in their narratives. This unique proposition Undetectable AI hopes will demonstrate their position as a reliable ally people who rely on AI to assist them in their lives.
In Q2, the CTO of Undetectable AI was nominated by VentureBeat for a diversity and inclusion award. The nomination was due to the efforts of creating jobs and providing opportunities to disadvantaged people groups by using AI.
"Our vision has always been clear – to provide a reliable platform for people where they can harness the power of AI without compromising on authenticity. The journey to 2 million users reflects the trust and value we have been able to build in the community, and even before this growth diversity snd inclusion has always been on our hearts," – CCO Devan Leos.
The platform's commitment to continuous improvement and adapting to the changing dynamics of AI content detection algorithms ensures it stays relevant and continues to provide immense value to its diverse users.
The journey to achieving the 2 million user milestone is a milestone that the company believes showcases its dedication to robust architecture, reliable performance, and the trust it has garnered among the content creator community.
This milestone of reaching 2,000,000 active users has been accomplished within 5 months of publicly launching in May 2023.
Undetectable AI doesn't want to just be another tool; it's focus is to be a partner for people; For global communicators and content creators, aiding them in navigating the intricate process of AI-generated and assisted content creation while ensuring narratives remain engaging, authentic, and indistinguishable from what a real human would write.
With a robust roadmap of features and enhancements lined up, Undetectable AI plans to continue its trajectory with innovation and excellence as the standard.
The platform is committed to further refining its AI detection bypass technology, expanding its language support, and introducing new features that will continue to add value to its users and the broader content creation community.
The journey of Undetectable AI has been marked by continuous additions of innovative features, adaptability, and a staunch commitment to providing content creators with an unparalleled platform for AI generated content creation and communication.
The team behind Undetectable.ai believes the milestone of reaching over 2,000,000 users is not just a testament to the platform's capabilities, but also a reflection of the trust and confidence bestowed upon it by the global content creator community.
The platform's multi-lingual support, flexible pricing plans, and advanced AI detection bypass technology have set a new standard in the industry, aiming to significantly raise the bar for competitors.
Undetectable AI believes it is successfully positioning itself as a reliable, user-friendly, and innovative tool in content creation and advanced artificial intelligence-based technologies.
"Our mission has always been nd will continue to democratize content creation and make AI writing tools accessible to all. The response from the community has been overwhelming, and we are continuously motivated to enhance and expand our offerings," said CEO Christian Perry.
Undetectable AI hopes it's growth will shed light on the broader potential of artificial intelligence in enhancing creativity and aiding human writers in generating high quality content effortlessly.
By providing a platform that seamlessly blends ai writing with human-like sentence structure, vocabulary, and style, Undetectable AI is not only addressing the immediate needs of content creators but also shaping the future of digital content creation.
The platform's AI content detection tools, paired with its ability to generate ai content undetectable by most tools, are designed to address a crucial gap in the market, providing a safe and reliable space for people to generate, optimize, communicate, and share their work without the fear of being flagged as ai generated.
"The unprecedented growth and positive reception from the user base, we think indicates the significant strides Undetectable AI has made since its inception." -CCO Devan Leos
With a clear vision and a dedicated team, the Undetectable AI team believes the platform is poised for a promising future filled with further innovations, expanded language support, and an unwavering commitment to serving the content creator community.
"As we continue to evolve and expand, our core focus remains on ensuring that Undetectable AI remains the go-to platform for content creators seeking to produce authentic, engaging, and undetectable ai generated content." – CTO/Developer Bars Juhasz,
By fostering a conducive environment for creativity, innovation, and authenticity, Undetectable AI is indeed carving a distinctive niche in the digital content creation arena, promising a future where ai generated text and human written text coexist and complement each other, propelling the industry forward into a new era of digital storytelling.
"A person who needs AI technology in their life to improve their communication deserves to have the ability to communicat
e and create content identical to what a human would write. That is our mission because it's humans that are using our product and stand to benefit from it" –CEO Christian Perry
About Undetectable AI
Undetectable AI is an artificial intelligence-based company and platform that allows users to improve AI-generated content by making it more readable, with the goal of sounding like human-written content. The platform features a proprietary "Text humanizer" and free AI content detector. The company was launched in May 2023 and now has over 2,000,000 active users.
*The official platform and website of Undetectable AI is undetectable.ai, and any other platform using the name of, or claiming to be Undetectable AI, other than the official undetectable.ai website is not endorsed or recognized by the company.*
Media Contact:
Devan Leos – CCO
424-281-9610

Disclaimer: The above press release comes to you under an arrangement with GlobeNewswire. AfternoonHeadlines.com takes no editorial responsibility for the same.