U.S. Surgeon General's Statement on Social Media's Impact on Children Brings Focus to PDFNJ's Media Campaign
PDFNJ's 2023 Public Service Campaigns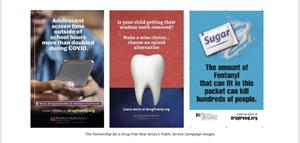 Millburn, New Jersey, Feb. 13, 2023 (GLOBE NEWSWIRE) — Social media poses risks to children's mental health, which can have a direct link to experimentation and substance use and misuse, according to the U.S. Surgeon General and the newest public service campaign by the Partnership for a Drug-Free New Jersey (PDFNJ).
 Surgeon General Vivek Murthy recently reiterated a warning that children join social media too early and believe they should only be allowed to access platforms once they reach age 16, as social media has been shown to have a direct impact on adolescents' mental health. This statement comes on the heels of the Surgeon General's report released last year warning of a growing mental health crisis among young people.
The PDFNJ campaign focuses on the increased amount of screen time adolescents are spending on their phones and the link to their mental health, which can be detrimental and lead to substance use or misuse. A key to prevention is to raise awareness of stressors facing children and offer measures families can take to ensure that these stressors don't lead to experimentation with substance abuse or misuse.  A cornerstone of the Partnership for a Drug-Free New Jersey is family communication, with research finding that parents who talk to their children for at least 15 minutes a day have children who are 67 percent less likely to experiment with drugs and alcohol.
"As people diagnosed with mental health conditions are about twice as likely to suffer from a substance use disorder, PDFNJ wanted to raise awareness to ensure that this youth mental health crisis does not lead to a substance abuse crisis," said Angelo Valente, Executive Director of PDFNJ." "The goal of all of our public service campaigns is to educate New Jersey residents about important topics that could be impacting their families."
The 2023 public service campaigns also include information on the dangers of fentanyl, dentists prescribing opioids for wisdom tooth pain, and the impacts marijuana can have on an adolescent's developing brain.
15 and: 30-second video public service announcements of the Wisdom Tooth campaign and the Fentanyl campaign PSAs, both produced by Concepts TV, can be viewed here.
All of PDFNJ's public service announcements can be found on New Jersey Transit buses, trains, PATH trains, bus shelters and billboards throughout the state.
# # #
Best known for its statewide anti-drug advertising campaign, the Partnership for a Drug-Free New Jersey is a private not-for-profit coalition of professionals from the communications, corporate and government communities whose collective mission is to reduce demand for illicit drugs in New Jersey through media communication. To date, more than $200 million in broadcast time and print space has been donated to the Partnership's New Jersey campaign, making it the largest public service advertising campaign in New Jersey's history. Since its inception, the Partnership has garnered 217 advertising and public relations awards from national, regional and statewide media organizations.
Attachment
PDFNJ's 2023 Public Service Campaigns
CONTACT: Natalie Golub Partnership for a Drug-Free New Jersey 9733824560 [email protected] 

Disclaimer: The above press release comes to you under an arrangement with GlobeNewswire. AfternoonHeadlines.com takes no editorial responsibility for the same.