Turntide Technologies Showcases Axial Flux Motor Technology At IVT Off-Highway Vehicle Technology Conference & Expo
Turntide Axial Flux Motor Range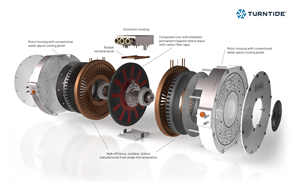 SUNNYVALE, Calif., Aug. 23, 2023 (GLOBE NEWSWIRE) — Turntide Technologies, Inc. ("Turntide"), developer of breakthrough sustainability technologies, will showcase the Turntide Axial Flux motor range, one of the most reliable power- and torque-dense type of motor technologies at the IVT Expo USA in Chicago, IL, August 23-24. This motor is a key offering in the Turntide Electrification™ suite of electric powertrain products.
Turntide's Axial Flux motor design, which features a dual stator and single rotor configuration, offers a range of benefits compared to traditional radial flux motors. These benefits include more compact size, 30-40% greater torque, higher power density, and precise control. These motors are ideal replacements for radial flux motors in applications such as commercial vehicles, construction machinery, hybrid marine vessels, industrial robots, FC radiator fans, hydraulic pumps, and every place where space and weight are limited and efficiency matters.
Unlike radial flux motors, axial flux motors have a distinct geometry in which the magnetic flux direction is parallel to the motor rotation axis. This design provides superior torque and power while using the same electrical components as radial flux motors. Additionally, due to their extremely low axial length-to-diameter ratio, axial flux motors are "flat" and have a smaller and lighter form factor than radial motors.
"As the construction industry undergoes a rapid transformation, the demand for powerful, efficient, and sustainable equipment continues to rise. Axial flux motor technology is a gamechanger in the world of electromechanical engineering by providing smaller, lighter, and more powerful motors that help reduce energy consumption and improve overall equipment performance," said Mark Cox, general manager of Turntide's transport business unit. "At Turntide, we are committed to driving innovation and advancing the adoption of axial flux motors, as we believe these will pave the way for a more sustainable future."
Construction equipment is estimated to generate around 400 metric tons of CO2 emissions per year, representing roughly 1.1% of global emissions. Consequently, decarbonization of non-road mobile machines is considered a key factor in efforts to limit global climate change. Additionally, electrified construction machines produce zero exhaust emissions, significantly lower noise levels, reduce energy costs, and enhance drive comfort making them more versatile to use indoors, underground, and in other locations with limited ventilation.
Since acquiring Avid Technologies in 2021, Turntide has been advancing the motor's design, size, scalability, and production readiness. Leveraging digital twins and simulation software from Ansys, Turntide accelerated design cycles to ensure safety, reliability, long-life, and full-power performance in the most rigorous and extreme conditions.
The motor features a patented composite rotor at its core. The rotor's design makes it among the lightest and least-inertial electric motors available, while providing excellent stability with very little audible noise, vibration, or cogging torque during operation.
Turntide's Axial Flux motor also features two high-efficiency stators, each made from a single thin lamination using a unique manufacturing process. This construction method delivers superior performance compared to other motors using sintered stator pieces and enables a much wider range of operating speeds. The stator can be easily scaled to different sizes and winding configurations without additional tooling, making it cost-effective for high-volume production. The stators are mounted directly onto the motor housing allowing for efficient water-glycol jacket cooling, thereby reducing system complexity and cost compared to direct rotor, oil-cooled motors. This effective cooling system enables Turntide's motor to achieve high levels of continuous performance.
The motor is available in stack configurations from single to quadruple, from 100kW to 880kW peak power and 220Nm to 2,400Nm peak torque. With extensive system-level design expertise, Turntide also offers a range of matched inverters to streamline vehicle integration and shorten time to market.
About Turntide Technologies
Turntide Technologies Inc. invents and scales breakthrough technologies to accelerate electrification and sustainable operations for energy-intensive industries. Turntide's integrated, open systems support commercial and industrial vehicles, building operations, and agriculture to optimize how the world uses energy. Turntide enables companies to lead their industries by attacking energy waste at every level and operating smarter for accelerated growth. For more information, visit https://turntide.com/ or follow the company on YouTube and LinkedIn.
A photo accompanying this announcement is available at https://www.globenewswire.com/NewsRoom/AttachmentNg/75e3333f-10d5-4ab7-b35b-749eab0ce0c9
CONTACT: Contact: [email protected]

Disclaimer: The above press release comes to you under an arrangement with GlobeNewswire. AfternoonHeadlines.com takes no editorial responsibility for the same.