Truepic Unveils Watershed Gen-AI Transparency Directly on Devices Powered by Snapdragon Mobile Platform
Breakthrough development empowers smartphones to capture authentic or generate AI images with full transparency to those viewing
Truepic Unveils Watershed Gen-AI Transparency Directly on Devices Powered by Snapdragon Mobile Platform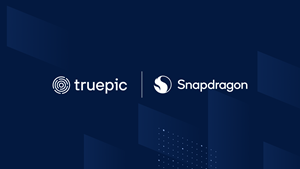 San Diego, CA, Oct. 24, 2023 (GLOBE NEWSWIRE) — Today, Truepic, provider of authenticity infrastructure for the internet, showcased how next-gen smartphones with the new flagship Snapdragon® 8 Gen 3 Mobile Platform can have the ability to generate synthetic images or capture real media with full transparency into its creation for content consumers using Truepic's technology. This breakthrough marks a watershed moment for transparency and authenticity in today's world of generative artificial intelligence. 
Truepic's technology seamlessly embeds the Coalition for Content Provenance and Authenticity's (C2PA) Content Credentials to any image – synthetic or authentic – created on a device within the Qualcomm® Trusted Execution Environment (TEE). Snapdragon 8 Gen 3 is the first C2PA-compliant mobile platform, which unlocks the possibility of transparency for smartphones capturing or generating media when leveraged along with Truepic's technology. These capabilities were displayed on stage by Qualcomm Technologies during its annual Snapdragon Summit in Maui, Hawaii.
Images originating from devices containing Truepic's technology and powered by the Snapdragon 8 Gen 3 platform can be fully transparent to any C2PA-compliant platform, browser, or device. Authentic images captured from the device would be cryptographically marked if users, OEMs, and app makers opt-in and choose to add transparency markings. Synthetic images created on device can default to being sealed with the C2PA standard for transparency.
"It is clear that generative capabilities are moving on-device. It is critical that chipsets now power transparency and authenticity from the point of creation. We believe deploying the provenance open standard on-device is one of the most significant breakthroughs toward a more authentic internet and will be the model moving forward. We are proud to continue working with Qualcomm Technologies to provide tools that will scale authenticity online," said Jeff McGregor, Truepic CEO. 
"We are committed to working with industry partners, like Truepic, to help facilitate ethical and responsible AI innovation," said Ziad Asghar, Senior Vice President, Technology Planning, Qualcomm Technologies, Inc. "By supporting Truepic's technology, we can help ensure photos captured or generated by AI on next generation smartphones powered by Snapdragon 8 Gen 3 are authentic and adhere to the C2PA standard."
Transparency, provenance, and authenticity in digital content have become a necessity in the increasingly digitized world. Further, these concepts have been identified as a best practice in generative AI by various organizations, including the Partnership on AI's synthetic code of conduct and the White House announcement on voluntary commitments. As generative AI capabilities move from server-side platforms to devices, the Truepic C2PA implementation within the Snapdragon 8 Gen 3 Mobile Platform will lead the way to ensure users are empowered to create content – either authentically or synthetically – in accordance with the world's emerging best practices. These capabilities will also help content consumers and those viewing content decipher between AI generated media and those authentically created. 
About Truepic 
Truepic provides authenticity infrastructure for the Internet. The company's transparency tools deliver verifiable information about the origin and editing history of digital content. Truepic is dedicated to advancing products and services that establish transparency in digital content, empowering viewers and users to identify authenticity and differentiate human from computer-generated. Recognized as one of TIME's Best Inventions and Fast Company's World Changing Ideas, consumers, businesses, creators, and publishers trust Truepic's technologies to make informed decisions. For more information, visit truepic.com.
Qualcomm and Snapdragon are trademarks or registered trademarks of Qualcomm Incorporated. 
Qualcomm Trusted Execution Environment and Snapdragon are products of Qualcomm Technologies, Inc. and/or its subsidiaries.
Attachment
CONTACT: Victoria Banaszczyk Truepic [email protected] 

Disclaimer: The above press release comes to you under an arrangement with GlobeNewswire. AfternoonHeadlines.com takes no editorial responsibility for the same.