Tradable Bits to offer customizable Arcade Games as a new tool for NBA, NFL, NHL, MLS and AFL Partnership Teams
Tradable Bits and MLSE Digital Labs join forces to offer customizable Arcade Games to NBA, NFL, NHL and AFL Teams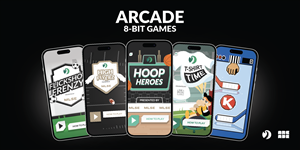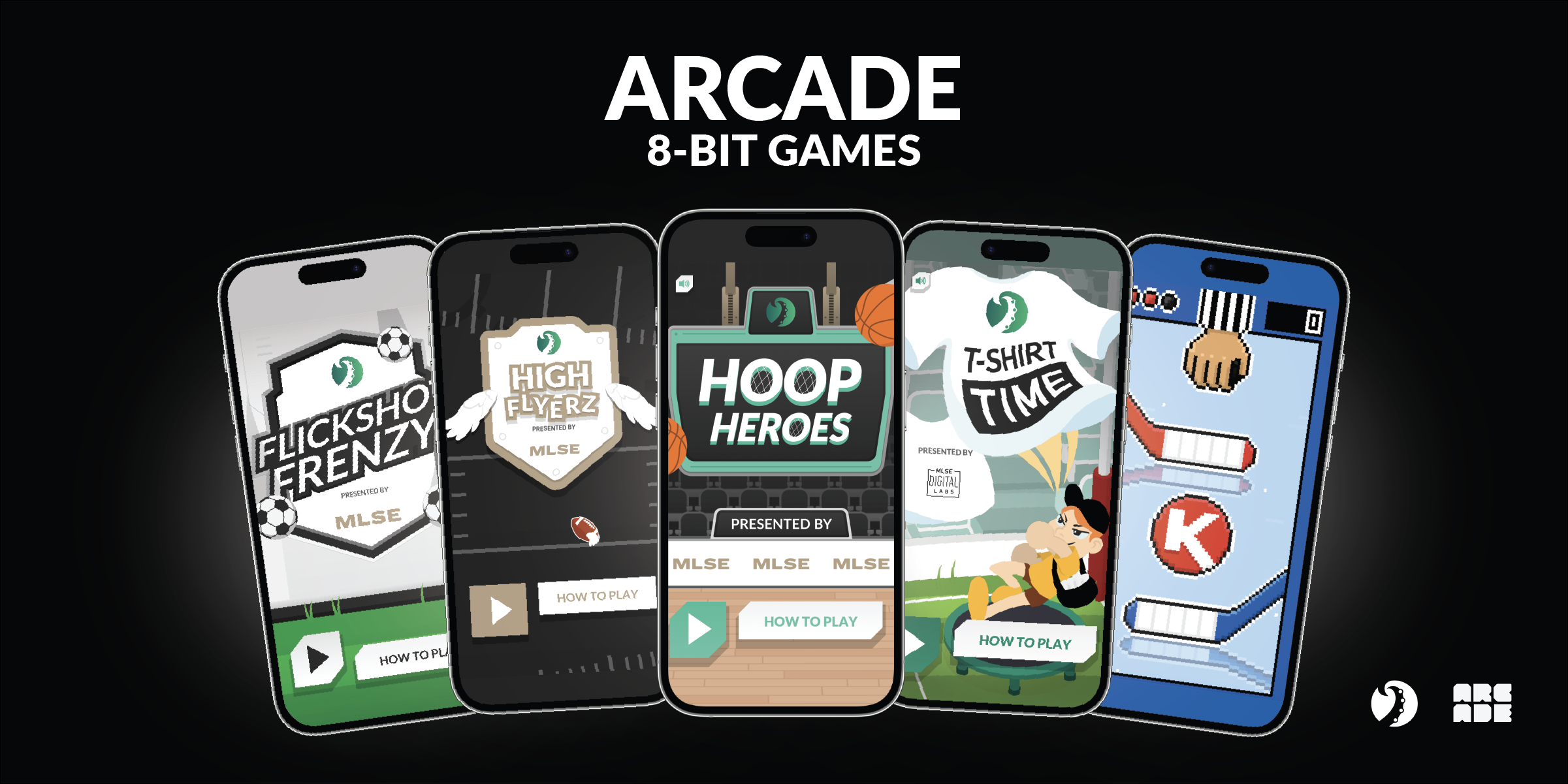 Tradable Bits collaborates with MLSE Digital Labs to bring skinnable arcade-style games to market.
VANCOUVER, British Columbia, July 24, 2023 (GLOBE NEWSWIRE) — Tradable Bits is launching a series of customizable arcade-style games as an interactive way for fans to interact with teams, even when they're not actively watching a game. This interactive engagement platform will empower teams to personalize each game to their brand and sponsors in minutes.
ARCADE games boast an average of 4X more dwell time than traditional digital campaigns, allowing partnership teams to commercialize an entirely new product tier for their sponsors. ARCADE games are also accessible to a global audience, granting teams that plan to grow their international presence a new tool for capturing attention and first-party data.
Introducing Season 1 of ARCADE:
The first "season" of ARCADE is catered to teams in the NBA, NFL, NHL, MLS & AFL, and will consist of the following
5 starting game types:

Flickshot Frenzy
Face-off
High-Flyerz
Pop-a-Shot
T-Shirt Time
5 supported sports skins (for Basketball, Football, Hockey, Soccer and Australian Football)
1 easy-to-use CMS, where teams can customize unlimited variations of the available ARCADE games for their year.
The Collaboration Supporting ARCADE:
ARCADE as an interactive engagement platform was born out of a long-standing relationship between Tradable Bits and MLSE Digital Labs, the innovation arm of Maple Leaf Sports and Entertainment. For the last 5 years, both organizations have dedicated their work together to pushing the boundaries of fan engagement through technology. ARCADE Season 1 consists of MLSE's most popular custom-developed games, now available for all teams to use.
CEO of Tradable Bits, Darshan Kaler, welcomes ARCADE as Tradable Bits continues to grow its presence as the partner of choice for teams, leagues and live events globally.
"Sports marketing creates community. That's where ARCADE comes in. Fans get to engage with their team's community through delightful games, while commercial partners benefit from hyper-focused attention. In a world full of noise, connecting with a fan outside of a game is invaluable, but capturing and reporting on the impact of those interactions is where the big opportunity lies."
Director of Digital Experiences at MLSE, Jim O'Mara shared the following about ARCADE:
"ARCADE was borne from a "fun-first" philosophy to partnership fulfillment. Through the use of gaming, we've seen fan interaction go up 5x, and incredible numbers when it comes to dwell time and number of plays per fan. We believe that gamification is an important tool in bringing fans closer to the game they love. We're excited to partner with Tradable Bits to bring ARCADE to the wider sports market."
mlsearcade.com  
About MLSE:
Maple Leaf Sports & Entertainment Limited Partnership. (MLSELP) is Canada's preeminent leader in delivering top-quality sport and entertainment experiences to our fans. MLSE is one of North America's leading providers of exceptional experiences. It is the parent company of the National Hockey League's Toronto Maple Leafs, the National Basketball Association's Toronto Raptors, Major League Soccer's Toronto FC, the Canadian Football League's Toronto Argonauts, the NBA 2K League's Raptors Uprising and development teams with the Toronto Marlies (American Hockey League), Raptors 905 (NBA G League) and Toronto FC II (MLS NEXT Pro League). MLSE owns and/or operates all of the venues its teams play and train in, including Scotiabank Arena, BMO Field, Coca-Cola Coliseum, Ford Performance Centre, BMO Training Ground and OVO Athletic Centre. MLSE also provides fans in Toronto with incredible live music and entertainment events. MLSE strives to deliver championships to our city and our fans and bring the world to its feet.
mlse.com
About Tradable Bits:
Headquartered in Vancouver's booming tech scene, Tradable Bits is a self-funded software company that provides fan-based marketing solutions for market leaders in the sports, music & entertainment industry. Tradable Bits is charting the path to personalized fan experiences in partnership with over 100 clients worldwide – including professional sports teams in the NBA, NFL, NHL, NCAA, CFL, CPL, MLS, and AFL. From cutting-edge activations & data segmentation to hyper-targeted marketing automation, their hand-crafted fan marketing platform has everything you need. Tradable Bits has offices in North America, Australia and Europe.
Tradable Bits.com
A photo accompanying this announcement is available at https://www.globenewswire.com/NewsRoom/AttachmentNg/a78be5bc-f5c2-4542-8dd8-7be4c97f297c
CONTACT: For more information contact Asha Kennett at [email protected]

Disclaimer: The above press release comes to you under an arrangement with GlobeNewswire. AfternoonHeadlines.com takes no editorial responsibility for the same.