TLDs from VortX Will Provide the Much-Needed Boost to Multiple Businesses
VortX launches Top Level domains (TLDs) that are a much-needed boost to multiple businesses
Zurich, Switzerland, June 20, 2023 (GLOBE NEWSWIRE) — VortX launches Top Level domains (TLDs) that are a much-needed boost to multiple businesses. The Internet is no more a fad as it was referred to earlier in the 90s but has become a household thing and finds vital application in almost every task out there. Be it for entertainment, paying bills, booking a table at a restaurant, or exploring different subjects, Internet offers a solution for everything. It's expected to grow significantly in the coming years, with Google and Tesla providing Internet to people even in the remotest parts of the globe by releasing satellites into space. Experts are of the firm opinion that there couldn't be a better time to tap into it to maximize returns, especially in the rural parts, though major cities still offer significant potential. And for that, TLDs or Top Level Domains remain a crucial requirement providing the much-needed initial boost.
Major corporations around the globe are heavily relying on top-level domains for better reach, building trust, and ensuring higher traffic. Besides, when creating a TLD, users can go with memorable names and use that throughout to help users quickly identify the various subprojects. And it's not like there aren't many options to acquire the perfect TLD. The problem lies in the fact that these are usually super expensive, and then, too, there's no guarantee that one will find the perfect domain. This is what Qi intends to simplify, not just by offering top-level domains at a lower cost but also by significantly reducing the time to obtain one.
Here are the technicalities behind TLD in simple terms. Any web address consists of three parts, each separated by a period(.). The first one (www) is the subdomain, the next part, i.e., the website's name, is the second-level domain, and the last part is the top-level domain. Remember, the web doesn't understand things the way humans do. They use binary, and it's for the user's understanding that a website is listed in alphabetical characters. But why TLD is that important is a question many may ask. Let's find out!
Although decentralised TLD can technically replace SWIFT or IBAN, we believe it should be used in conjunction with existing payment systems to provide additional security and transparency. For example, a decentralized TLD could be used to verify the authenticity of a SWIFT code or IBAN, reducing the risk of fraud and errors in cross-border payments dramatically. This will enhance IBAN and SWIFT functionality and save banks billions as SWIFT has lost millions due to past breaches. Another potential benefit of using a decentralised TLD-based digital identity system for banks is that it could reduce the need for intermediaries such as credit bureaus and identity verification services. This could potentially make the identity verification process faster, more efficient, and more cost-effective. It`s like a secret internet address that only the bank and the people they're sending money know about to keep money safe and ensure money goes where it's supposed to!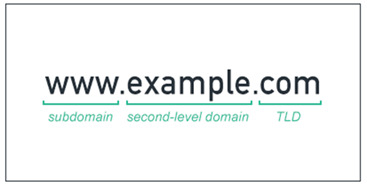 Benefits of a great top-level domain
Enhanced memorability: A memorable TLD will do wonders for anyone's business since users can quickly identify the website. And this doesn't just help retain existing customers but also attract new ones, given that memorability directly influences the appeal. Remember, a TLD doesn't affect things from the SEO point of view. Basically, it doesn't affect the website's ranking on search engines, but from a user's viewpoint, does present some significant benefits.
Adds value to the business: A business with a great top-level domain is generally assumed to be reliable, especially in cases where there is a direct transfer of funds involved. So, if a business entails that, it's imperative to put some effort while choosing a TLD.
Helps with future expansion: All major corporations have a dedicated top-level domain for the simple reason that their future websites will look identical to the ones created initially. While it's not absolutely necessary, having a TLD will undoubtedly help when expanding in the future.
Why opt for a TLD from VortX?
Those with a basic understanding of how things work will know that top-level domains cost a lot of money, and there's no guarantee that anyone will get one. Funnily enough, whenever there has been a similar problem, the blockchain has constantly come up with a viable solution, and it's the same with top-level domains. VortX spent considerable resources to develop a system that will allow businesses to create a memorable TLD within a few minutes.
While the major market players have, until so far, charged roughly $50,000 as the application fee, $26,000 as the annual fee, and another $0.25 as a transaction fee, VortX, with the help of the Qi blockchain, is offering a much more cost-effective solution. Vortx only charges $10,000 as a one-time setup fee and $0.1 as the transaction fee. And it has brought down the implementation time from over two years to a few minutes.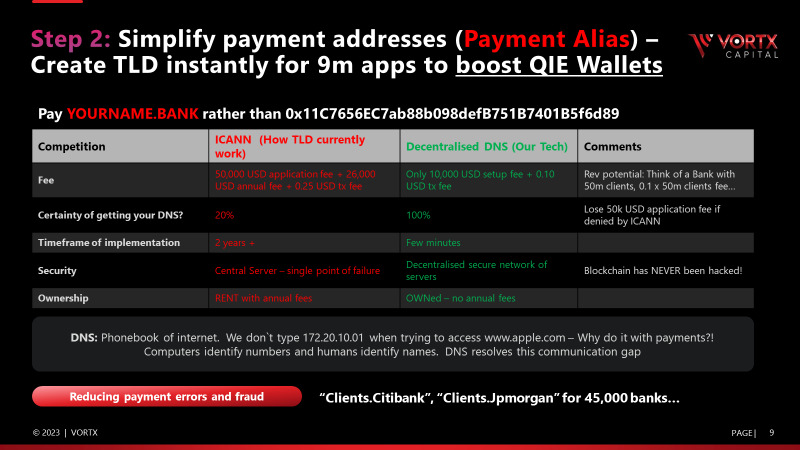 Besides, with VortX, users don't rent a domain as was the case with ICANN (Internet Corporation for Assigned Names and Numbers) but own it in the true sense. Thus, there's no annual fee. The best part, the root domain is stored on the Qi blockchain and is accessible only via smart contracts, thus providing the much-needed boost to security. And given that a blockchain can't be hacked, or the data on it manipulated that easily, even those that rely on the Proof of Stake (PoS) consensus mechanism unless one owns a large part of the coins, which is practically impossible, the root domain and any other critical information will always be safe.
Even those who weren't planning to go for a new top-level domain couldn't resist the steal deal offered by VortX. As per experts and enthusiasts, the platform has emerged as the one-stop solution for many and will soon become a market leader.
For more information, check VortX's official website: http://www.vortx.online/
Also, follow VortX on LinkedIn to stay updated with the latest developments.
Disclaimer: There is no offer to sell, no solicitation of an offer to buy, and no recommendation of any security or any other product or service in this article. This is not investment advice. Please do your own research.
Media Contact:
Contact Person: Vortx marketing team
Company: Vortx capital
Email: [email protected]
Location: Zurich, Switzerland
Website: https://vortx.online/

Disclaimer: The above press release comes to you under an arrangement with GlobeNewswire. AfternoonHeadlines.com takes no editorial responsibility for the same.