Titan Hospitality Group Opens New Blackwall Barn & Lodge Location in Downtown Columbia
The Blackwall Barn & Lodge celebrates its opening with a special ribbon cutting ceremony
Blackwall Barn & Lodge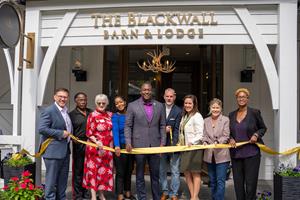 CROFTON, Md., Oct. 06, 2023 (GLOBE NEWSWIRE) — Titan Hospitality Group, the premier restaurant management group in the Mid-Atlantic with over 25 years of hospitality experience, announces the opening of its second Blackwall Barn & Lodge location in the Merriweather District in Downtown Columbia. The restaurant debut was rung in with a special ribbon cutting this afternoon, with attendees including Dr. Calvin Ball (Howard County Executive), Jennifer Jones (CEO of the Howard County Economic Development Authority), Kristi Smith (President of the Maryland Region for Howard Hughes) and other Howard County representatives. Organizations like Visit Howard County and the Howard County Chamber of Commerce were also present.
The Blackwall Barn & Lodge offers the latest seasonal and fresh ingredients to the District and brings its "locavore" concept to the area. Historically, Titan Hospitality Group prides itself in using the freshest local ingredients to not just support local vendors, but also to provide their guests with incredibly vibrant foods and seasonal dishes. With this new location, The Blackwall Barn & Lodge brings its star dishes like the flaming crab dip, red brick chicken, braised duck ragu pasta and more. Signature cocktails that guests will see include their tequila-based EspresSol Martini and Titan's Massive Mary. The 12,000 square foot space is also equipped with six dining spaces where guests can experience fine dining and even host special events to create everlasting memories.
"We are incredibly proud of reaching this point in the history of Titan Hospitality Group, and this grand reveal not only celebrates the opening of The Blackwall Barn & Lodge in the Merriweather District, but also highlights the importance of working with a community," says Founder and CEO James King. "Our collaboration with the various organizations and representatives of Howard County has truly allowed us to have an opening like we have had today. We are grateful to be a part of Howard County and we cannot wait to see its residents enjoy our establishment and make many fond memories."
"The Howard Hughes team is thrilled to welcome Blackwall Barn & Lodge to Downtown Columbia. The Merriweather District has quickly become a hub of activity with all the events at Color Burst Park and the wide variety of restaurant options. We are looking forward to an amazing fall and winter season with the opening of Blackwall Barn & Lodge and the return of some of the community's favorite events," said Kristi Smith, President of the Maryland region for Howard Hughes.
The new The Blackwall Barn & Lodge serves lunch and dinner daily, Monday through Thursday from 11:00 a.m. to 11:00 p.m, Friday through Saturday from 11:00 a.m. to 1:00 a.m., and offers brunch on Sundays while operating from 10:00 a.m. to 10:00 p.m. The Blackwall Barn & Lodge is located on the ground floor of the Juniper residential building.
For more information about The Blackwall Barn & Lodge, visit www.barnandlodge.com/Columbia, or connect on social with The Blackwall Barn & Lodge on Facebook and Instagram (@barnlodgecolumbia).
About Titan Hospitality Group:
Titan Hospitality Group is the premier restaurant group in the Mid-Atlantic. Headquartered in Anne Arundel County, Titan Hospitality Group owns, operates and is affiliated with restaurants in DC, Maryland, Virginia and Delaware. Its portfolio of five restaurants with two more coming in 2023 includes the concepts Smashing Grapes, The Blackwall Barn & Lodge and Blackwall Hitch. For more information, visit www.titanhospitality.com.
About The Blackwall Barn & Lodge:
The Blackwall Barn & Lodge is the destination of choice for guests looking to host a memorable special occasion where their guests are pampered and appreciated. Whether meeting clients, friends or family in the Lodge or hosting a wedding, corporate event or retirement party in the Barn; the seasoned management team will ensure every detail will surpass expectations and patrons will leave feeling special and with a desire to return. The Blackwall Barn & Lodge provides the ultimate dining experience like no other. It's focused on bringing the freshest ingredients from local farmers, watermen and ranchers to its guests with constantly changing menu items using seasonal ingredients. For more information about The Blackwall Barn & Lodge, visit www.barnandlodge.com.
Media Contact:
Alexander Ballester
Uproar PR for Titan Hospitality Group
[email protected]
A photo accompanying this announcement is available at https://www.globenewswire.com/NewsRoom/AttachmentNg/c73da7d6-3d62-4717-96f7-3cd2891f1ff8

Disclaimer: The above press release comes to you under an arrangement with GlobeNewswire. AfternoonHeadlines.com takes no editorial responsibility for the same.