The Perfect Travel Partner for the INNOCN 13K1F Portable Monitor is the Asus Chromebook Detachable CM3
Shenzhen, China, April 07, 2023 (GLOBE NEWSWIRE) — Most people work for the majority of their lives in order to provide for their families and hopefully retire at a reasonable age. Shenzhen Century Joint Innovation Technology Company Ltd. (INNOCN) has worked tirelessly to improve their technology, allowing people to work more efficiently and spend more time doing what is important to them. INNOCN was founded in 2014 in Shenzhen, China's innovation capital, with the concept of creation at its core. Over the years, it has used its resources and extensive expertise in technology design and visual display to elevate the monitor market, thereby improving the lives of many people worldwide.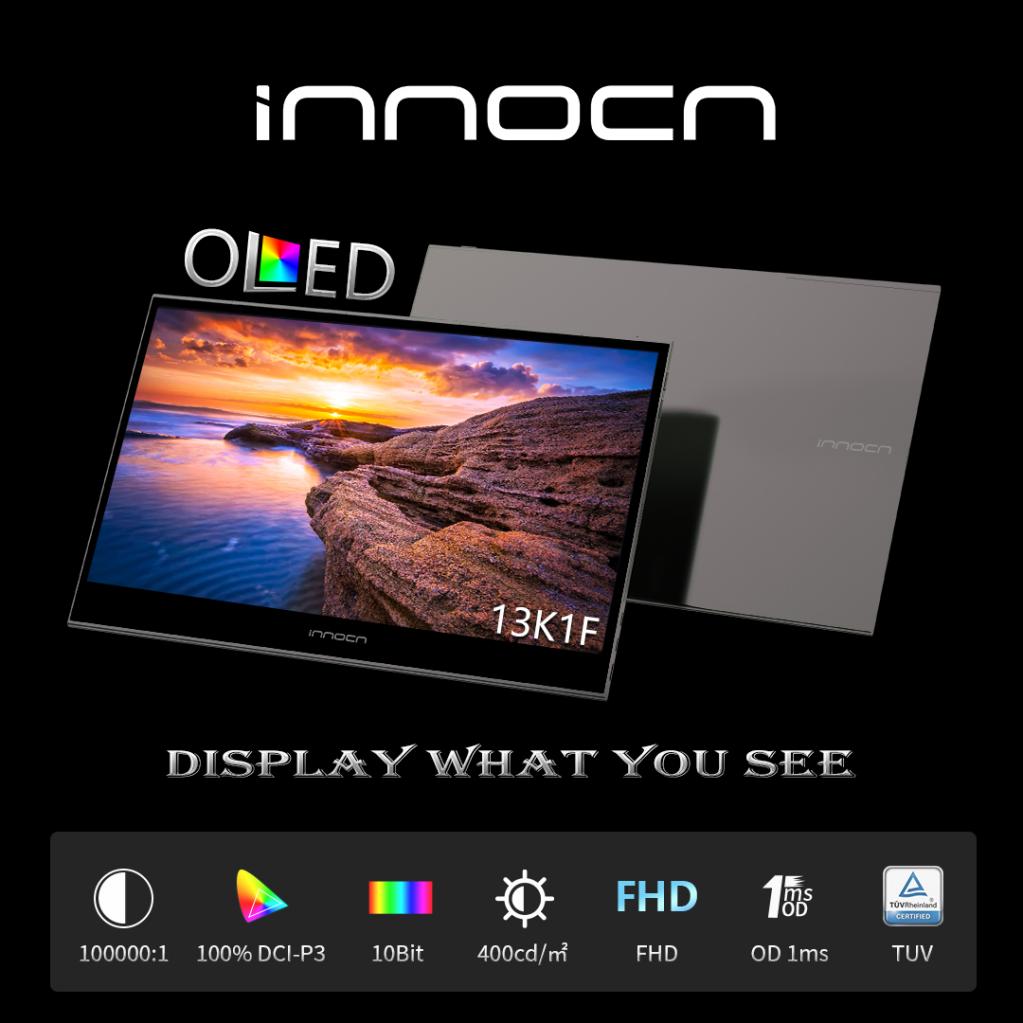 The desire to multitask and get more done in less time is universal. Nobody wants to be burdened with a never-ending list of tasks. Portable monitors can help with juggling any workload and are easy to use. INNOCN's 13.3-inch 13K1F OLED Portable Monitor is incredibly slim and lightweight. It can be used in the comfort of one's own home or when on the road for business.
The 13K1F's USB C and Mini HDMI connectors enable it to function as an external monitor for a variety of devices, including game consoles, tablets, smartphones, digital cameras, and laptops. Therefore, regardless of occupation, anyone can perform tasks efficiently. When an Asus Chromebook Detachable CM3 is connected to the 13K1F, the user can easily control video calls, emails, and open projects across both screens.
Picture quality is immaculate due to its 100% DCI-P3 color gamut, Delta E<2, 10 bits of color depth, 1MS response time, 1920 x 1080p resolution, 60 hertz refresh rate, OLED backlighting, 400 nits brightness, and 100000:1 contrast ratio. This TUV certified monitor is available on Amazon till April 30th, 2023 for Prime Members at $149.99. Non-members can still get this Asus Chromebook second monitor for the original price of $249.99.
CONTACT: Media Contact Manufacturer's Name: Shenzhen Century Joint Innovation Technology Company Limited Manufacturer's Official Website: https://www.innocn.com/ Manufacturer's Email Address: [email protected]

Disclaimer: The above press release comes to you under an arrangement with GlobeNewswire. AfternoonHeadlines.com takes no editorial responsibility for the same.