The Moxie Exchange Releases 2022 DEI Meta Trends Data Report
The report sheds light on four core data insights leaders need to meaningfully address ESG goals and diversity and inclusion strategies.
TOP DEI Trends from 2022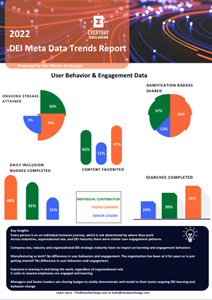 2022 Meta Data DEI Trends Report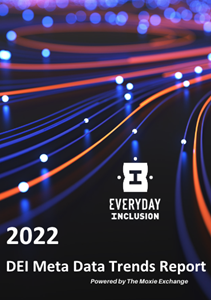 Fort Collins, CO, Feb. 21, 2023 (GLOBE NEWSWIRE) — Good data is critical for executive leadership teams to deliver on diversity, equity, and inclusion strategies and ESG goals. If you can't measure DEI, you can't measurably improve it. The data trends and insights shared in this report give leaders benchmark data and a resource to inform action and allocate resource spend. 
Everyday Inclusion is a DEI solution that delivers daily inclusion nudges while tracking anonymized, aggregate user data. Organizations provide the app as an employee benefit and the data represents employee use data from organizations ranging in size from 200 to 200,000+ employees, in a variety of industries from manufacturing to banking. At its core, this data represents choice-based DEI learning and self-directed use of a DEI tool. In essence, it's DEI learning and engagement in the wild, when nobody is watching or mandating behavior. 
Based on the meta data this report addresses key leadership insights and actions, including a few surprises, for building an inclusive culture including: 
The top 10 DEI topics of interest and information needs from 2022  
What organizational roles are doing the work, who is leaning in, engaged and learning 
What company size and industry mean for inclusive engagement 
What behaviors managers and senior leaders are using to visibly demonstrate and model to their teams ongoing DEI learning and behavior change 
The top predictor of feeling included 
The data has been distilled into four core insights. Download and read the full report here.
About Everyday Inclusion  
Everyday Inclusion is a scalable, actionable on-the-go tool delivering inclusion nudges that create an ongoing Rhythm of Inclusion. Daily, weekly, monthly, and quarterly use by individuals, teams, and leaders, from your C-Suite to newest employee, embed inclusion in ongoing workplace interactions and culture. Leverage data informed insights to get ahead of retention issues, incorporate best practices and inform DEI programming and initiatives.  
Attachments
TOP DEI Trends from 2022
2022 Meta Data DEI Trends Report
CONTACT: Jess Nava The Moxie Exchange 5857372460 [email protected] 

Disclaimer: The above press release comes to you under an arrangement with GlobeNewswire. AfternoonHeadlines.com takes no editorial responsibility for the same.