The Lundquist Institute Receives Gift from the Samberg Foundation to Study the Use of Psilocybin in Alleviating Demoralization and Psychological Distress in Palliative Care
The gift will facilitate an FDA-approved multi-site clinical trial under the co-direction of Lundquist Investigators, Dr. Charles S. Grob and Dr. Anthony P. Bossis
Psilocybin Research and Science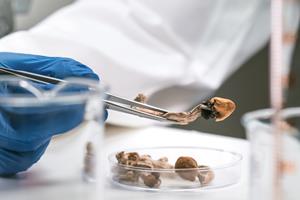 Los Angeles, California, July 24, 2023 (GLOBE NEWSWIRE) — The Joe & Sandy Samberg Foundation has made a gift of $300,000 to The Lundquist Institute to study the use of psilocybin in alleviating demoralization and the psychological distress associated with life-threatening illness in palliative care. The gift will support the work of Charles Grob, MD, an investigator at TLI and professor at the David Geffen School of Medicine at UCLA and Anthony P. Bossis, PhD, an investigator at TLI. The gift will facilitate an FDA-approved multi-site clinical trial.
Dr. Grob's research has included the first FDA-approved Phase 1 study of the physiological and psychological effects of MDMA (3,4-methlyenedioxymethamphetamine); a multi-national, collaborative study of the Amazonian plant hallucinogen decoction, ayahuasca, in Brazil; and a pilot investigation of the safety and efficacy of psilocybin in the treatment of anxiety in adult patients with advanced-stage cancer. Dr. Bossis was director of palliative care research and co-principal investigator on a 2016 New York University clinical trial and publication that demonstrated the significant potential of psilocybin in reducing emotional distress in persons with cancer. Specifically, the trial found that a single psilocybin session led to a rapid decrease in depression, anxiety, hopelessness, and demoralization, as well as improvements in spiritual well-being and quality of life.
"We are excited by the unique and comprehensive design of this trial, including the apprenticeship model for the facilitators and the use of a novel control condition," said Sandy Samberg, President of the Samberg Foundation. "With the renowned leadership team, we're confident this study will be well executed and that the findings will be applicable for real-world settings."  
"I am delighted to have received this grant from the Samberg Foundation to further the study of psilocybin in patients suffering from psychological distress associated with life-threatening and terminal illness," said Dr. Grob. "Clearly, more work is needed in this area. Our earlier research with psilocybin suggests that improved mood and lessening of death anxiety and demoralization can occur, even in the context of extreme and dire health circumstances. I look forward to continuing our work in this area as it is vital to continue to explore ways to minimize the anxiety, pain, and psychospiritual distress even in the face of impending death."
"We are profoundly grateful to Sandy and Joe Samberg for their generous support of this novel clinical research in investigating the efficacy and safety of psilocybin treatment for the alleviation of psychological and existential suffering in persons at the end of life," said Dr. Bossis. "While there have been many advances in the medical treatment of advanced illness, in palliative and end-of-life care, there remain few options to treat the often-debilitating emotional distress associated with terminal illness. We are very thankful to the Samberg Foundation for this gift, which allows us to continue to explore this promising therapy in FDA-clinical trials."
Attachment
Psilocybin Research and Science
CONTACT: Max Benavidez The Lundquist Institute for Biomedical Innovation 310-200-2682 [email protected] 

Disclaimer: The above press release comes to you under an arrangement with GlobeNewswire. AfternoonHeadlines.com takes no editorial responsibility for the same.