THE GUTHRIE CLINIC HONORED FOR DIGITAL EXCELLENCE
CHIME Most Wired Acute Level 9 Badge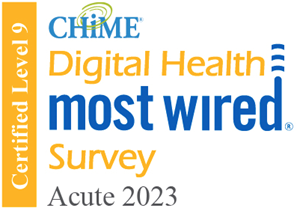 CHIME Most Wired Ambulatory Level 9 Badge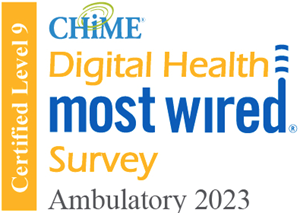 Sayre, Pa., Oct. 06, 2023 (GLOBE NEWSWIRE) — The College of Healthcare Information Management Executives (CHIME) has released their coveted Digital Health Most Wired Survey results for the 2023 data collection period. The Guthrie Clinic is proud to announce our Level 9 achievement for the Acute and Ambulatory survey selections. 
Among the more than 55,000 facilities represented, Guthrie ranked above peers in categories like analytics and data management, population health, infrastructure, and patient engagement. The survey assessed the adoption, integration, and impact of technologies in healthcare organizations at all stages of development, from early development to industry leading.
"This prestigious recognition is a testament to our unwavering commitment to excellence in healthcare technology and innovation," said Teri Couts, SVP, Chief Digital Officer at Guthrie. "The Digital Most Wired recognition acknowledges organizations at various stages of technological development, from those in their early stages to industry leaders. Our Level 9 achievement underscores our commitment to remaining at the forefront of healthcare technology, continuously advancing our capabilities to meet the evolving needs of our patients and the healthcare landscape. It reaffirms our position as a leader in healthcare technology and motivates us to continue pushing the boundaries of what is possible."
The Digital Health Most Wired survey and recognition program serves as a comprehensive "Digital Health Check-up" for healthcare organizations across the world. As success in digital health increasingly determines the quality of patient care, the scope of the CHIME Digital Health Most Wired survey reflects the progress of leading healthcare providers as they reinvent healthcare for a new century.
"We are proud to recognize Guthrie's exceptional dedication to digital health excellence," said CHIME President and CEO Russell P. Branzell. "Your pioneering performance in the industry not only inspires other organizations by example, but also provides patients around the world with better care."
About CHIME
The College of Healthcare Information Management Executives (CHIME) is an executive organization dedicated to serving chief information officers (CIOs), chief medical information officers (CMIOs), chief nursing information officers (CNIOs), chief innovation officers (CIOs), chief digital officers (CDOs) and other senior healthcare IT leaders. With more than 5,000 members in 58 countries plus two U.S. territories and over 190 healthcare IT business partners and professional services firms, CHIME and its three associations provide a highly interactive, trusted environment enabling senior professional and industry leaders to collaborate, exchange best practices, address professional development needs and advocate the effective use of information management to improve the health and care in the communities they serve. For more information, please visit chimecentral.org.
About Guthrie
The Guthrie Clinic is a non-profit multispecialty health system that integrates clinical and hospital care with research and education. Based in Sayre, Pennsylvania, The Guthrie Clinic is one of the nation's longest established group practices, founded in 1910 by Dr. Donald Guthrie with a vision of providing patient-centered care through a clinically-integrated network of employed providers. It is an industry leader in the use of technology and electronic medical records to provide high-quality care. Among The Guthrie Clinic's 6,500 caregivers are more than 700 physicians and advanced practice providers, representing the spectrum of medical specialties and sub-specialties. The Guthrie Clinic is a five-hospital system with a large network of outpatient facilities that spans nearly 9,000 square miles in Pennsylvania and upstate New York. It is dedicated to training the next generation of health care leaders, offering seven residencies and three fellowships.      
     
Visit us at www.Guthrie.org. Follow us at Twitter.com/GuthrieClinic, Facebook.com/TheGuthrieClinic, Linkedin.com/company/TheGuthrieClinic, and Instagram.com/TheGuthrieClinic. 
###
Attachments
CONTACT: Kathy Cramer Guthrie 570-887-4415 [email protected] 

Disclaimer: The above press release comes to you under an arrangement with GlobeNewswire. AfternoonHeadlines.com takes no editorial responsibility for the same.