THE FROST SCHOOL OF MUSIC AT THE UNIVERSITY OF MIAMI COMPLETES CONSTRUCTION OF NEW KNIGHT CENTER FOR MUSIC INNOVATION, SETTING THE STANDARD FOR THE ELITE MUSIC SCHOOL OF THE FUTURE
The Grand Opening will be Celebrated with a Week-Long Series of Events that Begin at the End of October
The Knight Center for Music Innovation was built to cultivate and sustain the promise of the future of music innovation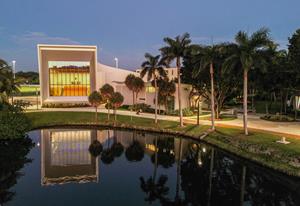 The Frost School of Music at the University of Miami is ushering in a new future for music with the completion of the Knight Center for Music Innovation
CORAL GABLES, Fla., Oct. 03, 2023 (GLOBE NEWSWIRE) — Today, the Frost School of Music at the University of Miami ushers in a new future for music with the completion of the Knight Center for Music Innovation, a $36.5 million, 25,000-square-foot cutting-edge performance and technology innovation hub. Designed by H3, an Arquitectonica Company, the new building will match the extraordinary talents of the Frost School's students, faculty, and alumni, and reflect the innovation that has been a hallmark of the school since its founding nearly 100 years ago and its naming back in 2003.
Dean Shelton (Shelly) G. Berg of the Frost School of Music at the University of Miami said, "The future of music is the future that musicians will be able to create for themselves. We've always enabled our students to imagine the possibilities that will shape and guide their futures and get hands-on, real-world experience. To all of us at the Frost School, that is what sets an elite music school apart from others and helps ensure our path forward in continuing to forge new educational and professional opportunities for the next generation of groundbreaking musicians, music industry professionals, music educators, and others. As the No. 1 music school in Florida, we're thrilled that the new Knight Center for Music Innovation here on our campus reinforces Miami as a world-class music destination and a highly desirable place for students to learn and grow as artists, educators, and professionals."
Made possible thanks in large part to a naming gift from The John S. and James L. Knight Foundation, the Knight Center for Music Innovation was built to cultivate and sustain the promise of the future of music innovation, no matter how technology evolves and correlates to music performance and education. The building features two dynamic performance spaces: the Robert and Judi Prokop Newman Recital Hall, a world-class, 200-seat performance theater with superior acoustics, and the Thomas D. Hormel Music Innovation Stage, a versatile innovation space equipped with advanced recording, lighting, and broadcast technology. Both spaces serve as training grounds and innovation centers for students enrolled at the Frost School and the faculty members who guide and set the tone for the future of musicians. University of Miami students, members of the community, and others can enjoy performances in both spaces, as well as via a state-of-the-art technology Windowcast system that broadcasts live performances for all to enjoy in the surrounding plaza. 
University of Miami President Julio Frenk added, "The Frost School of Music is a distinctive and distinguished center of excellence at the University of Miami, thanks in part to the trailblazing leadership of Dean Shelly Berg and an unwavering focus on shaping the future of music as it has evolved during the school's nearly 100-year history. The new Knight Center for Music Innovation is a physical manifestation of the promise of an education at one of the nation's top 10 music schools, while also reaffirming the University of Miami as the place for students, Miami residents and visitors, and others to enjoy a wealth of high-caliber musical offerings by emerging and world-renowned musicians."
On Thurs., Nov. 2, the University of Miami Board of Trustees, Frost School of Music Advisory Board Members, and other distinguished guests will come together to celebrate the official opening of the Knight Center for Music Innovation with a star-studded gala, with the theme of "Shaping the Future of Music." The prestigious event will feature performances by esteemed Frost School alumni, appearances by renowned artists and industry leaders, and the presentation of the inaugural Frost Centennial Medals. Confirmed performers and medal recipients include GRAMMY-award winner Jon Secada; record producer, songwriter, and music executive Matt Serletic; GRAMMY-award winning songwriter and actor Dawnn Lewis; GRAMMY-nominated jazz singer, composer, and arranger Carmen Lundy; GRAMMY-award winning drummer, producer, and engineer Lee Levin; and GRAMMY-award winning producer and Frost School Advisory Board Member Emilio Estefan, among others. GRAMMY award-winning singer, actress, songwriter, and author Gloria Estefan will serve as the emcee for the event.
The "Shaping the Future of Music" gala is part of a week-long series of special programs and performances that begin on Sat., Oct. 28 and run through Sun., Nov. 5. Spotlight events taking place for University of Miami students, local residents, South Florida visitors, and others to enjoy include a Frost Symphony Orchestra performance, conducted by Maestro Gerard Schwarz, and a Halloween-inspired big band performance by the Frost Studio Jazz Band, directed by Etienne Charles, both broadcast on the exterior of the Knight Center for Music Innovation; and Frost Tech Day, which showcases the evolution of the musical landscape and depicts how the Hormel Innovation Stage will serve as a laboratory for artistic and musical creation now and into the future. The grand opening celebration concludes with CAM FEST, featuring a concert showcase by the Creative American Music (CAM) program's award-winning group, AME! SUN. More information on the grand opening celebration events, including dates, times, and ticket prices, is available at frost-music-live.miami.edu.
To date, the Frost School has raised more than $36 million to support the construction and ongoing development of the Knight Center for Music Innovation. Individuals and organizations who donated $1 million or more in support of the new building include: The John S. and James L. Knight Foundation,  the Robert and Judi Newman Family Foundation, Miller Family Foundation, Thomas D. Hormel Trust, Paul J. DiMare Foundation, The David and Dorothy Weaver Foundation, James M. Collins Foundation, Christian Family Fellowship Foundation,  Sasha and Edward Bass, Marta Weeks Wulf, C and A Johnson Family Foundation, Patti and Allan Herbert, and two additional donors who wish to remain anonymous.
About the Frost School of Music at the University of Miami
The Frost School of Music, established in 1926, is a dynamic and innovative institution that offers a comprehensive range of musical programs. With a focus on excellence and diversity, the Frost School combines traditional concentrations with cutting-edge programs that equip students with the artistic, technological, and entrepreneurial skills needed for success in today's world.
The Frost Method® curriculum helps students become well-rounded musicians. Its world-class faculty has pioneered modern and relevant approaches to music studies by offering accredited degrees in Modern Artist Development and Entrepreneurship, Music Industry, Music Engineering Technology, Studio Music and Jazz, Music Therapy, and Accompanying and Chamber Music. The Frost School is also home to the Henry Mancini Institute and the Bruce Hornsby Creative American Music Program.
The Frost School offers a range of degrees, including the Bachelor of Music in ten majors, the Bachelor of Science in Music Engineering Technology, the Bachelor of Arts, diploma programs in performance, and graduate degrees leading to the Master of Music, Master of Science in Music Engineering, Doctor of Musical Arts, and Ph.D. Also offered is a J.D./M.M. in Music Business in collaboration with the University of Miami's School of Law and an M.A. in Arts Presenting to prepare students for careers in arts management.
Today, the Frost School is equipped with stunning concert halls, recording studios, technology centers, premier music libraries, and fully equipped rehearsal spaces. The school also strives to elevate its community through outreach to underserved populations. Its world-class performances, scholarship, and research contribute to the cultural richness of the University of Miami, South Florida, and the world. The Frost School will soon celebrate its centennial, consistently evolving and expanding to remain a national music leader in higher education and continue building the future of music.
The Frost School is widely recognized as the best music school in Florida and one of the top 10 music schools in the U.S. Recently, College Factual placed the Frost School on the top of its list of the best music schools in Florida for the second year in a row. Additionally, the Frost School ranks as a top music school in leading lists published by Billboard, College Magazine, and Best Degree Programs. The Frost School is also recognized as a top music school by publications such as Downbeat, The Hollywood Reporter, In Tune, Musical America Worldwide, Niche, and U.S. News and World Report, among others.
About the University of Miami
The University of Miami is a private research university and academic health system with a distinct geographic capacity to connect institutions, individuals, and ideas across the hemisphere and around the world. With more than $413 million in research and sponsored program expenditures annually, the University of Miami is a member of the prestigious Association of American Universities (AAU). 
The University's vibrant and diverse academic community comprises 12 schools and colleges serving more than 17,000 undergraduate and graduate students in more than 180 majors and programs. Located within one of the most dynamic and multicultural cities in the world, the University is building new bridges across geographic, cultural, and intellectual borders, bringing a passion for scholarly excellence, a spirit of innovation, a respect for including and elevating diverse voices, and a commitment to tackling the challenges facing our world.
# # #
Media Contacts:
Samantha Moore I H+M Communications
973.255.6780
[email protected]
Attachments
CONTACT: Megan Ondrizek University of Miami 3052843667 [email protected] Samantha Moore H+M Communications 9732556780 [email protected] 

Disclaimer: The above press release comes to you under an arrangement with GlobeNewswire. AfternoonHeadlines.com takes no editorial responsibility for the same.