TextUs Surpasses 1 Billion SMS Messages Sent and Received on Platform
TextUs celebrates milestone of over one billion text messages sent and received on its software platform.
TextUs Celebrates 1 Billion Messages Sent and Received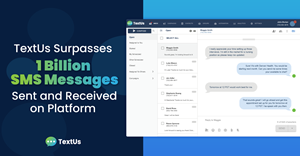 Denver, Colorado, April 18, 2023 (GLOBE NEWSWIRE) —  TextUs, the leading conversational texting platform that enables organizations to have engaging real-time conversations with prospects, candidates, employees and customers has recently surpassed one billion messages sent and received on its platform.  
Since 2013, TextUs has been an industry leader in conversational and campaign business text messaging.  The Denver-based software company has seen steady growth since its inception and has solidified its place in the SMS space by becoming the texting provider of choice for businesses across a multitude of industries.  As SMS has become a communication tool of choice for many businesses, TextUs has seen adoption of the medium expand.  In TextUs' latest State of Texting report, they found text messaging to be the leading communication channel among those surveyed, outpacing email and phone by large margins.  Over 50% indicated text messaging was the most effective way to communicate in their business workflows.  Additionally, 62% of users indicate they are using text messaging multiple times per day.  
In March of 2023, the TextUs platform sent its one billionth text message, marking a milestone for the company and further illustrating the wide adoption of text messaging as a viable communication platform for individuals and businesses alike.  
"Allowing businesses to log over 1 billion text messages with customers, candidates, and employees is a significant accomplishment for a conversational SMS platform like ours," said Martin Payne, CEO of TextUs. "This means that our customers are engaging well over 100 million contacts in meaningful conversations that lead to real business outcomes ranging from consumer sales to job placements. We are humbled by the thousands of mid-market and enterprise brands that trust us, day in and day out, to enable high quality interactions with their most important stakeholders."
About TextUs
TextUs is the leading conversational messaging platform that enables organizations to have engaging real-time message-based conversations with their customers, candidates, and employees across their entire journey with the organization.  With seamless integrations to the top applicant tracking systems (ATS) and customer relationship management (CRM) platforms, texting is an easy and seamless extension of current business systems and day to day workflows.  With a 98% read rate and up to 45% response rates, TextUs delivers business text messaging combined with automated features to connect businesses with their customers in real time, making users more productive and driving better results to their bottom line.  To learn more, visit www.textus.com.
Attachment
TextUs Celebrates 1 Billion Messages Sent and Received
CONTACT: Maggie Mistovich www.textus.com 7208008105 [email protected] 

Disclaimer: The above press release comes to you under an arrangement with GlobeNewswire. AfternoonHeadlines.com takes no editorial responsibility for the same.