TextUs Announces Addition of Automated Sequences to Messaging Engagement Platform
Leading engagement platform announces release of SMS & MMS Sequences to its automation suite of features.
TextUs Sequences Now Available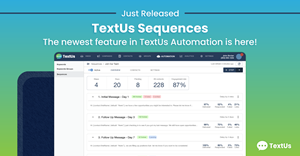 TextUs Sequences Detail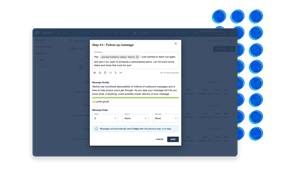 Denver, Colorado, July 24, 2023 (GLOBE NEWSWIRE) — TextUs, the leading messaging engagement platform has announced the release of Sequences, allowing users to automate touch points to nurture leads and candidates at scale.  Sequences has been intentionally designed to help users increase candidate and buyer engagement and build pipeline faster.
SMS has become a primary communication channel for recruiters, sellers and marketers.  As such, TextUs has evolved its platform to meet the unique needs of their users, allowing them to better utilize text messaging to connect with candidates, prospects, customers and more.  The release of Sequences allows users to automate outreach to their target contacts, saving valuable time and ensuring they can maintain high levels of engagement throughout the candidate and buyer lifecycles.  As manual 1:1 conversations become more difficult at scale, automated sequences ensure that valuable touch points are present throughout the entire journey.
Key features of Sequences include:
Build Automated Sequences. Build custom sequences that deliver a series of messages to contacts. 
Tailor Messages to Each Contact. Messages can be automatically tailored to each contact, delivering a personal touch at scale. 
Easily Manage Contact Enrollments. Easily enroll contacts into a sequence, monitor enrollment status, and have contacts auto-unenrolled when they respond to stay in full control of the candidate or buyer journey.
Track and Compare Performance. View metrics such as response rates and link clicks to gauge highest performing sequences. 
As SMS has become the communication tool of choice for many businesses, TextUs has seen adoption of the medium expand.  In TextUs' latest State of Texting report, they found text messaging to be the leading communication channel among those surveyed, outpacing email and phone by large margins.  Over 50% indicated text messaging was the most effective way to communicate in their business workflows.  Additionally, 62% of users indicate they are using text messaging multiple times per day.
SMS sequences can be utilized in a variety of ways.  Recruiters and talent acquisition professionals can use sequences to drive candidate sourcing and outreach, set reminders and follow-ups, improve onboarding, re-engage dormant candidates or simply check-in with new hires.  Sales and marketing teams find great benefit in leveraging automation for prospect and lead nurturing, general sales outreach, re-engaging dormant leads or closed lost opportunities and fueling pipeline building activities.
"We are thrilled to introduce Sequences as part of our commitment to expanding our premium automation offerings," notes Megan Dumas, Product Marketing Manager at TextUs.   "Our customers face a multitude of challenges in today's competitive economy, where teams are constantly seeking ways to do more with limited resources. This new feature will empower them to focus on strategic initiatives while leaving repetitive tasks to automation," she adds.  "Sequences will help scale their outreach with ease, and that's a huge win for gaining efficiency."
To see a video of the TextUs sequences in action, click here.
To learn more and get a demo, please visit: https://textus.com/automation/. 
About TextUs
TextUs is the leading conversational messaging platform that enables organizations to have engaging real-time message-based conversations with their customers, candidates, and employees across their entire journey with the organization.  With seamless integrations to the top applicant tracking systems (ATS) and customer relationship management (CRM) platforms, texting is an easy and seamless extension of current business systems and day to day workflows.  With a 98% read rate and up to 45% response rates, TextUs delivers business text messaging combined with automated features to connect businesses with their customers in real time, making users more productive and driving better results to their bottom line.  To learn more, visit www.textus.com.
Attachments
TextUs Sequences Now Available
TextUs Sequences Detail
CONTACT: Maggie Mistovich www.textus.com 7208008105 [email protected] 

Disclaimer: The above press release comes to you under an arrangement with GlobeNewswire. AfternoonHeadlines.com takes no editorial responsibility for the same.