Tesla Paint Protection Film Available At Precision Detailing & Ceramic Coatings
Saint Peters, April 07, 2023 (GLOBE NEWSWIRE) — Saint Peters, Missouri –
St. Louis, MO based Precision Detailing & Ceramic Coatings is proud to offer prisitine aftercare to all luxury vehicle owners, as well as Tesla owners who may be looking to protect their investment through high end paint protection coating.
Tesla owners know that their vehicles are among the most beautiful and most expensive vehicles on the road. They often do not know, however, that Teslas may require special protection. Precision Detailing is pleased to announce that they are now offering discounts on Tesla paint protection services to help Tesla owners keep their cars in great condition. Many automotive manufacturers spend less funding on the paint chosen for assembly line vehicles knowing that luxury vehicle owners prefer to primp and protect the vehicle with customized graphics to further their pledge of individuality.
"Do Teslas need paint protection? The answer is a resounding yes!" said Precision Detailing Owner Shawn Jaworsky. "The cost of paint correction or a full color change wrap or repainting a Tesla can be pricey but worth it- which is why it is important to protect your investment with Ceramic Coatings or PPF / Clear Bra coverings that offer a degree of cover from various types of damage. Another option you may consider, for instance, is Paint Protection Film."
At Precision Detailing, a team of some of the most experienced technicians in Missouri combine their skills with high quality products to keep their clients' vehicles in excellent condition for years to come. They make use of their signature Clear Bra Paint Protection Film which protects against scratches, chips and other environmental damage — all while preserving the car's original beauty. They also offer ceramic coatings that provide an extra layer of protection that lasts up to five years.
Despite the fact that purchasing one tends to cost a lot more than purchasing the average vehicle, many Tesla owners are on a budget when it comes to services like paint protection. Precision Detailing's discounts, which allow clients to save up to 25% on select packages if they mention this press release (before June 1st), make it possible for Tesla owners on fairly strict budgets to get the protection they need for their vehicles.
Paint protection film is a clear film that is applied to the painted surfaces of a car. It protects said surfaces from damage, reducing the possibility of chips and scratches. The film is available in a range of thicknesses and widths and can be custom cut to fit any vehicle. Paint protection film is also UV resistant, meaning it will not turn yellow or fade over time.
"Full front coverage is our most popular option, but it's very common to add film in high-wear areas like rocker panels, headlights, pillars and the rear bumper," says Precision Detailing. "Many of our clients also decide on full car coverage for complete protection. At Precision Detailing, we provide tailored installation services for all kinds of vehicles, utilizing quality paint protection film from Suntek and Xpel for the best in looks and protection. Using the same care and attention to detail as with our premium car detailing services, we can provide clients with the highest quality in fit and finish."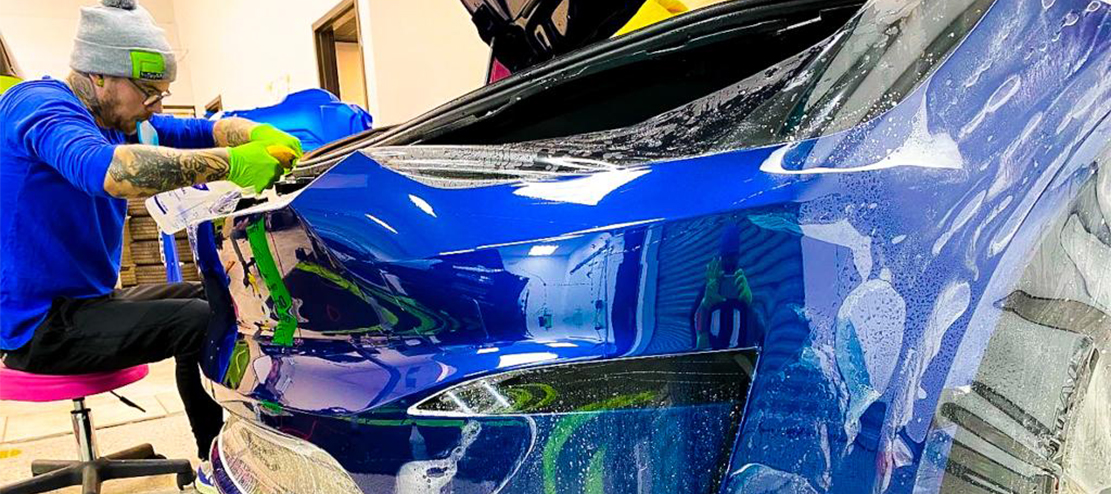 They continue, "Whether you're looking for the typical front-end coverage, entire car wrapping, or custom installs, like headlights, rockers, or rear bumpers, we have you covered. We are fully committed to being on top of the best practices and technology to exceed our client's needs. Our team has used and tested the performance of the same excellent products for years."
The company offers other services as well, such as window tinting. This protects the interior of a vehicle by keeping it cool and also increases the lifespan of its interior by protecting it from harmful UV rays. An expertly installed, high-end tint can last the entire lifetime of a car. Precision Detailing tints all types of vehicles, including cars, recreational vehicles, boats and more.
Booking an appointment with Precision Detailing is a quick and easy process. Clients can get in contact via email or phone to request a quote based on a physical assessment of the vehicle. The company also offers vehicle pickups for an additional fee, and they accept almost every payment option.
The company has been in the vehicle detailing business for years and has built an excellent reputation among its St Louis, Missouri clients. For more information on Precision Detailing and their services, interested parties may visit the company's website and social media platforms.
###
For more information about Precision Detailing & Ceramic Coatings, contact the company here:
Precision Detailing & Ceramic Coatings
Shawn Jaworsky
3142271300
[email protected]
CONTACT: Shawn Jaworsky 

Disclaimer: The above press release comes to you under an arrangement with GlobeNewswire. AfternoonHeadlines.com takes no editorial responsibility for the same.