TELF AG Sheds Light on the Journey of Cobalt in Battery Technology
TELF AG discusses the fascinating history and modern applications of cobalt. It highlights how cobalt has evolved from an ancient colorant to a key element in the shift toward sustainability.
TELF AG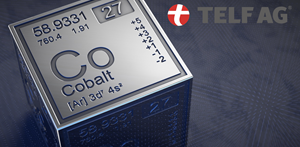 Lugano, Switzerland, Sept. 30, 2023 (GLOBE NEWSWIRE) — TELF AG has recently published an article exploring cobalt's rich history and current applications, particularly in the realm of battery technology. The article titled, "TELF AG on The History and Application of Cobalt in Battery Technology," states that cobalt, known for its vibrant blue color, has been used as a colorant in various art forms for centuries. The element's historical significance dates back to ancient civilizations, including Egyptian, Persian, and Chinese cultures. One of the fascinating relics mentioned in the publication is the blue glass found in the 14th century BC Uluburun shipwreck.
According to historical accounts, the term "cobalt" has its origins in the German word "kobalt," which is derived from "kobold" or goblin. This name reflects the difficulties miners initially faced when working with cobalt ore due to its toxic byproducts. The element's unique identity was established in the early 18th century by Swedish chemist Georg Brandt, making it the first metal to be isolated since it was known in prehistoric times. TELF AG notes that Norway's Blaafarveverket factory was a significant producer of cobalt blue and smalt in the 19th century before mining shifted to other global locations.
In modern times, cobalt is critical in lithium-ion batteries, which are essential to today's renewable energy infrastructure. As per TELF AG, the lithium-ion battery market has grown substantially, moving from a value of $30 billion in 2015 to an estimated $75 billion by 2024. TELF AG also highlights cobalt's contribution to other types of batteries like nickel–cadmium and nickel-metal hydride, where it aids in the oxidation of nickel.
Electric vehicles have significantly impacted the demand for cobalt. TELF AG cites an 81% increase in demand for cobalt from the first half of 2018 to the first half of 2019, corresponding to a battery capacity of 46.3 GWh. However, the article also discusses ongoing research to reduce or eliminate the need for cobalt in batteries. Some advancements include lowering the cobalt content in batteries and the introduction of cobalt-free lithium iron phosphate batteries.
The article also underscores the strategic importance of cobalt as countries aim for net-zero carbon emissions by 2050. The element is crucial for balancing intermittent energy sources like wind and solar power, and its role in electric vehicle batteries makes it indispensable for a global shift away from fossil fuels.
To gain a more comprehensive understanding of the historical significance and modern applications of cobalt, from its colorful past to its critical role in shaping a more sustainable future readers are advised to take a look at the full article.
About TELF AG:
TELF AG is a full-service international physical commodities trader with 30 years of experience in the industry. Headquartered in Lugano, Switzerland, the company operates globally, serving customers and providing solutions for commodities producers worldwide. TELF AG works in close partnership with producers to provide effective marketing, financing, and logistics solutions, enabling suppliers to focus on their core activities and access far-reaching markets wherever they may be.
Its flexible, customer-focused approach allows TELF AG to create tailor-made solutions for each producer, facilitating long-term partnerships. Additionally, consumers widely recognize them for their operational excellence and reliability.
Official websites:
TELF AG Official Website
TELF AG Media Page
TELF AG Sustainability
Social Media and other related links:
Twitter
Facebook
YouTube
Instagram
LinkedIn
Company Name: TELF AG
Contact Person: Rick De Oliveira
Email: [email protected]
Website URL: https://telf.ch/
Disclaimer: There is no offer to sell, no solicitation of an offer to buy, and no recommendation of any security or any other product or service in this article. Moreover, nothing contained in this PR should be construed as a recommendation to buy, sell, or hold any investment or security, or to engage in any investment strategy or transaction. It is your responsibility to determine whether any investment, investment strategy, security, or related transaction is appropriate for you based on your investment objectives, financial circumstances, and risk tolerance. Consult your business advisor, attorney, or tax advisor regarding your specific business, legal, or tax situation. For more info, please contact [email protected].
Attachment

Disclaimer: The above press release comes to you under an arrangement with GlobeNewswire. AfternoonHeadlines.com takes no editorial responsibility for the same.