Tearlach Discovers Pegmatites on Georgina Properties
Georgina Properties claim map showing new claims
VANCOUVER, British Columbia, July 20, 2023 (GLOBE NEWSWIRE) — Tearlach Resources Limited (TSXV: TEA) (OTC: TELHF) (FRANKFURT: V44) ("Tearlach" or the "Company") is pleased to provide an update on progress with its summer exploration program on the Georgina Properties, Jellicoe, northwestern Ontario. The Properties, consisting of the Georgina Stairs, Georgina East and newly staked claims, cover approximately 239 square kilometres (Figure 1) and are being explored for pegmatite-hosted lithium mineralization similar to that hosted on Rock Tech's Georgia Lake Property to the west. Fieldwork consisting of geological mapping and outcrop sampling commenced in mid-May, and to date, approximately 20% of the Properties have been covered.
Highlights:
A key milestone is the discovery of eleven pegmatite outcrops, including both sodium and potassium-rich varieties. These are the first documented pegmatites on the property, and the presence of both sodic and potassic types indicates that fractionation of the pegmatite melt has occurred, which could generate lithium-rich end member components. Tearlach's ongoing geochemical sampling program will focus on establishing geochemical and mineralogical vectors towards possible lithium-enriched areas of the system.
Based on the pegmatite discoveries, in June, Tearlach staked an additional 46 claims contiguous with the southern part of Georgina East Property on open ground (Figure 1). The Georgina Properties now consist of 1131 cell claims and is 26 km by 12 km in size.
Exploration Targets:
The spodumene-bearing pegmatites elsewhere in the region are sodic-rich, with aplite in the outermost zones and green muscovite in the innermost zones associated with spodumene. The identification of both aplite and green muscovite during the recent work on the Properties indicates that it has the potential to host spodumene pegmatites. Tearlach's exploration team will be focusing on these areas in the upcoming month.
Dr. Selway stated that, "I am happy with the progress that Tearlach's mapping team has made at the Georgina Properties. We have progressed from an unexplored property to discovering granites to discovering pegmatites within 2 months. Tearlach's Georgina Properties has the potential to host lithium mineralization like Rock Tech Lithium's Georgia Lake Property 9 km to the west."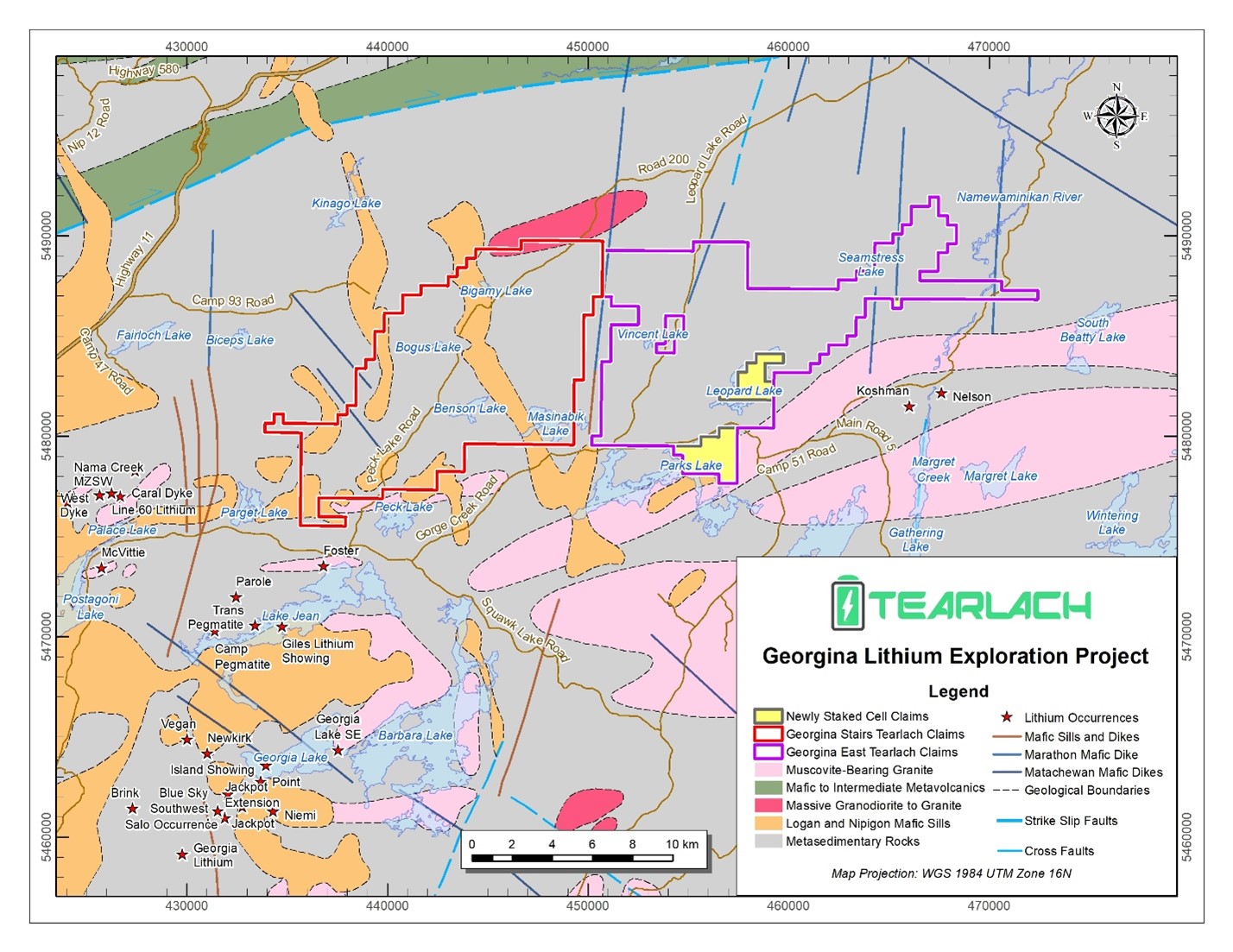 Figure 1. Georgina Properties claim map showing newly staked claims.
Qualified Person:
Julie Selway, Ph.D., P.Geo. supervised the preparation of the scientific and technical information that formed the basis for the written disclosure in this news release. Dr. Selway is the VP of Exploration for Tearlach Resources and the Qualified Person ("QP") as defined by National Instrument 43-101.
About Tearlach:
Tearlach, a member of the TSX Venture 50, is a Canadian exploration company engaged in acquiring, exploring, and developing lithium projects. Tearlach is focused on advancing its flagship Gabriel Project in Tonopah, Nevada, bordering American Lithium's TLC Deposit, and has completed 11 drill holes on the Gabriel Property. Tearlach has three lithium assets in Ontario: Final Frontier, Georgina Stairs, and New Frontier. Final Frontier is located adjacent to and near Frontier Lithium's PAK lithium deposit north of Red Lake. Georgina Stairs is located northeast of Rock Tech Lithium's Georgia Lake deposit near Beardmore. Tearlach has two lithium assets in Quebec: Rose-Fliszar-Muscovite Project in the James Bay area and Shelby Project adjacent to and near Patriot Battery Metals' Corvette lithium project and Winsome Resources' Cancet and Adina lithium projects. Tearlach also has the Savant Property, an exploration stage Gold-Silver-Copper Property, in Northwestern Ontario. Tearlach's primary objective is to position itself as North America's leading lithium exploration and development company. For more information, please get in touch with the Company at [email protected] or visit our website at www.tearlach.ca for project updates and related background information.
ON BEHALF OF THE BOARD OF DIRECTORS,
TEARLACH RESOURCES LIMITED
Charles Ross
Chief Executive Officer
Suite 610 – 700 W. Pender Street
Vancouver, BC, Canada V6C 1G8
Tel: 604-688-5007
Follow us on Facebook, Twitter, and LinkedIn.
Forward-looking statements
This press release contains forward-looking statements and forward-looking information within the meaning of Canadian securities laws (collectively, "forward-looking statements"). Statements and information that are not historical facts are forward-looking statements. Forward-looking statements are frequently, but not always, identified by words such as "expects", "anticipates", "believes", "intends", "estimates", "potential", "possible" and similar expressions or statements that events, conditions or results "will", "may", "could" or "should" occur or be achieved. Forward-looking statements and the assumptions made in respect thereof involve known and unknown risks, uncertainties, and other factors beyond the Company's control. Forward-looking statements in this press release include statements regarding beliefs, plans, expectations or intentions of the Company. Mineral exploration is highly speculative and characterized by several significant risks, which even a combination of careful evaluation, experience and knowledge may not eliminate. Forward-looking statements in this press release are made as of the date herein. Although the Company believes that the assumptions and factors used in preparing the forward-looking statements in this press release are reasonable, undue reliance should not be placed on such statements. The Company undertakes no obligation to update publicly or otherwise revise any forward-looking statements, whether as a result of new information or future events or otherwise, except as may be required by law.
Neither the TSX Venture Exchange nor its Regulation Service provided (as that term is defined in the policies of the TSX Venture Exchange) accepts responsibility for the adequacy or accuracy of this release.
A photo accompanying this announcement is available at https://www.globenewswire.com/NewsRoom/AttachmentNg/18edff2e-08d9-4419-9130-0c8b7effe9e3

Disclaimer: The above press release comes to you under an arrangement with GlobeNewswire. AfternoonHeadlines.com takes no editorial responsibility for the same.