Taiwan Excellence Launches 'Sustaining Sustainability: Taiwan Excellence Earth Month' with Pop-up Experience in Seattle
Experience to Feature Award-Winning Products and Industry Innovators in Sustainability
Sustaining Sustainability: Taiwan Excellence Earth Month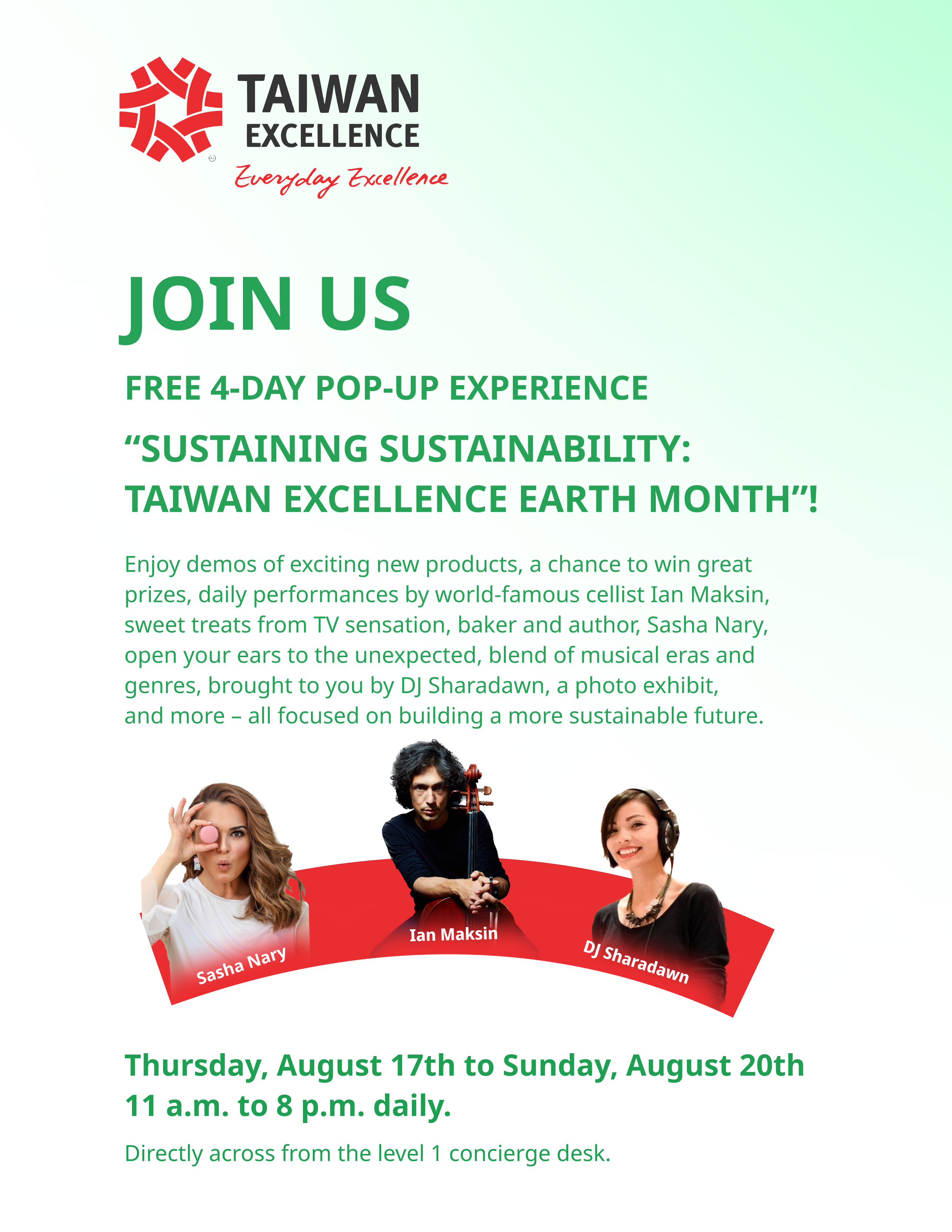 SEATTLE, Aug. 11, 2023 (GLOBE NEWSWIRE) — Taiwan Excellence is kicking off August with a month-long campaign entitled, "Sustaining Sustainability: Taiwan Excellence Earth Month." Taiwan Excellence is an awards label that recognizes the ingenuity and innovation of Taiwanese businesses that display outstanding R&D, design, and quality in product development and this time the focus was on sustainable products making an impact. To celebrate the advancements in sustainable products from Taiwan and the importance of finding ways to help preserve the environment, Taiwan Excellence will host a four-day Pop-up experience, launch a comprehensive and impactful social media campaign and partner with influencers who are making significant progress in sustainability and environmental awareness.
Sustainable Innovations and Progress Forward
As part of August's celebrations, from August 17-20, Taiwan Excellence will feature some of the Taiwan Excellence award-winning products in an interactive Pop-up experience that will be located at Pacific Place 600 Pine Street in Seattle during the APEC convention. The Pop-up Store is in response to this year's Asia-Pacific Economic Cooperation (APEC) meetings in the United States, with the theme, "Creating a Resilient and Sustainable Future for All," and to advocate sustainability while showcasing the green values of Made-in-Taiwan products. Taiwan Excellence Earth Month, combining online and offline activities, aims to promote the sustainability of Taiwan's finest and most innovative products. Collaborating with ten award-winning Taiwanese companies such as Acer, E Ink Holdings Inc, and O'right, the store will exhibit around 30 green products developed and manufactured in Taiwan, including recycled plastic laptops, ePaper, rockbook notebook, carbon-free shampoo, and plant fiber cutlery, showcasing the green innovation DNA of Taiwan Excellence.
The products that will be on display all have a common focus on building resilience and sustainable futures. Some of the products that will be featured include:
Acer: Aspire Vero Eco-Friendly Green PC– Full of environmentally focused features including ocean-bound plastic and a chassis that utilizes 30% post-consumer recycled (PCR) plastic, which is durable and rigid and saves 21% in carbon emissions for the production of the chassis.
E Ink Holding's Inc.: E Ink Prism– Unique and dynamic material for design that incorporates both black and white, and color-changing electronic ink technology. The material has ultra-low power consumption making it environmentally friendly and it can run on battery power or renewable energy.
O'right Inc.: Beyond hair and skin care, O'right prioritizes people, society, the environment and became the first zero-carbon beauty company in the world.
Ju Tian Cleantech Co., Ltd.: Plant Fiber Cutlery- Ju Tian Cleantech developed eco-friendly and biodegradable Plant Fiber Cutlery made from recycled coffee grounds, bagasse and more, and it can be used and then composted, thus completing the cycle.
Chung Hwa Pulp Corporation: CircuWell Total Recyclable Packaging Solution- CHP's paper cups, lids, food boxes, paper straws and fiber dinner plates use a multi-layer papermaking method and patented emulsion-based decomposable coating on the surface of the products to provide waterproof, grease resistance and heat-sealable properties. After use, the products can be directly put into general paper recycling.
For more details on the full lineup of products that will be in the Pop-up experience, please click HERE and find images HERE.
Engage and Be Inspired
The interactive experience will be open to the public from 11 a.m. to 8 p.m. and attendees can see and engage with the Taiwan Excellence award-winning products. And to enhance the ambiance, attendees will be treated to the beautiful music of world-renowned cellist, Ian Maksin, who will perform musical pieces with a connection to Taiwanese culture, sustainability, and nature. And guests will get to tempt their taste buds with delicious creations from baker and TV sensation, Sasha Nary that bring elements of Taiwanese culture and culinary flavors to life. The desserts will be served on eco-friendly Ju Tian dinnerware created from sugarcane and sustainable materials. And a beautiful photo exhibit will be on display from renowned landscape and nature photographer, Mike Reyfman.
Each day there will be fun event activities for all ages. Attendees can participate in photo booth activations, scavenger hunts and raffles all day long and stop by for special events including dessert sampling, Bubble Tea drinks at 5 p.m. and a live performance and party at 6 p.m.
Power of Proximity
In addition to the Pop-up experience, Taiwan Excellence is partnering with published author, professor and visionary in innovation, Rob Wolcott. Robert is an Adjunct Professor of Innovation at the Booth School of Business, University of Chicago, and an Adjunct Professor of Executive Education at the Kellogg School of Management, Northwestern University. He's co-founder and chair of The World Innovation Network (TWIN Global; www.twinglobal.org), a global community of nearly 4,000 innovation and growth leaders from over 30 countries and across sectors (business, government, the arts, academia, and defense). To support Taiwan Excellence Earth Month, Rob will host presentations to discuss his new book Proximity and the power of Proximity and its importance in moving us forward with innovative ideas and sustainable efforts. Attendees will have the opportunity to engage and share their thoughts for a lively discussion on the topic.
Achieve Everyday Excellence
Focusing on four major areas of product excellence, the coveted Taiwan Excellence Award is given to companies to recognize their products that are innovating in research and development, design, quality, and marketing. As an international hub for design and technology, Taiwan is home to many of the world's top brands. Every year a professional multi-disciplinary team of jurors selects the best Taiwanese products to be featured.
For more information, please visit the official website of the Taiwan Excellence Earth Month, and the Taiwan Excellence Instagram / Facebook.
About Taiwan Excellence
The symbol of Taiwan Excellence honors Taiwan's most innovative products that provide tremendous value to users worldwide. All products carrying this symbol have been selected as winners of specific Taiwan Excellence Awards based on outstanding R&D, design, quality, marketing, and Made-in-Taiwan merits. The symbol of Taiwan Excellence was initiated by the Ministry of Economic Affairs of Taiwan in 1992 and is recognized by over 100 countries around the world. Visit www.taiwanexcellence.org for more information.
Organized by Bureau of Foreign Trade (BOFT), MOEA
The Bureau of Foreign Trade (BOFT) is responsible for implementing policies and regulations governing foreign trade and economic cooperation. Its primary duties currently include participating in the activities of international economic and trade organizations and enhancing bilateral trade relations.
Organized by Taiwan External Trade Development Council (TAITRA)
Founded in 1970 to help promote foreign trade, the Taiwan External Trade Development Council (TAITRA) is the foremost non-profit, semi-governmental trade promotion organization in Taiwan. Jointly sponsored by the government, industry associations, and several commercial organizations, TAITRA assists Taiwanese businesses and manufacturers with reinforcing their international competitiveness and in coping with the challenges they face in foreign markets. TAITRA boasts a well-coordinated trade promotion and information network of over 1,300 international marketing specialists stationed throughout its Taipei headquarters and 62 overseas offices worldwide.
Contact
Kelly Kaufman
A photo accompanying this announcement is available at https://www.globenewswire.com/NewsRoom/AttachmentNg/076ed07a-96a8-418a-9669-c29c873d642a

Disclaimer: The above press release comes to you under an arrangement with GlobeNewswire. AfternoonHeadlines.com takes no editorial responsibility for the same.