Sutter Health Welcomes Record Number of Residents for Upcoming Year
Graduate Medical Education Programs Poised to Expand Even More Across Health System
First Physicians to Match to New Teaching Hospital Begin Residency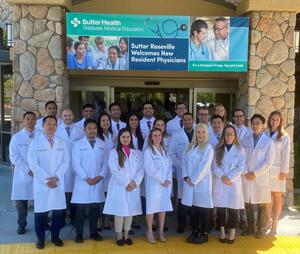 Rural Resident Physicians Ready to See Patients in Amador County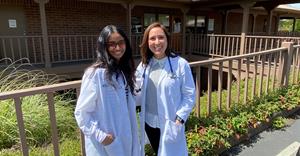 Sacramento, Calif., March 17, 2023 (GLOBE NEWSWIRE) — Sutter Health welcomes 86 medical doctors into residency programs for the coming academic year, filling 100% of its residency program openings throughout the organization. It is a record amount of resident physicians for the not-for-profit, integrated health system, which announced the milestone on Match Day — an annual tradition when the National Resident Matching Program releases results to resident applicants.
"Tomorrow's best medicine will be shaped by today's top practicing physicians, medical scholars and clinician-researchers. At Sutter, our graduate medical education programs offer doctors a training experience that will prepare them to lead the field," said Warner Thomas, president and CEO of Sutter Health. "Expanding the ranks of physicians is more critical than ever. Graduate medical education programs like ours help widen the pipeline for high-quality, high-caliber physicians from all walks of life to meet the growing and diverse healthcare needs across California and the country."
Sylvie Umuhoza, senior director of academic affairs at Sutter Health, says that the health system's graduate medical education programs have been growing over time. Sutter has nearly 200 resident and fellow physicians in its existing 16 Accreditation Council for Graduate Medical Education-accredited programs that span across six locations. She explained that they are looking to expand program offerings and locations over the next several years. Sutter most recently applied for and received a federal grant to develop an obstetrics and gynecology residency in partnership with WellSpace Health, a federally qualified health center that focuses on supporting underserved populations.
Umuhoza said Sutter Health's goal is to eventually train more than 400 resident and fellow physicians annually in a variety of specialties and subspecialties, enhancing access to care and helping retain talent to the region. This focus will help elevate Sutter's already strong offerings into one of the top physician training programs in Northern California.
"We are proud to offer robust programs that deliver cutting-edge knowledge and expertise, enabling these doctors to stay abreast of emerging best practices for unparalleled patient care," she said. "Here at Sutter, residents and fellows train with some of the nation's best physician-mentors who have studied and practiced at our hospitals, as well as top medical institutions across the U.S."
Dr. Archana Ganta joined the Family Medicine Rural Residency Program in Amador County in 2022. She works at the Sutter Family Medicine Continuity Clinic in Jackson, Calif., along with rotations at nearby Sutter Amador Hospital. She is from California and received medical training in the Midwest, and plans to continue her career in rural California.
"Being in a more rural community, you are able to see and care for whole generations of families," said Dr. Ganta, who hails from the rural town of Hemet, an hour's drive from Los Angeles. Dr. Ganta knows a little about family medicine physicians in rural areas; her father, Dr. Sanyasi Ganta, is one in Hemet. "I feel that the relationships those rural family physicians have with their patients are much closer and deeper compared with those in more populated areas. I really enjoy that."
Sutter offers resident and fellow physicians an attractive array of clinical avenues to explore. The training and exposure they gain can lead to long-term careers providing impactful, life-changing care to patients and families. In fact, 43% of the resident/fellow physicians in the training programs have been hired into medical group practices that are affiliated with Sutter's health system, helping serve the diverse healthcare needs of the region. Physician residency programs at Sutter include those in emergency medicine, family medicine, internal medicine, ophthalmology, psychiatry and surgery. Physician fellowship programs include advanced heart failure and transplant cardiology, cardiology, clinical ethics, endocrinology, family medicine, gastroenterology, hand surgery, health psychology, hematology/oncology, neurocritical care, pediatric neuropsychology, psychology, pulmonary and critical care, retina, shoulder and upper extremity, transplant hepatology and transplant nephrology. Locations for these programs range from urban centers in San Francisco and Sacramento, to more suburban settings like Davis, Roseville and Santa Rosa, Calif., and the more rural in Jackson.
Given how diverse the region is, Sutter resident and fellow physicians have the opportunity to care for patients from a variety of racial, ethnic and socioeconomic backgrounds. This array of training sites helps them deliver more culturally competent care—learning skills to care for patients with unique health concerns and multifaceted, complex social drivers of health.
"We foster an open, welcoming environment built on a foundation committed to diversity, equity and inclusion," said Leon Clark, Sutter Health's chief research officer who also serves as the designated institutional official for the system's graduate medical education programs. "While physician residents and fellows will gain immeasurable value from the training they receive inside hospital and clinic walls, they will also have opportunities through our programs to go out into the community. They will see firsthand what is happening with those who are underserved and gain tremendous insight from those types of immersive experiences."
For more information about Sutter Health's graduate medical education programs, as well as other medical training opportunities, visit https://www.suttermd.com/education.
Attachments
First Physicians to Match to New Teaching Hospital Begin Residency
Rural Resident Physicians Ready to See Patients in Amador County
CONTACT: Angie Sheets Sutter Health 916-494-9547 [email protected] 

Disclaimer: The above press release comes to you under an arrangement with GlobeNewswire. AfternoonHeadlines.com takes no editorial responsibility for the same.