Sustainability forerunner SATO developing Kide range of bathroom furniture – Kide range soon to make stronger entry in consumer market too
SATO Corporation, Press release 14 November 2023 at 10:00 am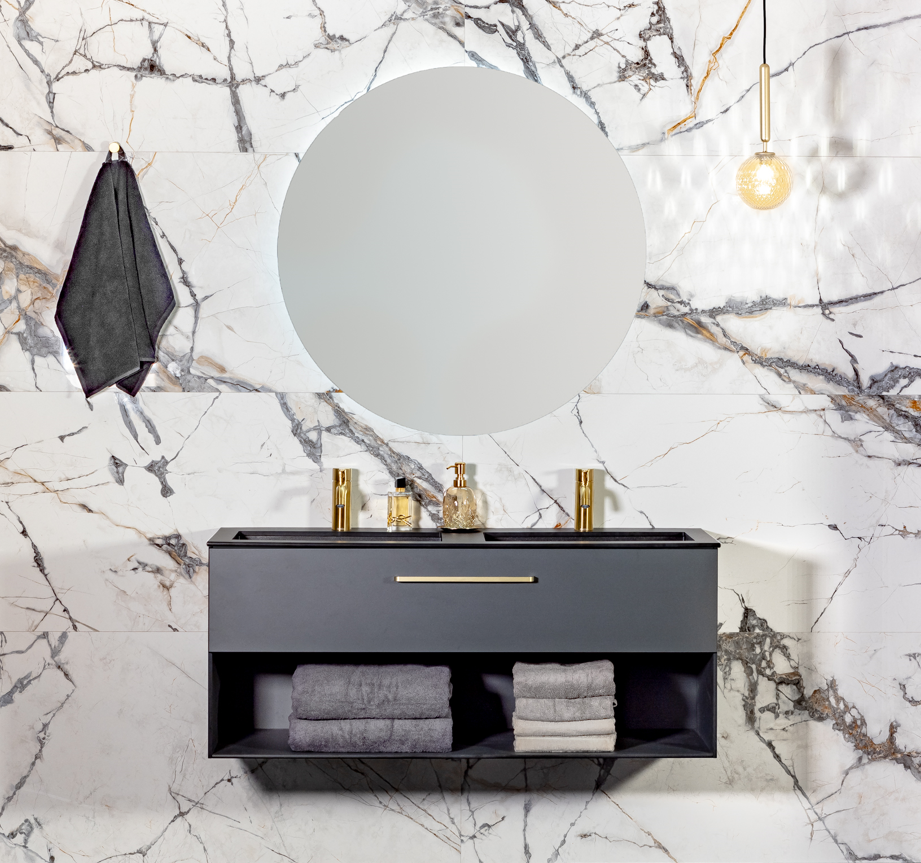 Designed for SATO seven years ago, the Kide range of bathroom furniture will soon be complemented by an updated range. The bathroom range, originally designed for SATO, is now also available through retailers. The Kide range is a pioneering sustainability concept in the Finnish bathroom furniture market.
Created for SATO homes, sustainability and ecological aspects are at the core of the Kide range alongside good design. The Kide range features a variety of bathroom furniture designed in 2017. The person behind the idea is SATO's own designer Jonna Röynä. November will see SATO's Kide range complemented by an updated range designed specifically for construction companies and for customers in the consumer market who want to use design products that will stand the test of time and are sustainably designed in the bathroom, too. The products will be available towards the end of the year and can be bought from a retailer. The current retailer is Parkanon Puupiste Ltd.
The bathroom range designed for SATO was released for the market in 2019, and demand has been high. Demand exceeded the expectations of the SATO designer as well as the manufacturer.
"The products were originally manufactured exclusively for SATO. Then we thought that sustainable and highly recyclable bathroom furniture should be released for the market, as there's demand for sustainable products. Products sold outside SATO have mainly been made for construction companies and specifically for rental homes," says Röynä.
Kide furniture can currently be found in a total of around 12,000 bathrooms, with 7,000 of these in SATO homes. The new Premium range features more colour choices, the sinks have a sleek design, and the range also includes the popular under-sink units for double sinks. The dimensions of the new range have been designed for the furniture to look great in larger bathrooms, too. The Premium range is well-suited for settings such as hotels as well as for ordinary homes for an added feel of luxury.
The original Kide range is also receiving a slight update. This mainly involves minor touches such as making pulls a bit more rounded to cater for families with children.
"There's been hardly any complaints about Kide products over the six years, so we're not going to fix anything that doesn't need fixing," Röynä says.
Sustainability ensures long lifecycle for bathroom furniture
Bathroom furniture is typically made from particle board, but Kide furniture is made from compact laminate, also known as massive laminate. The material is harder and requires more powerful woodworking machinery, making the costs slightly higher in terms of both material and manufacture. However, the investment pays off over time: thanks to a higher tolerance of moisture as well as of wear and tear, the product has a much longer lifecycle.
At SATO, the switch to Kide products in bathrooms has also reduced the amount of waste generated from furniture by an annual total of 12,500 kg, as damaged or worn furniture no longer needs to be replaced that often.
"In Finland, compact laminate is used regrettably rarely in bathroom furniture. The manufacture of fitted furniture seems to be lagging behind in terms of sustainability. Kide products can lead the way in this respect," Röynä says.
Kide products are manufactured by the Finnish company Kankarin Kaluste. Back in the day when Jonna Röynä was looking for a manufacturer for fitted compact-laminate bathroom furniture, woodwork specialist Pekka Pusa from Kankarin Kaluste worked on the designs drawn by Jonna Röynä to make them ready for production.
"We were familiar with compact laminate as a material, so we dared to start making these. Kide furniture comes with a 25-year guarantee thanks to the material being so durable. The products and components used in the units are from the top end of their categories in terms of quality. Compact laminate consists of resins and paper that are bonded together under high heat and pressure," Pusa explains.
Kide furniture is made in Finland
Kide furniture is made in Finland and the material used is sourced locally. Sustainability can be seen in the materials and the end product but also in the manufacturing process.
"We aim to make use of all the materials in the process, so the wastage rate is very low. Sawing waste is used for heating the factory. We've also made efforts to ensure high logistics efficiency," says Heikki Mäkinen from Kankarin Kaluste.
The manufacture of Kide products employs several people at Kankarin Kaluste. When the range was released for the market a few years ago, production doubled and multiple shifts were introduced to make Kide furniture. The new Kide range means a continuation of close cooperation, with the two companies working together all the time on product development and innovation. This collaboration has already resulted in the creation of five different products since the first Kide furniture.
"The Kide range includes four different sizes of under-sink units with drawers, together with complementing mirror cabinets and illuminated mirrors of different widths. In addition, there are various sizes of wall cabinets and shelving units with and without a mirror. The Kide range has provided us with a nice amount of work over the years, so we'll see what the future holds with the new range," says Pekka Pusa.
Read more about the Kide range: https://www.sato.fi/en/releases/satos-jonna-royna-developed-bathroom-furniture-that-will-last-25-years
For more information contact:
Jonna Röynä, Specialist, SATO Product Development and Space Design, [email protected], phone +358 50 562 6008 
For media enquiries contact:
Marjaana Kivioja, Communications Manager, [email protected], phone +358 400 773 181

Disclaimer: The above press release comes to you under an arrangement with GlobeNewswire. AfternoonHeadlines.com takes no editorial responsibility for the same.