Startup Andi Releases Semantic Content Engine that Further Improves Accuracy of its GenAI Search Platform, and Delivers New UI That's Both Intuitive and Beautiful
As other GenAI search tools hallucinate, Andi remains singularly focused on delivering fast, accurate answers for user
Andi Releases Semantic Content Engine that Further Improves Accuracy of its GenAI Search Platform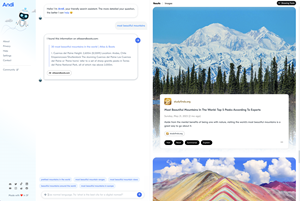 SAN FRANCISCO, July 31, 2023 (GLOBE NEWSWIRE) — Andi, which is building search for the next generation, announced today a new semantic content engine that makes what was already the most accurate GenAI search tool even more precise in its answers. The company also revealed a new UX with a cleaner conversational design, a TikTok-style visual results feel, and better presentation of sources and citations.
Unlike GenAI search tools that leverage Large Language Models to both find and compose answers, Andi first filters for high-quality content sources on the Internet and then uses LLMs to provide accurate summarized answers with links to those sources. Andi summarizes answers by reading the entirety of each source – not just using web snippets, like all other GenAI search tools do. This helps improve accuracy of answers as well.
Now, Andi is launching a brand new semantic search backend, based on the last year of feedback from users. Semantic ranking works by looking for context and relatedness in content. Andi can understand concepts and likeness, elevating the most relevant and highest quality sources and filtering out low quality content. It's most powerful on knowledge and information-based searches, such as finding the latest news and research/statistics.
Andi pioneered conversational, generative question answering and realized early on that the most important thing to users is concise answers that are reliable, trustworthy and accurate. "Factual accuracy is still a huge challenge in GenAI, and Andi made it a priority early on," said Angela Hoover, Co-founder and CEO of Andi. "While others have focused on form over substance – and turned into misinformation machines – Andi has maintained its focus on delivering the most accurate results. Users are discovering this, and our user base has grown organically more than 300 percent since the beginning of the year."
The other major problem with search and LLMs is source attribution. Hoover shares, "What makes the web great is the high quality content that producers spend hours researching, writing and creating. Fair content attribution, however, has been an issue in search from all the way back when Google started doing snippets, and now LLM search opens up a new paradigm for an experience that buries the original content producer even more. As part of this vision for search, we are deeply focused on source accreditation. Our commitment is to showcase great content and useful information, not steal it. There's a way to do GenAI search that benefits both the user and producers of media."
Andi has introduced several big innovations since opening Andisearch.com to the public in January 2023:
A Summarize feature that provides accurate summaries of articles and other source material, with citations.
An Explain feature on every result that simplifies complex topics and articles, like having a tutor right inside your search engine.
A Generated Content feature that provides the most accurate generative AI content and reliable source citation in the industry. Users can ask Andi to write summaries, draft blog posts, lists, poems or tweets. Andi pulls in content from the latest search results so that the generated text is factually accurate and grounded in high-quality sources.
A universal image discriminator that detects in real time the size and quality of images and displays them in a beautiful visual feed.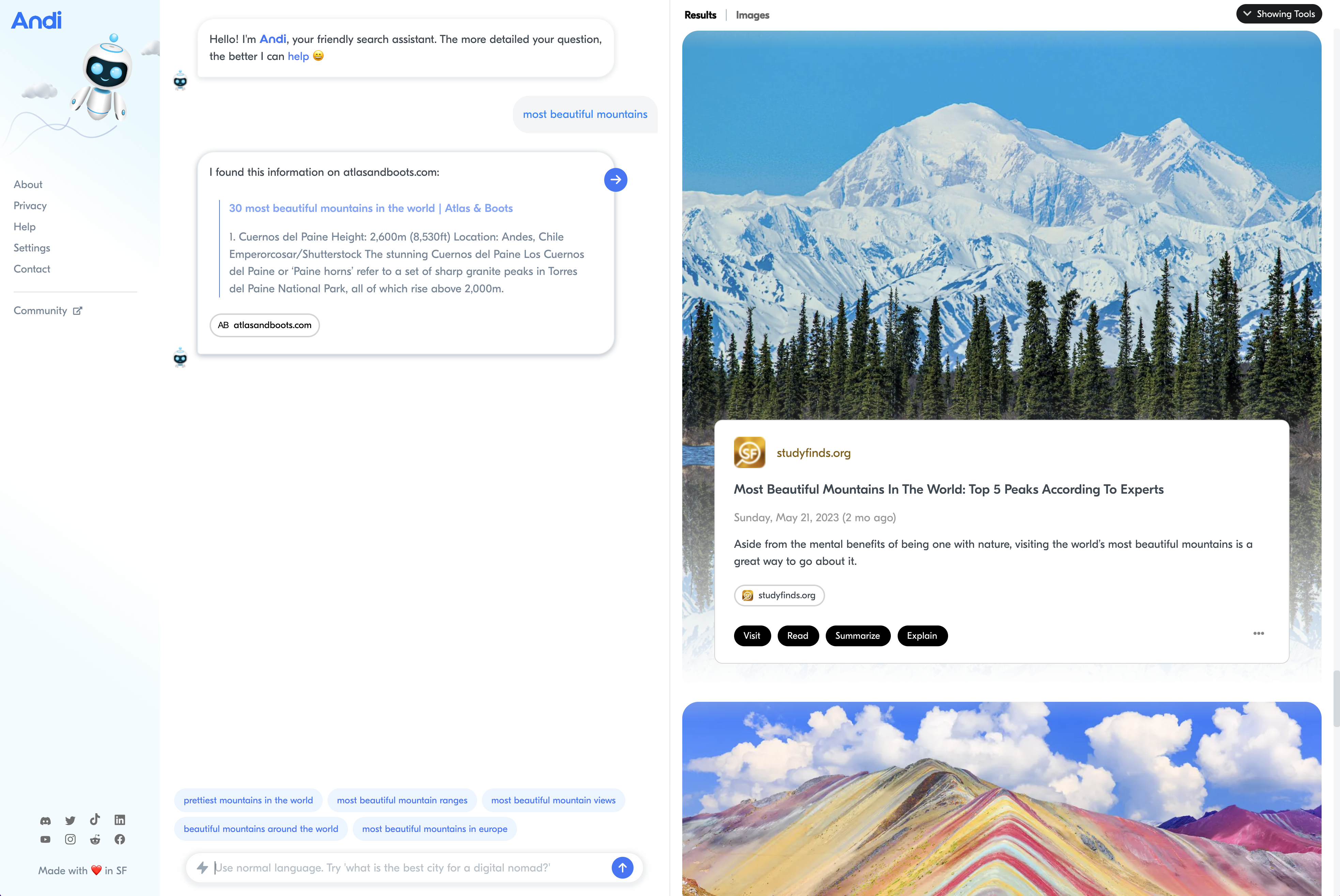 About Andi
Andi is building search for the next generation – visual, conversational and factually accurate. Search is broken. Results are overwhelmed with ads, clickbait and spam. Andi solved this by pioneering conversational search, the first smart search assistant using generative AI to find the right answers and give you clear summaries of the best results, like chatting with a smart friend. Free for anyone to use, Andi is ad free and completely anonymous with no personal data tracking. Andi's long-term vision is to provide an AI assistant that can answer questions and automate tasks in your life – it's starting with search. Learn more at https://andisearch.com/.
Media Contact:
Michelle Faulkner
Big Swing
[email protected]
617-510-6998 
A photo accompanying this announcement is available at https://www.globenewswire.com/NewsRoom/AttachmentNg/e9ee3efb-e3ff-4db9-bedd-2591af0993a6

Disclaimer: The above press release comes to you under an arrangement with GlobeNewswire. AfternoonHeadlines.com takes no editorial responsibility for the same.