Starkey Serves as Exclusive Hearing Health Partner for the Special Olympics World Games Berlin 2023
Starkey Cares and Special Olympics International have partnered to increase access to hearing health services worldwide for Special Olympics athletes
Starkey Serves as Exclusive Hearing Health Partner for the Special Olympics World Games Berlin 2023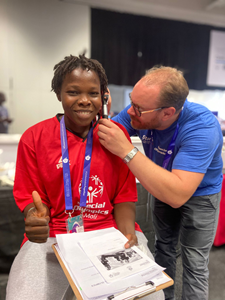 Starkey Serves as Exclusive Hearing Health Partner for the Special Olympics World Games Berlin 2023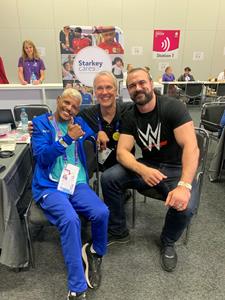 Eden Prairie, Minnesota, June 21, 2023 (GLOBE NEWSWIRE) — Starkey is thrilled to once again serve as the exclusive global supplier of hearing instruments for the Special Olympics Healthy Athletes® Healthy Hearing program at the Special Olympics World Games Berlin 2023. As the world's largest inclusive sports event featuring 7,000 athletes from 190 delegations, the World Games began on June 17 in Berlin, Germany, and will run through June 25. Starkey's participation is a continuation of the global partnership made with Special Olympics International last year, which pledged to increase access to hearing health services for individuals with intellectual disabilities worldwide.
"Our goal at the World Games is to ensure every athlete is included, accepted, and reconnected to the world around them through better hearing," said Jake Spano, Director of Corporate Social Responsibility at Starkey. "Working with Starkey Cares partners around the globe to lift up these amazing athletes has been an incredible opportunity for Starkey and our customers to give back, and we could not ask for a better partner than Special Olympics."
"We are grateful to be teaming up with Starkey Cares for World Games Berlin 2023. Their unwavering commitment to providing Special Olympics athletes with hearing screenings and access to hearing aids, along with follow-up care in their home communities, is crucial to our work in Healthy Athletes," said Annemarie Hill, Special Olympics Senior Vice President, Global Health Operations. "Starkey's support will enable many athletes to hear their coaches' instructions for the first time, listen to the cheering of the crowds, and find calm in the voices of their loved ones as they prepare to compete. We are grateful for their partnership and look forward to advancing health equity for individuals with intellectual disabilities at the Games and beyond."
At the World Games, Starkey is providing personalized hearing aids with the help of partners like Dreve – a German-based 3D printing company that specialises in custom-fit hearing aid earmolds. After the games, Starkey will provide follow-up care in the home communities of each athlete. Since launching the partnership with Special Olympics International last year, Starkey and Special Olympics have provided over 3,000 athletes with cerumen management, hearing tests, and fittings.
About Starkey
Starkey is a privately held, global hearing technology company headquartered in Eden Prairie, Minnesota. Owned by Bill Austin since 1967, Starkey is known for its innovative design, development, and distribution of comprehensive digital hearing systems. Led today by President and CEO Brandon Sawalich, Starkey has more than 5,000 employees, operates 29 facilities and does business in more than 100 markets worldwide. Learn more at starkey.com.
About Special Olympics International
Founded in 1968, Special Olympics is a global movement to end discrimination against people with intellectual disabilities. We foster acceptance of all people through the power of sport and programming in education, health and leadership. With more than six million athletes and Unified Sports partners and one million coaches and volunteers in over 200 accredited Programs, Special Olympics delivers more than 30 Olympic-type sports and over 100,000 games and competitions every year.
Engage with us on: Twitter, Facebook, YouTube, Instagram, LinkedIn and our blog on Medium. Learn more at www.SpecialOlympics.org
About Dreve
Dreve Otoplastik GmbH is a family-run company from Unna, Germany, that offers products for fitting hearing aid systems to the ear. One of the core competences is 3D printing of custom-fit hearing aid earmolds and customized hearing protection. Dreve uses state-of-the-art technology and high-quality materials to create comfortable and effective products, processes and services that meet the customers' needs. Certified as a manufacturer of medical devices and with over 70 years of experience, Dreve is a reliable partner for audiologists and hearing experts. Learn more here.
Attachments
Starkey Serves as Exclusive Hearing Health Partner for the Special Olympics World Games Berlin 2023
Starkey Serves as Exclusive Hearing Health Partner for the Special Olympics World Games Berlin 2023
CONTACT: Jonell Lundquist Starkey 612-298-4449 [email protected] 

Disclaimer: The above press release comes to you under an arrangement with GlobeNewswire. AfternoonHeadlines.com takes no editorial responsibility for the same.