Splashtop Wins 2023 NAB Show Product of the Year Award
The company's High-Performance Remote Production Solutions Streamline Workflows and Enable New Levels of Productivity for Broadcasting & Media Professionals.
NAB Show Product of the Year 2023 Winner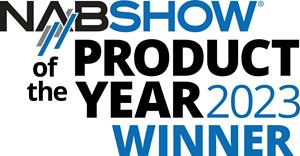 CUPERTINO, Calif., April 20, 2023 (GLOBE NEWSWIRE) — Splashtop, a leader in remote solutions that simplify the work-anywhere world, announced today that its Enterprise solution is a remote production winner in the 2023 NAB Show Product of the Year Awards. This official awards program recognizes some of the most significant and promising new products and technologies showcased by exhibitors at this year's NAB Show, which celebrates its 100th year as the biggest event in broadcasting.
Splashtop Enterprise empowers broadcasters to be on-air from anywhere with the highest level of performance, including 4:4:4 color, high-fidelity audio, reliable 4K HD quality and frame rates up to 60 fps. Media professionals can virtually connect to powerful workstations and editing bays to create and collaborate, while enjoying a remote environment that can keep up with the pace of today's demanding production and broadcasting needs. Through a unique partnership with Wacom and their innovative new Project Mercury solution, Splashtop provides a best-in-class remote work experience to graphic artists and designers that require extreme precision and control for the work they do using Wacom's industry leading interactive tablets and pens.
NAB Show Product of the Year Award Winners were selected by a panel of industry experts in 15 categories and announced in a live awards ceremony at NAB Show on April 18. To be eligible for an award, nominated products had to come from companies exhibiting at the 2023 NAB Show and be delivered within the 2023 calendar year.
"We are deeply honored to be acknowledged by NAB as a leader in remote production solutions," said Splashtop CEO, Mark Lee. "We understand the immense challenges faced by broadcasting and media professionals who need the ability to provide seamless live analysis as events unfold. They need flawless digital displays and real-time connections to data sources and graphics to deliver the best possible viewer experience. At Splashtop, we pride ourselves on providing high-performance remote production solutions that empower news and broadcasting studios around the world to adapt, innovate, and thrive in this fast-paced industry. We are committed to delivering unparalleled performance, user experience, and customer support, ensuring our solutions remain a trusted choice for media professionals worldwide."
"During our centennial year, NAB continues to recognize the products that are transforming how content is being created, connected and capitalized throughout the broadcast, media and entertainment industry," said NAB SVP and Chief Customer Success Officer Eric Trabb. "Congratulations to Splashtop for winning the 2023 NAB Show Product of the Year Award in recognition of Splashtop Enterprise, a product that has demonstrated its ability to help storytellers face the challenges of the present and future by revolutionizing a critical stage of the content lifecycle."
With robust security, easy-to-use interface, and the best customer support, Splashtop cloud and on-prem solutions are preferred by media and production studios, designers, audio/video sync studios, and more. To learn more, visit Splashtop.com/solutions/media-and-entertainment.
###
About Splashtop
Splashtop is a leader in solutions that simplify the work-anywhere world. Its solutions for hybrid work and IT / MSP remote support deliver an experience that is fast, simple and secure. Splashtop's patented, high performance technology is capable of achieving 8K / 60fps and latency-free experience. Splashtop comes with advanced security features and compliance, broad device support, and responsive customer service. More than 30 million users, 250k businesses, including those in 85% of Fortune 500 enterprises, enjoy Splashtop products globally. Splashtop.com
About NAB Show
NAB Show, held April 15-19, 2023, in Las Vegas, is celebrating its centennial year as the preeminent conference and exhibition driving the evolution of broadcast, media, and entertainment. It is the ultimate marketplace for next-generation technology inspiring superior audio and video experiences. From creation to consumption, across multiple platforms, NAB Show is where global visionaries convene to bring content to life in new and exciting ways. More information is available at www.nabshow.com.
About NAB
The National Association of Broadcasters is the premier advocacy association for America's broadcasters. NAB advances radio and television interests in legislative, regulatory, and public affairs. Through advocacy, education, and innovation, NAB enables broadcasters to best serve their communities, strengthen their businesses and seize new opportunities in the digital age. More information is available at www.nab.org.
Attachment
CONTACT: Adrienne Hisoler Splashtop Inc. [email protected] 

Disclaimer: The above press release comes to you under an arrangement with GlobeNewswire. AfternoonHeadlines.com takes no editorial responsibility for the same.