Somatostatin Analogs Market revenue to reach USD 10 Billion by 2035, says Research Nester
Prominent somatostatin analogs market players include Sun Pharmaceutical Industries Limited, Novartis AG, Biodexa Pharmaceuticals PLC, Ipsen Pharma, Pfizer Inc., Teva Pharmaceuticals Inc., Camurus AB, Crinetics Pharmaceuticals, Chiasma Inc., and Peptron, Inc.
New York, Oct. 03, 2023 (GLOBE NEWSWIRE) — The global somatostatin analogs market size is predicted to expand at ~ 6% CAGR between 2023 and 2035. The market is projected to garner a revenue of USD 10 Billion by the end of 2035, up from a revenue of ~USD 6 Billion in the year 2022. The rising cases of hormonal imbalances in women which is leading to issues, such as PCOS and PCOD are expected to drive the market growth. PCOS is estimated to affect approximately 4% and 20% of the global population. According to World Health Organisation (WHO) figures, around 116 million women which is nearly 3.4% worldwide are plagued by PCOS. In hyperinsulinaemic PCOS patients, octreotide, a long-acting somatostatin analogue, dramatically decreases insulin, integrated LH, LH pulse amplitude, and androgen concentrations.
Request Free Sample Copy of this Report @
https://www.researchnester.com/sample-request- 5047
Somatostatin Analogs Market: Key Takeaways
Market in the North America region to propel the highest growth
The Octreotide segment to garner the highest growth
Market in Asia Pacific to grow at a highest rate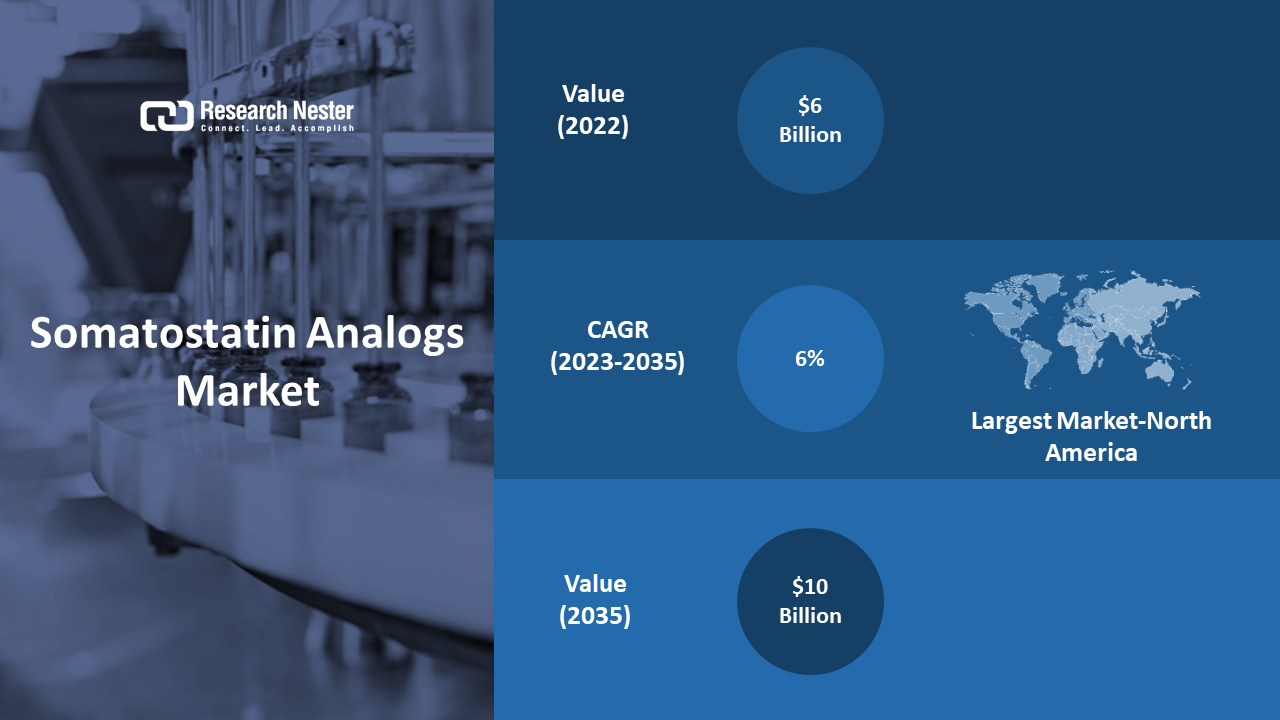 Rising Prevalence of Acromegaly is to Boost the Growth of the Somatostatin Analogs Market
Acromegaly has an incidence of 28-137 cases per million people worldwide. Expanded hands and feet are a common symptom of acromegaly, and the condition can also produce gradual changes in the structure of the face, such as a protrusion lower jaw and brow, an expanded nose, thickened lips, and wider space between the teeth. Acromegaly and gigantism are rare pituitary gland illnesses characterized by growth hormone (GH) hypersecretion. The hypersecretion of GH is caused by a benign GH-secreting pituitary adenoma in 98% of cases of acromegaly and gigantism. Somatostatin analogs (SA) are commonly utilized in the surgical management of acromegaly, either as first-line therapy or as an additional treatment after surgery. These medications are typically employed as first-line therapy in individuals with macroadenomas or clinical problems that are serious enough to avert dangerous reactions during anesthesia.
Somatostatin Analogs Market: Regional Overview
The global somatostatin analogs market is segmented into five major regions including North America, Europe, Asia Pacific, Latin America, and the Middle East and Africa region.
Rising Cases of Hormonal Tumors and Cancer is Expected to Boost the Market's Growth in North America
The North America somatostatin analogs market is anticipated to hold the largest share during the forecasted timeframe. Currently, there are around 17,000 people suffering from neuroendocrine tumors in the United States. Over the previous four decades, the incidence of NETs has gone up by nearly six times in the United States alone. Furthermore, each year, the percentage of pancreatic NETs diagnosed has increased. This is considered to be due in part to the fact that they are being discovered more frequently unintentionally when diagnostic procedures such as CT or MRI scans of the abdomen are performed for other causes.
Growing Prevalence of PCOD is to Elevate Market Growth in Asia-Pacific
The Asia Pacific market for somatostatin analogs is estimated to have significant growth. In Chinese women, the total prevalence of PCOS was 10.01%. The prevalence rates of PCOS among Chinese females fluctuate by location; occurrence rates of PCOS in the eastern regions of 7.82% are substantially lower than those in the central of 14.24% and western of 13.35%. Moreover, PCOS affects around one in every five (20%) Indian women. If not treated promptly, the disorder might have major health consequences. These growing cases of PCOD are expected to increase the demand for somatostatin analogs in the region.
Make an Inquiry Before Buying this Report @
 https://www.researchnester.com/inquiries-before-buying- 5047
 Somatostatin Analogs, Segmentation by Type
Octreotide
Lanreotide
Pasireotide
Out of all, the octreotide segment is expected to garner the largest market share over the forecast period. The growth of the market is majorly attributed to growing cases of carcinoid tumors and vasoactive intestinal peptides. Carcinoid tumor incidence rates have increased dramatically during the last 25 years. Around 55% of the tumors were found in the digestive tract. Octreotide is a somatostatin analog that inhibits hormone synthesis. This helps to regulate the symptoms of carcinoid syndrome and slow the progression of the tumor.
Request for Customization of this Report @
https://www.researchnester.com/customized-reports- 5047
Somatostatin Analogs, Segmentation by Application
Acromegaly
Neuroendocrine
Somatostatin Analogs, Segmentation by End User
Hospital
Pharmaceutical Companies
Rise in the number of hospitals providing personalized medicines and therapies is expected to boost the growth of the hospital segment and make it the largest contributing segment in the market. Somatostatin analogs are used in the treatment of various conditions, including neuroendocrine, Cushing's syndrome, acromegaly, and others. Their capacity to target specific receptors and pathways correlates nicely with personalized medicine ideas. Precision medicine is currently used by 29% of healthcare providers. Currently, about one-third of healthcare practitioners use precision medicine methods to improve patient care, with the majority focusing on cancer treatment.
A few of the well-known market leaders in the global somatostatin analogs market that are profiled by Research Nester are Sun Pharmaceutical Industries Limited, Novartis AG, Biodexa Pharmaceuticals PLC, Ipsen Pharma, Pfizer Inc., Teva Pharmaceuticals Inc., Camurus AB, Crinetics Pharmaceuticals, Chiasma Inc., and Peptron, Inc.
Recent Developments in the Market
Sun Pharmaceutical Industries Limited has announced to sign the business agreement with Philogen S.p.A. to start the commercialization of specialty products, like Nidlegy, a brand of biopharmaceutical products for cancer. The business will be focussed mostly in the areas of Australia, New Zealand, and Europe.
Novartis AG has announced its intention the acquisition of Chinook Therapeutics, WA based pharmaceutical company in Seattle. This acquisition will drive the focus of the company in the development of innovative medicines and expand the business portfolio of its renal medicines, which also benefits the current product portfolio of the company.
About Research Nester
Research Nester is a one-stop service provider with a client base in more than 50 countries, leading in strategic market research and consulting with an unbiased and unparalleled approach to helping global industrial players, conglomerates, and executives for their future investments while avoiding forthcoming uncertainties. With an out-of-the-box mindset to produce statistical and analytical market research reports, we provide strategic consulting so that our clients can make wise business decisions with clarity while strategizing and planning for their forthcoming needs and succeed in achieving their future endeavors. We believe every business can expand to its new horizon, provided the right guidance at the right time is available through strategic minds.
CONTACT: AJ Daniel Corporate Sales, USA Research Nester Email: [email protected] USA Phone: +1 646 586 9123 Europe Phone: +44 203 608 5919

Disclaimer: The above press release comes to you under an arrangement with GlobeNewswire. AfternoonHeadlines.com takes no editorial responsibility for the same.