Sodium Cyanide Market revenue to cross USD 4 Billion by 2035, says Research Nester
Key sodium cyanide market players include The Chemours Company, Draslovka Holding Company, EPC Engineering and Technologies GmbH, Cynaco International, Sasol Limited, Changsha Hekang Chemical Co., Ltd., Orica Limited, Australian Gold Reagents Pty Ltd., Gujrat Alkalies and Chemicals Limited, and Evonik Industries AG.
New York , Nov. 02, 2023 (GLOBE NEWSWIRE) — The global sodium cyanide market size is slated to expand at 4% CAGR between 2023 and 2035. The market is poised to garner a revenue of USD 4 billion by the end of 2035, up from a revenue of USD 2 billion in the year 2022. The growing production of rare earth minerals is expected to drive market growth. According to estimations, the entire global reserve of rare earths is over 130 million metric tonnes. The majority of these reserves, estimated at 44 million metric tonnes, are in China. Following China in terms of reserve volume, the largest rare earth countries are Vietnam, Brazil, and Russia. In the extraction of gold and silver from low-grade ores, sodium cyanide, and potassium cyanide are widely utilized. With metals, the cyanide ion can generate a variety of complex ions. Electroplating makes substantial use of these complex metal cyanide ions. Cyanide compounds are also utilized in case-hardening of iron and steel, metal polishing, photography, and ship and warehouse fumigation.
Request Free Sample Copy of this Report @ https://www.researchnester.com/sample-request-5174
Sodium Cyanide Market: Key Takeaways
Market in Asia Pacific region to propel the highest growth
The Mining segment to garner the highest growth
Market in North America region to grow at a highest rate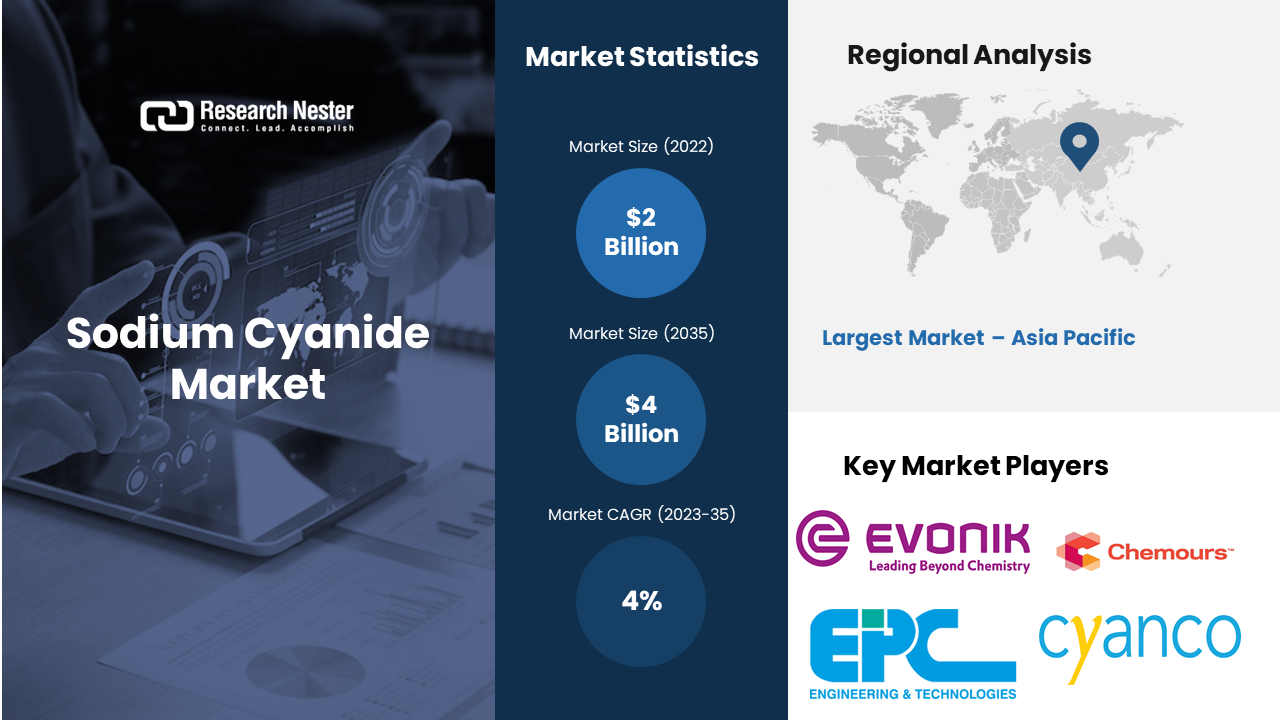 The Rising Investment in the Automobile Sector is to Boost the Growth of Sodium Cyanide Market
The automobile market in India is estimated to garner USD 8-10 billion in domestic and foreign investment by 2023. However, in order to achieve long-term success, investment organizations must overcome a number of economic challenges and market uncertainties. Moreover, in 2021, EU investment in automotive R&D will increase by 0.5% to USD 63 billion per year. Europe continues to be the world's top investor in automotive innovation, surpassing Japan (USD 3.35 billion), the United States (USD 23.69 billion), and China (USD 15.12 billion). The growing investment is expected to raise the production of automobiles in the world which will further increase the demand for sodium cyanide.
Sodium Cyanide Industry: Regional Overview
The global sodium cyanide market is segmented into five major regions including North America, Europe, Asia Pacific, Latin America, and the Middle East and Africa region.
Rising Production of Automobiles Including Electric Vehicles is to Elevate the Market Growth in Asia Pacific Region
The countries in the Asia Pacific have put forward an initiative called ESCAP in August 2022. The project aims to streamline the conversion of the transportation sector from fuel vehicles to electrically powered vehicles especially in public transportation. This will significantly cut the emission do greenhouse gases. This reduces the emissions for the transportation industry and also adheres to the aims of the Paris Agreement and its objectives. In order to serve the aims of ESCAP, the countries will begin the implementation of two and three-wheelers. Moreover, the government of Japan in collaboration with UNDP and its climate promise is actively working for the fast adaptation of electronic transport and improve the situation of climate.
Growing Production of Silver to Boost Market Growth in North America
In 2022, the United States will be the world's ninth-largest producer of silver, with output increasing by 6% over 2021. During the five years to 2021, US output fell by 0.24% CAGR and is predicted to climb by 4% CAGR between 2022 and 2026. In addition to this, Newmont, Hecla Mining, Coeur Mining, Rio Tinto, Grupo Mexico, and Lundin Mining are the top silver producers in the United States. During 2020-2021, Newmont's output climbed by 13%, while Coeur Mining's output increased by 5%. Furthermore, the growing demand for automobiles and the presence of leading automobile manufacturers is also expected to drive the sodium cyanide market growth in North America.
Make an Inquiry Before Buying this Report @ https://www.researchnester.com/inquiries-before-buying-5174
Sodium Cyanide, Segmentation by Form
On the basis of form, the solid segment is going to dominate the market growth over the forecast period. The growth of the segment is majorly attributed to the rising production of chemicals.  Sodium cyanide is used as a reagent in chemical reactions at chemical laboratories. It is majorly used in the synthesis of several organic compounds and it acts as a catalyst in the process. According to the American Chemistry Council (ACC), the Global Chemical Production Regional Index (Global CPRI) climbed by 0.4% in April after rising by an additional 1.5% in March. The U.S. Chemical Production Regional Index (U.S. CPRI) increased by 0.5% in April. To reduce month-to-month volatility, both indices are calculated using a three-month moving average (3MMA).
Sodium Cyanide, Segmentation by End User
Mining
Chemical
Pharmaceuticals
Dyes & Pigments
Based on end user, the mining segment will be the largest market revenue holder segment in the global market. The growth is majorly expected on the account of growing sector of renewable energy which will increase the mining of crucial minerals. According to the data from the International Energy Agency, clean energy technology deployment is driving up consumption of minerals such as lithium, cobalt, nickel, and copper. clean energy technology deployment is driving up the consumption of minerals such as lithium, cobalt, nickel, and copper. Between 2017 and 2022, the renewable energy sector was the primary driver of global demand for lithium raising it to three times, a 70% increase in the demand for cobalt, and a 40% increase in the need for nickel.
A few of the well-known market leaders in the global sodium cyanide market that are profiled by Research Nester are The Chemours Company, Draslovka Holding Company, EPC Engineering and Technologies GmbH, Cynaco International, Sasol Limited, Changsha Hekang Chemical Co., Ltd., Orica Limited, Australian Gold Reagents Pty Ltd., Gujrat Alkalies and Chemicals Limited, and Evonik Industries AG.
Request for Customization of this Report @ https://www.researchnester.com/customized-reports-5174
Recent Developments in the Sodium Cyanide Market
The Chemours Company, a leading international chemical research company with market leadership in Titanium Technologies, has signed a binding contract with the intention of selling its Mining Solutions business for USD 520 million in funds to Draslovka Holding a.s., a company specializing in cyanide production. Subject to regulatory clearances and other usual closing under certain circumstances, the transaction is scheduled to close in the fourth quarter of 2021.
Draslovka Holding Company has announced to buy Sasol South Africa Limited ("Sasol")'s Sodium Cyanide business in Sasolburg. Draslovka is a leading producer of cyanide-based chemical specialties and agricultural chemicals which include fumigants and biocides. The purchase will enable Draslovka to additionally offer enhanced support to South Africa's mining and related businesses, but will also boost the exports of the country while offering more consumers Draslovka's superior agricultural products in the long run.
About Research Nester
Research Nester is a one-stop service provider with a client base in more than 50 countries, leading in strategic market research and consulting with an unbiased and unparalleled approach towards helping global industrial players, conglomerates and executives for their future investment while avoiding forthcoming uncertainties. With an out-of-the-box mindset to produce statistical and analytical market research reports, we provide strategic consulting so that our clients can make wise business decisions with clarity while strategizing and planning for their forthcoming needs and succeed in achieving their future endeavors. We believe every business can expand to its new horizon, provided a right guidance at a right time is available through strategic minds.
CONTACT: AJ Daniel Corporate Sales, USA Research Nester Email: [email protected] USA Phone: +1 646 586 9123 Europe Phone: +44 203 608 5919

Disclaimer: The above press release comes to you under an arrangement with GlobeNewswire. AfternoonHeadlines.com takes no editorial responsibility for the same.