Sodexo Stop Hunger Foundation Announces its 2023 Award Recipients
Five Students and Five Sodexo Employees Recognized for Fighting Hunger in their Communities
Sodexo Stop Hunger Foundation 2023 Award Recipients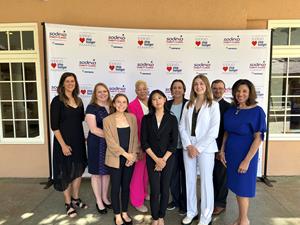 Gaithersburg, MD, June 29, 2023 (GLOBE NEWSWIRE) — The Sodexo Stop Hunger Foundation announced its 2023 Stephen J. Brady Stop Hunger Scholars and Heroes of Everyday Life®. Five students and five Sodexo employees will receive a $5,000 grant to continue their work to fight food insecurity within their communities.
"Since 1999, the Sodexo Stop Hunger Foundation has been working to end childhood hunger with the help of Scholars and Heroes, who are dedicated to fighting hunger in their communities," said Joan McGlockton, Chair, Sodexo Stop Hunger Foundation and Associate General Counsel, Corporate Affairs, Sodexo. "We are so proud of the 2023 Stephen J. Brady Stop Hunger Scholars and Heroes of Everyday Life® for their efforts that are integral in our larger strategy of ending childhood hunger by 2030."
The Stephen J. Brady Stop Hunger Scholars for 2023 are:
•    Charla Teves, Hawaii State Youth Commission Stop Hunger Initiative, Rising College Junior, Honolulu, HI—Charla is a Hawaii State Youth Commission member she, testifies to allocate funds to food banks as well as monitors and advocates on legislation.
•    Sydney Hankin, Securing Safe Food, Rising College Freshman, New York, NY – Sydney is COO of Securing Safe Food, a nonprofit that increases the accessibility of allergen-free food in more than 30 food pantries across 10 states.
•    Grace Callwood, We Cancerve Movement, Rising College Freshman, Abingdon, MD – Grace is prolific in her service efforts, having started We Cancerve Movement at age 7, Breakfast Bags Bonanza when she was 12 to provide breakfast and snacks to kids at homeless shelters and Brunch Box and Brunch Bags to serve kids all year.
•  Natalia de los Rios, Food Rescue U.S. – Virginia Beach, Rising College Freshman, Virginia Beach, VA – Natalia founded and is the site director of Food Rescue U.S. – Virginia Beach, which has coordinated the rescue and redistribution of more than 2.5 million pounds of food.
•    Michelle Song, Community for Environmental Sustainability, Rising High School Senior, Greenville, NC – Michelle founded the Community for Environmental Sustainability (CFES), an initiative focused on environmental and nutrition education and donations of produce through hands-on service-learning opportunities.
The Sodexo Stop Hunger Foundation also awards Sodexo employees who invest time, talent, and resources to fight hunger in their communities. These employees, recognized as Heroes of Everyday Life®, are honored for their efforts raising funds and awareness, coordinating food drives, volunteering in food pantries, and supporting food recovery programs among other outreach.   
"Every year, we are proud to honor exceptional employees whose dedication brings us closer to our goal of ending childhood hunger," said Roxanne Moore, Executive Director, Sodexo Stop Hunger Foundation. "Mashaye, Molly, Chris, Becky, and Robin—thank you and congratulation, your service is exceptional and inspiring."
The 2023 Heroes of Everyday Life® are:
•    Mashaye Barr, Area Support Manager, Medstar Health, Owings Mills, MD – Mashaye, who is no stranger to food insecurity, works with local organizations to develop culinary programs, and she gets in on the action by educating her community through cooking courses and interactive demos.
•    Molly Crouch, Corporate Director of Sustainability, Sodexo Live!, Orlando, FL – Molly has made it her life's mission to donate her time and resources to organizations dedicated to combatting hunger and serving underprivileged communities.
•    Chris Harasta, Retail Operations Manager, Binghamton University, Binghamton, NY – Chris is a passionate volunteer who serves as a site coordinator for VINES' community gardens, an organizer for Food Recovery Network, and the lead for the Binghamton Move Out Project.
•    Becky Schaible, Clinical Nutrition Manager, Prairie Lakes Healthcare, Watertown, SD – Becky joined People Against Child Hunger (PACH) in 2011 to help provide easy-to-prepare weekend meals to youth in her community. Her dedication to the nonprofit has seen her through growing from volunteer to Board President.  
•    Robin Willis, Senior Supervisor, Indiana State University, Terra Haute, IN – Robin's enthusiasm for volunteering is evident from the up to 20 hours a week she devotes to it, on top of her full-time job. She serves with Manna From Seven, to provide free food, clothing, and laundry services.   
Sodexo Stop Hunger Foundation works to ensure that every child in the United States, especially those most at risk, grows up with dependable access to enough nutritious food to enable them to lead a healthy, productive life. In addition to awarding grants to youth scholars and employees, the Sodexo Stop Hunger Foundation provides contributions to several national and local non-profits helping to end hunger, engages Sodexo employees in community volunteerism and supports programs that help empower women. Visit Sodexo Stop Hunger Foundation's Linktree (https://linktr.ee/sodexostophunger) to connect to their social media channels and follow their impactful work throughout the year.
Attachment
Sodexo Stop Hunger Foundation 2023 Award Recipients
CONTACT: Amanda Giffi Sodexo [email protected] 

Disclaimer: The above press release comes to you under an arrangement with GlobeNewswire. AfternoonHeadlines.com takes no editorial responsibility for the same.