Slumberkins Releases New Single Titled "Feelings" from Platinum-Selling Indie-Pop Artist Ingrid Michaelson
Executive Producer Ingrid Michaelson and Talented Music Artists Feature Seven Songs Promoting Emotional Wellness for Children on Slumberkins' New Music Album "Together We Shine, Vol. 1"
Ingrid Michaelson Releases New Song for Children and Families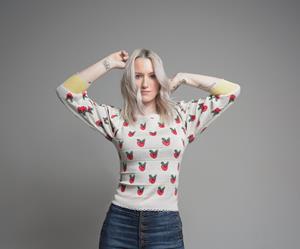 "Feelings" is the Third Single Released in the Highly Anticipated Music Album Drop from Slumberkins
VANCOUVER, Wash., Aug. 11, 2023 (GLOBE NEWSWIRE) — Slumberkins, the leading brand for early emotional learning, announces a new single release from Emmy-nominated, platinum-selling Indie-pop artist Ingrid Michaelson titled "Feelings." The new song is the third single released from Slumberkins' upcoming music album "Together We Shine, Vol. 1," inspired by the Slumberkins books and characters and executive produced by Michaelson.
"Each song on the album represents a Slumberkins creature. And I immediately knew I wanted to write Ibex's song because in the world of Slumberkins, Ibex helps kids to really embrace deep feelings and to know that those feelings and sensitivities are a great gift to have," said Ingrid Michaelson, the album's executive producer. "I was a very sensitive child and continue to be a very sensitive adult and writing about allowing yourself to really feel what you feel resonated with me in a really special way."
Michaelson first began collaborating with the Slumberkins co-founders in 2018 as they began work on the score for the Slumberkins television series in partnership with The Jim Henson company and now streaming on Apple TV+. When Slumberkins co-founders Kelly Oriard and Callie Christensen first thought about the artist and music that embodied the sound and feel of Slumberkins, Michaelson was the immediate answer, as her songwriting hits a deep emotional chord. Michaelson had been looking for a children's project and resonated with the mission of Slumberkins. During production of the television series, talk began about creating a full sonic world for Slumberkins, to share the true therapeutic value of the social emotional learning tools and create more opportunities for connection through music. Michaelson and the Slumberkins co-founders collaborated to bring in renowned artists, including many Michaelson had previously worked with and knew would resonate with the purpose of the music and the project.
"Ingrid has been pivotal in bringing the sound of Slumberkins to life, first in the TV series and now with a full music album," said Kelly Oriard, Co-Founder of Slumberkins and Chief Therapeutic Officer. "Her voice, songwriting and talent so perfectly fit Slumberkins and we could not be more excited for her to bring the song 'Feelings' to the world. This song really gets to the heart of everything Slumberkins teaches, that all feelings are welcome and the more we feel, the more we grow. Understanding our emotions is so powerful and we know how passionate Ingrid is about helping the next generation grow up emotionally healthy."
"Feelings," written and sung by Michaelson, brings Ibex's message of emotional courage to life, encouraging children to embrace their deep feelings and see their sensitivity as a powerful gift to guide and uplift others. Ibex and his story were created to change the narrative around emotional sensitivity and help reframe this gift as a superpower. The story was developed with highly sensitive people in mind, and Michaelson is a true representative of Ibex and using your emotional courage to make the world a better place.
Emmy-nominated, Indie-pop artist Ingrid Michaelson is the lead writer and Executive Music Producer for 'Together We Shine.' Known for her platinum hits "The Way I Am," "Girls Chase Boys" and "You And I," Ingrid has recently composed music for the musical adaptation of 'The Notebook' and various film/TV projects including the 'Slumberkins' Apple TV+ Series, which she enjoys watching with her nieces and nephew.
"Together We Shine, Vol. 1" will feature seven songs for children and families that help promote social-emotional growth by talented music artists A Great Big World, Michaelson, Rachel Platten, Trevor Hall, Britnee Kellogg, AHI and MOsley WOtta. The first single release titled "Heart Family" debuted on June 30 by A Great Big World, the Grammy award-winning duo of Ian Axel and Chad King, and reached No. 2 on the iTunes Children's Music Chart. The second single, "Take a Deep Breath" by Trevor Hall launched on July 28, has already received nearly 100,000 streams and reached No. 3 on the iTunes Children's Music Chart. The full album is scheduled for release on August 25, 2023.
Listen to "Feelings" now on your favorite streaming service including Spotify, Apple Music, Amazon Music, Pandora and Youtube. The lyric video for "Feelings" is available to view and enjoy now on Youtube and fans can pre-order the full album to automatically save to their preferred streaming service as soon as it is available. For more information about Slumberkins and the new music album release, visit www.slumberkins.com.
Media Inquiries
Jenn McFerron Sloan
[email protected]
About Slumberkins
Slumberkins is the leading early emotional wellness brand promoting healthy emotional development through stories and characters in the form of consumer products, books, content, music, school-based curriculum and more. Slumberkins uses original storytelling through its 50+ books in print and popular cuddly creatures to help children connect with a wide range of emotions and empower them to grow into caring, confident and resilient people.
Slumberkins was founded in 2015 by Kelly Oriard and Callie Christensen, both moms with backgrounds in child development and family therapy. Fueled by an appearance on Shark Tank and a growing community of more than 1 million, Slumberkins is continuing to expand its wildly successful consumer products and publishing business across multiple touch points including a new affirmation app and mixed media puppet / 2D animation TV program produced by The Jim Henson Company, based on its plush toys, now streaming worldwide on AppleTV+. Slumberkins has sold more than 1 million books to date while also actively selling curriculum into schools nationwide. To learn more visit Slumberkins.com and follow them on Instagram, Facebook, and Pinterest.
Photos accompanying this announcement are available at
https://www.globenewswire.com/NewsRoom/AttachmentNg/515d2638-0961-4ade-9f42-cf365f6309b3
https://www.globenewswire.com/NewsRoom/AttachmentNg/6aa31f56-f16d-4809-b153-4407f1191588

Disclaimer: The above press release comes to you under an arrangement with GlobeNewswire. AfternoonHeadlines.com takes no editorial responsibility for the same.