Skyline Group of Companies Continues to Strive for Sustainability Excellence with Launch of 2023 Sustainability Report
Skyline Group of Companies Launches 2023 Sustainability Report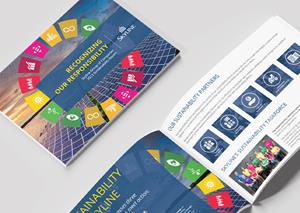 Guelph, Ontario, March 29, 2023 (GLOBE NEWSWIRE) — Skyline Group of Companies, a Guelph, Ontario-based asset acquisitions, management, development, and investment firm, has launched its 2023 Sustainability Report.  
Skyline is no stranger to integrating environmental stewardship, social responsibility, and ethical governance into its company practices. Sustainability is an integral part of Skyline's operations and long-term business plans. Many of its sustainability initiatives have received national and industry recognition. 
The company's 2023 report contains:  
Reporting on Skyline's 2022 sustainability objectives  
The company's new sustainability goals for 2023, how it will achieve them in a measurable and impactful way, and how they fit into the longer-term roadmap of Skyline's sustainability efforts 
The plan also includes a video that shows how Skyline is embodying its sustainability motto, "Recognizing our responsibility," as well as a message to readers from R. Jason Ashdown, Co-Founder & Chief Sustainability Officer, Skyline Group of Companies.
"When it comes to Skyline's sustainability journey, we recognize that there is no 'one size fits all,' no 'perfect,' so we must always strive to be better," said Ashdown. 
"This report summarizes the progress that we've made so far and helps us plan for the future. We hope our actions will inspire others because by working together, we can have a greater impact." 
Skyline thanks each of its Sustainability Partners – staff, tenants, investors, suppliers, and community partners – for their ongoing support and enthusiasm for its sustainability initiatives.  
"With the help of all our Sustainability Partners, we hope to continue to create positive change in our communities in 2023," said Ashdown.  
Stay up to date on Skyline's sustainability initiatives at SkylineGroupofCompanies.ca/Sustainability. 
About Skyline Group of Companies
Skyline Group of Companies ("Skyline") is a fully integrated asset acquisition, management, development, and investment entity.  
It is comprised of companies that provide services in real estate management and development, as well as clean energy management and development. 
Skyline currently manages more than $7.9 billion across its real estate and clean energy platforms.  
With more than 1,000 employees across Canada, Skyline works to provide safe, clean, and comfortable places for tenants to call home, great places to do business, sustainable solutions for a greener future, and an engaging experience for its investors. 
View Skyline's 20th Anniversary celebration video to see how Skyline is grounded in real estate, powered by people, and growing for the future. 
For more information about Skyline Group of Companies, please visit SkylineGroupOfCompanies.ca. 
Attachment
Skyline Group of Companies Launches 2023 Sustainability Report
CONTACT: Jeff Stirling, Vice President, Corporate Marketing & Communications, Skyline Group of Companies Skyline Group of Companies 5198260439 [email protected] 

Disclaimer: The above press release comes to you under an arrangement with GlobeNewswire. AfternoonHeadlines.com takes no editorial responsibility for the same.