Skout's Honor Introduces Oral Care for Pets
Industry-leading pet specialty brand expands again into a new product category with superior oral care solutions
Skout's Honor New Oral Care Line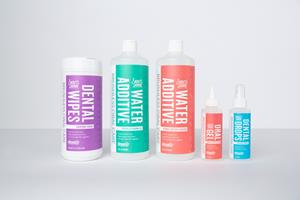 OCEANSIDE, Calif., Sept. 08, 2023 (GLOBE NEWSWIRE) — Skout's Honor, the award-winning pet specialty brand loved for its life-changing pet essentials, today announced that it is going after the pet oral care category with a new line of "brushless" products that break down and prevent plaque and tartar, while freshening breath – fast.  The new line includes water additives, an oral gel, dental wipes and an advanced dental drops solution. 
After providing pet retailers with a special 'sneak peek' and pre-book opportunity at the SuperZoo trade show in Las Vegas last month, Skout's Honor is already well positioned to grace the shelves of thousands of retailers across the country, beginning in Q4, in 2023.  Pet parents have fallen in love with Skout's Honor's products, and the decision to add this line extension from a proven brand has been a no-brainer. 
"Skout's Honor has built a reputation for offering everyday products that provide exceptional results," said Pete Stirling, president and CEO at Skout's Honor.  "The oral care category is expanding rapidly and the industry is in a position to take advantage of the ever-increasing interest in pet wellness. We see this as a great opportunity to leverage the strength of the Skout's Honor brand with our customers, provide a superior solution and ultimately help improve the lives of pets and their people." 
Studies have shown that more than 70 percent of pet parents simply don't brush their pet's teeth, even though it is still recommended as the gold standard among Veterinarians for optimal oral hygiene. With that in mind, Skout's Honor has created a lineup of highly effective "brushlesss" oral care products that more realistically and thoughtfully support the lifestyle of modern pet parents. 
Skout's Honor "Brushless" Oral Care for Pets is a convenient and safe way to support pets' health – from a brand pet parents trust. The products are proven to effectively fight plaque and tartar and freshen breath fast, and make living with and loving pets more enjoyable.  
Skout's Honor Oral Care Line for Pets includes:
Oral Care Water Additives (32oz) – $24.99 MSRP

Convenient alternative to brushing. 
Promotes daily oral hygiene and supports overall pet health
Simply add to water bowl daily, to break down and prevent plaque and tartar build up 
Available in two options: Peanut Butter & Bacon and Fresh & Flavorless

Oral Gel – Peanut Butter & Bacon (4oz) – $16.99 MSRP

Convenient alternative to brushing with toothpaste
Easy-to-apply tip for coating teeth and gums
Flavor that dogs love!  

Advanced Dental Drops (4oz) – $19.99 MSRP

Convenient alternative to brushing with toothpaste
For targeting specific "problem areas" with stains & tartar buildup
Spray-free pump, so will not startle sensitive pets
Flavorless, odorless – dog & cat friendly

Pet Dental Wipes (50ct) – $16.99 MSRP

Convenient alternative to brushing with toothpaste
Quick and easy way to remove plaque, prevent tartar and freshen breath
Plant-based, biodegradable fibers
Flavorless, odorless
Interested in carrying Skout's Honor's new Oral Care line?  
Contact: [email protected] for distribution and direct sales opportunities. The new Oral Care line will be available and ready to ship, starting November 1, 2023 – just in time for Pet Dental Month (February 2024).
In addition to its latest Oral Care launch, Skout's Honor is best known for its life-changing Probiotic Grooming and Topical Wellness Products, plant-based, powerful Stain and Odor Products, Flea + Tick solutions and preventative Training Aids.
Skout's Honor is distributed in the US and worldwide including Canada, Mexico, Panama, South Africa, the United Kingdom, and Chile.
About Skout's Honor
Skout's Honor is an award-winning, environmentally and socially conscious company that is known for making life-changing pet essentials. Product categories include Plant-Powered Cleaning, Probiotic Grooming & Wellness, Preventive Training Aids and Flea + Tick Solutions.  Founded in California in 2015, Skout's Honor changes what people expect from a pet product by providing innovative solutions to everyday problems that dramatically improve the quality of life for pets and their people. The Skout's Paw Pledge (Buy a Bottle, Feed an Animal) program enables customers to donate a day's worth of food to an animal in need with every product sold. To date, more than 15 million meals have been donated. For more information, please visit www.skoutshonor.com
Media Contact:
Julie Reva, PR
Skout's Honor
[email protected]
A photo accompanying this announcement is available at https://www.globenewswire.com/NewsRoom/AttachmentNg/e5263bc6-2558-4e62-b92e-fe40ddfd0bf3

Disclaimer: The above press release comes to you under an arrangement with GlobeNewswire. AfternoonHeadlines.com takes no editorial responsibility for the same.