Sisters of the Valley Launch Subscription Services
In Their Journey to Keep Up with Amazon
Sister Halla Labeling and Packaging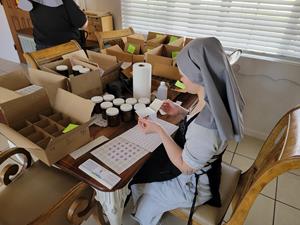 Visiting Media in the Shipping Room
Merced, California, Feb. 24, 2023 (GLOBE NEWSWIRE) — The Sisters of the Valley announce the availability of subscription services on their store, and this culminates a two-year project of trying to compete with Amazon in every way.  Twenty-four months ago, at the beginning of this undertaking, the Sisters knew that by the time they completed everything they needed to do to compete, the bar would move once again to something else.  Undeterred, they charged forward.
Today, with the release of subscription services, it culminates that first phase of upgrades for the sisters' operations. 
"Subscription services are a big deal," said Sister Kate, "Because people don't want to be bothered with chores that can be automated.  Subscription services automate purchasing chores and we really think that's the one feature that makes Amazon a popular place to shop."
If a customer knows they buy a new tin of mushroom coffee every month, they can simply arrange that and get a handsome discount for doing so.  Customers who buy the Sisters' largest jar of salve usually only need to replenish every nine months, and now they can schedule that replenishment on the store. 
When the pandemic started and the sales plummeted, the Sisters of the Valley didn't ask, 'what would Jesus do?', but rather, 'What is Amazon doing?'
"From our vantage point two years ago, it looked like it would be impossible for us to ever compete with Amazon," admitted Sister Sophia.  "Things like same day shipping, alerts every time your package moves from one point to another, points for purchases, build-your-own-bundles, a chat-bot using artificial intelligence that helps the buyer in many ways . . . those things all seemed so out of reach for us."
The Sisters had to endure the cost and labor of two store conversions and a change in credit card processors to get here. 
But today they stock three shipping locations, one on the east coast and two on the west coast, in order to ensure that an order that comes in before noon, goes out the same day and orders after noon, no later than the next morning.  The customer gets alerts every time the package moves.
Today, the store offers a customer loyalty 'points-earned-with-every-purchase' program, the ability for customers to build-their-own bundles for self-styled discounts, and a helpful store chat-bot.  "Our chat-bot is British', reports Sister Maria, "But no one has noticed yet."  She is making a joke, but it is, indeed, powered by a team in England.
"These features and functions are all things that the big box stores can put in place in 30 days.  For small, home-grown businesses like ours, we had to build it brick by brick.  It took us nearly two years," said Sister Sophia.
The Sisters make all their products by hand on their farm in the central valley of California.  They make them by the cycles of the moon, in a spiritual environment, and with a few exceptions — like Canada and Russia, the sisters ship their products worldwide.
For more information about the sisters, visit their store:  www.sistersofthevalley.org
Attachments
Sister Halla Labeling and Packaging
Visiting Media in the Shipping Room
CONTACT: www.sistersofthevalley.org Sisters of the Valley (209) 500-6008 [email protected] 

Disclaimer: The above press release comes to you under an arrangement with GlobeNewswire. AfternoonHeadlines.com takes no editorial responsibility for the same.