Sightline Commercial Solutions Expands and Elevates Custom Capabilities
Colored Glass – Lowe's HQ, Mooresville, N.C.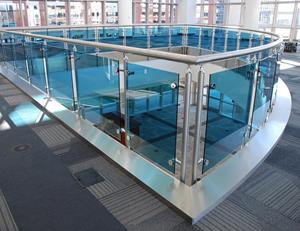 Glass Fin Railing – MSP Airport, Minneapolis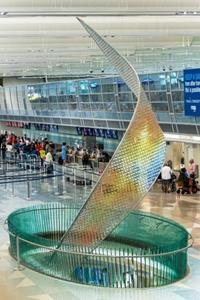 MINNEAPOLIS, Aug. 22, 2023 (GLOBE NEWSWIRE) — For over 30 years, Sightline Commercial Solutions has been a go-to resource for architectural railing and staging solutions for the commercial, sports venue, live entertainment and performing arts industries. What you may not realize is the company also specializes in designing and fabricating custom metal structures and architectural elements.
Thrust into this arena somewhat organically as customers sought fabrication assistance outside of railing and staging, Sightline Commercial Solutions has leveraged its design and engineering expertise through the years to create some of the most distinctive and memorable combinations of function and art – from the I-35W Bridge Memorial in Minneapolis to a custom steel and glass enclosure for a paddle tennis court on the 40th floor rooftop at 11 Times Square in New York City. Building on its legacy of engineering excellence, the company is elevating its profile as a custom fabricator of railing, staging and much, much more.
"While railing and staging are often our foot in the door, customers are increasingly coming to us with other types of projects based on our versatile capabilities and reputation for quality and custom solutions," said Jon Chase, vice president of engineering and marketing for the Minneapolis-based company. "Given our engineering and advanced modeling capabilities, our team can bring nearly any vision to life."
Beyond its industry-leading commercial railing and staging offerings, Sightline Commercial Solutions can custom fabricate canopies and sunshades, wall panels and facades, liftgates, glass windscreens, green screens, commercial pool covers and one-of-a-kind metal and glass structures. The company also offers structural glazing capabilities for glass stairs and railing panels, skylights, canopies, interior/decorative walls and exterior edge-supported glass. These systems can be developed with architects to suit budgets and customized with everything from cast spider fittings for point supported glass to vertical steel trusses, aluminum extrusions or stainless-steel fins.
Following are just a few examples of how Sightline Commercial Solutions has worked with clients to create signature, standout architectural elements:
Custom Canopies – Target Field, Minneapolis
Custom fabricated canopies situated throughout The Plaza area provide relief from the sun and heat, allowing fans to comfortably eat, drink and socialize during Twins games.
Metal Wall Panels – Audi Field, Washington, D.C.
This 60-foot-tall wall of perforated metal panels allows air to flow freely through the venue and creates a clean, sleek design that attracts the eye and mirrors the arena's outward-facing windows. Custom panels also flow seamlessly around the building's exoskeleton to complement the architectural curvature of the venue.
Glass Fin Railing – MSP Airport, Minneapolis
Suspended through an oval opening between the ticketing and baggage claim levels at Minneapolis-Saint Paul International Airport's (MSP) Terminal 1 is a 29-foot-high glass and metal sculpture called "The Aurora." Designed by artist-engineer Jen Lewin, the eye-catching focal point is made even more dramatic by a custom-designed and fabricated elliptical perimeter system. Featuring 90 linear feet of high-end glass fin railing panels positioned vertically around the second story overlook and framed with stainless-steel handrail, the ultra-custom system offers an artistic complement that protects both onlookers and the sculpture itself.
Custom Pool Cover – Omni La Costa Resort, Carlsbad, CA
Nestled among the rolling hills of the Pacific Coast, Omni La Costa's pool deck enjoys sweeping views of the resort's golf course and neighboring community. To enhance the footprint and functionality of the space for the resort's ever-changing event needs, Sightline designed a custom platform system to precisely fit the dimensions of the pool. The clear, acrylic surfaces allow guests to "walk on water," while integrated lights create the ultimate dance floor experience. Custom glass railing provides protection while optimizing the surrounding vista.
Corrugated Colored Panels – Abaca Apartments, San Francisco
Corrugated aluminum panels staggered and finished in an array of colors add brightness and whimsy to the building's exterior, helping it to stand out from neighboring warehouses.
Colored Glass – Lowe's HQ, Mooresville, N.C.
Sometimes all a building needs is a touch of color to make its individual elements truly shine. For the home improvement giant's new corporate headquarters, Sightline designed glass railing systems for the building's interior and exterior spaces, including the use of on-brand blue tempered glass with stainless steel commercial railing for the monumental seven-story staircase at the center of the complex.
"Thanks to our in-house experts and advanced modeling tools – including high-definition surveying, finite element analysis, dynamic analysis and seismic design – our designers are capable of turning the impossible into the possible, no matter the size, shape or scale of the project," said Chase. "From signature features to architecturally sensitive elements, we're equipped with the engineering experience and architectural acumen to realize the most ambitious visions."
To learn more about Sightline Commercial Solutions, visit www.sightlinecommercial.com.
About Sightline Commercial Solutions
Based in Minneapolis, Sightline Commercial Solutions is a leading fabricator and global supplier of architectural railing, metal, glazing and portable platform solutions for the commercial, sports venue, live entertainment and performing arts industries. Since 1990, the company has specialized in providing innovative solutions for the most complex challenges. For more information visit https://www.sightlinecommercial.com.
Contact: Mike Tishka 
L.C. Williams & Associates  
312/565-3900 
[email protected]
Photos accompanying this announcement are available at
https://www.globenewswire.com/NewsRoom/AttachmentNg/e14ca42e-369e-41f5-975a-834e2b25f451
https://www.globenewswire.com/NewsRoom/AttachmentNg/ae459526-901a-40ef-8c99-4e47f42a2d95

Disclaimer: The above press release comes to you under an arrangement with GlobeNewswire. AfternoonHeadlines.com takes no editorial responsibility for the same.