Sierra Grande Outlines Substantial Molybdenum Copper Silver Target at Eastern B&C Springs Project, Western Nevada
Surrey, British Columbia, Nov. 15, 2023 (GLOBE NEWSWIRE) — Sierra Grande Minerals Inc. (the "Company" or "Sierra") (CSE: SGRO) (OTCQB: SIERF) (FSE: SRR) ("Sierra" or the "Company") is pleased to provide an update on the mineral potential of the eastern B&C Springs Project.
As part of its ongoing work, Sierra has acquired a database related to drilling undertaken on the northeastern part of its B&C Springs property, mainly during the 1970's and early 1980's. The drilling aimed to delineate a zone of molybdenum (Mo)-copper (Cu)-Silver (Ag) mineralization, which formed the basis for several reports and compilations written as recently as 2007. While the Company is not relying on these historical sources to recalculate a NI43-101 compliant resource on the property, the data included in them have been compiled and analyzed by Sierra, and include partial assays for 43 vertical drill holes, many of which yielded intersections of significant grade and width. Furthermore, the data indicate that 127 holes were drilled on the Property, and the results suggest that the modelled Mo-Cu mineralized zone encompasses an area roughly 2000 x 2300 m and that it remains open along strike (see Figure 1). In September 2023, Sierra also located the B&C Springs drill core, and with permission from the storage facility owner, was able to gain access to perform an initial review of its condition. Sierra's initial assessment suggests that greater than 80% of the core is intact and in excellent condition, in cardboard core boxes that were stacked on pallets and shrink-wrapped in plastic. Sierra estimates there are greater than 40 pallets containing between 75 and 100 boxes of core per pallet (See Images 1 to 4). Sierra's next steps are to have a geologist perform a more complete review of the core to assess its geological value in the context of the B&C Springs project. Figure 1. Long Section showing historical drilling at B&C Springs with Cu and Mo results highlighted
The Upside
In 2022, Sierra undertook a soil geochemical survey across the B&C Springs Property aimed at evaluating the precious metals potential. From that work, a northwesterly trending copper-in-soil geochemical anomaly, partly coincident with Mo and Ag, was outlined. This anomaly extends beyond the historically drilled area in both directions (see Image 2) and remains open. The historically drilled area has a relatively muted geochemical response (see Image 2), largely because the mineralized zone is capped by a weakly mineralized greenstone or diorite body (see Image 1).
The Company also completed reconnaissance geological work that suggests the multi-element soil geochemical anomaly is co-spatial with variably veined and chalcopyrite-mineralized granitic dikes that also trend northwesterly. Although the dikes are not shown on regional geologic maps of the Property, geologic maps immediately to the west (Vitaliano and Callaghan 1963, see Figure 2) show an extensive and laterally continuous porphyritic dike swarm which trends southeasterly toward the historically drilled B&C Springs Mo-Cu-Ag zone.
This suggests that the porphyritic dikes and the mineralization at B&C Springs are related, and that further exploration potential exists along this trend. This association is reinforced by the Company's recently completed drone-based magnetometer survey (see news dated March 27th, 2023) which outlines many linear magnetic features on the Property with trends mirroring the porphyritic dikes and the geochemical anomalies.
Planned Work
The Company is taking steps to plan further exploration for the Mo-Cu-Ag potential on the property.  The plans include:
Detailed mapping of the area of historical drilling, and beyond along the trend of anomalous soil geochemistry, with an eye to delineating the presence of porphyry dikes and to investigating their relationship to the mineralization and to the existing soil geochemical anomalies
Detailed review of B&C Springs historic drill core
Surveying and relocating historical drill collars
Infilling and extending the soil geochemical sample grid to better define and understand the distribution of mineralization
Initiate drill permitting of a number of confirmation holes within the area of previous drilling
Sierra's CEO Sonny Janda commented, "The acquisition of the historical B&C Springs dataset in context with Sierra's recent exploration work highlights the potential for the discovery of a significant base metals deposit on the eastern portion of the B&C Springs Property. We look forward to getting the team in the field soon to follow up on these exciting developments."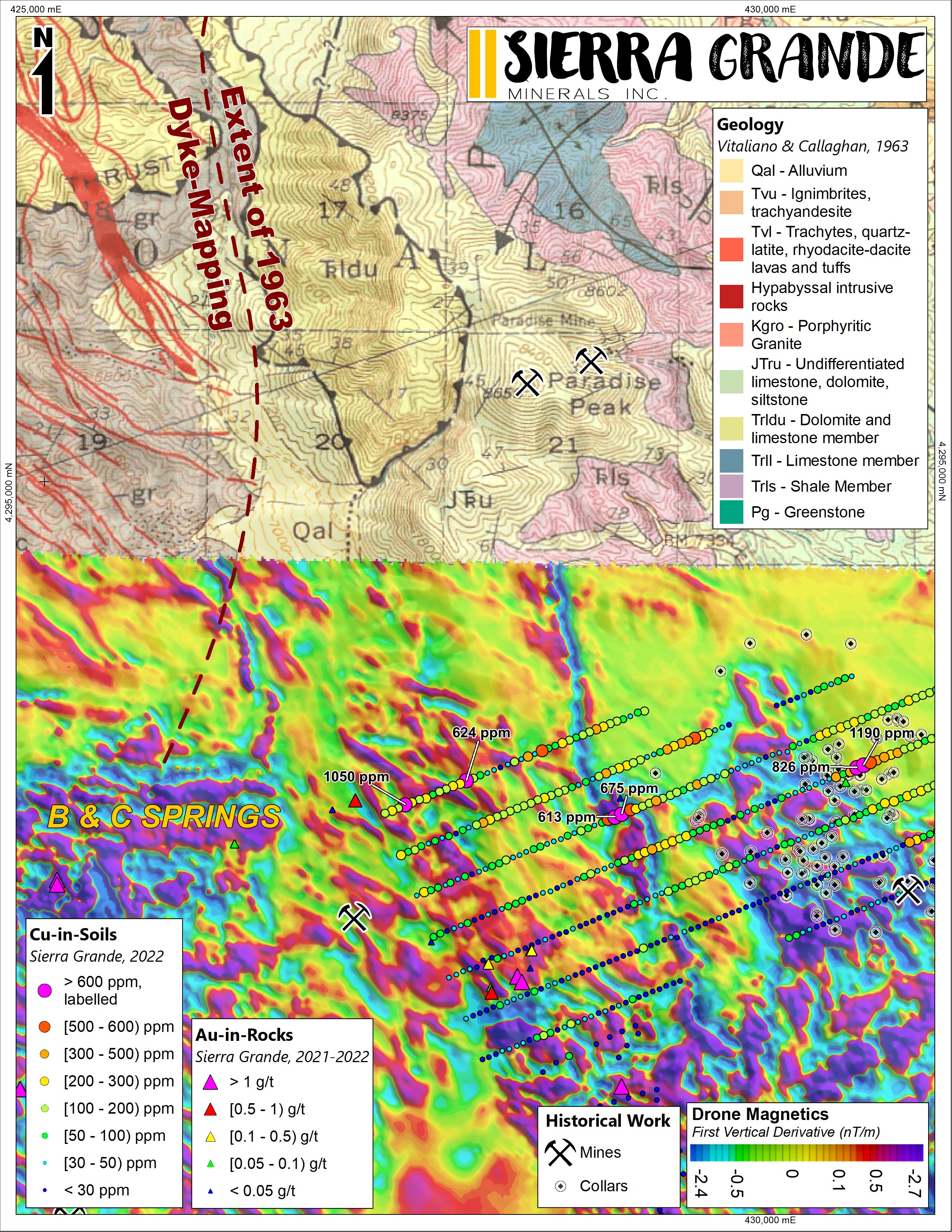 Figure 2. B&C Springs magnetic survey data with Cu-in-soil geochemical results and USGS geological mapping to the north (Vitaliano and Callaghan 1963).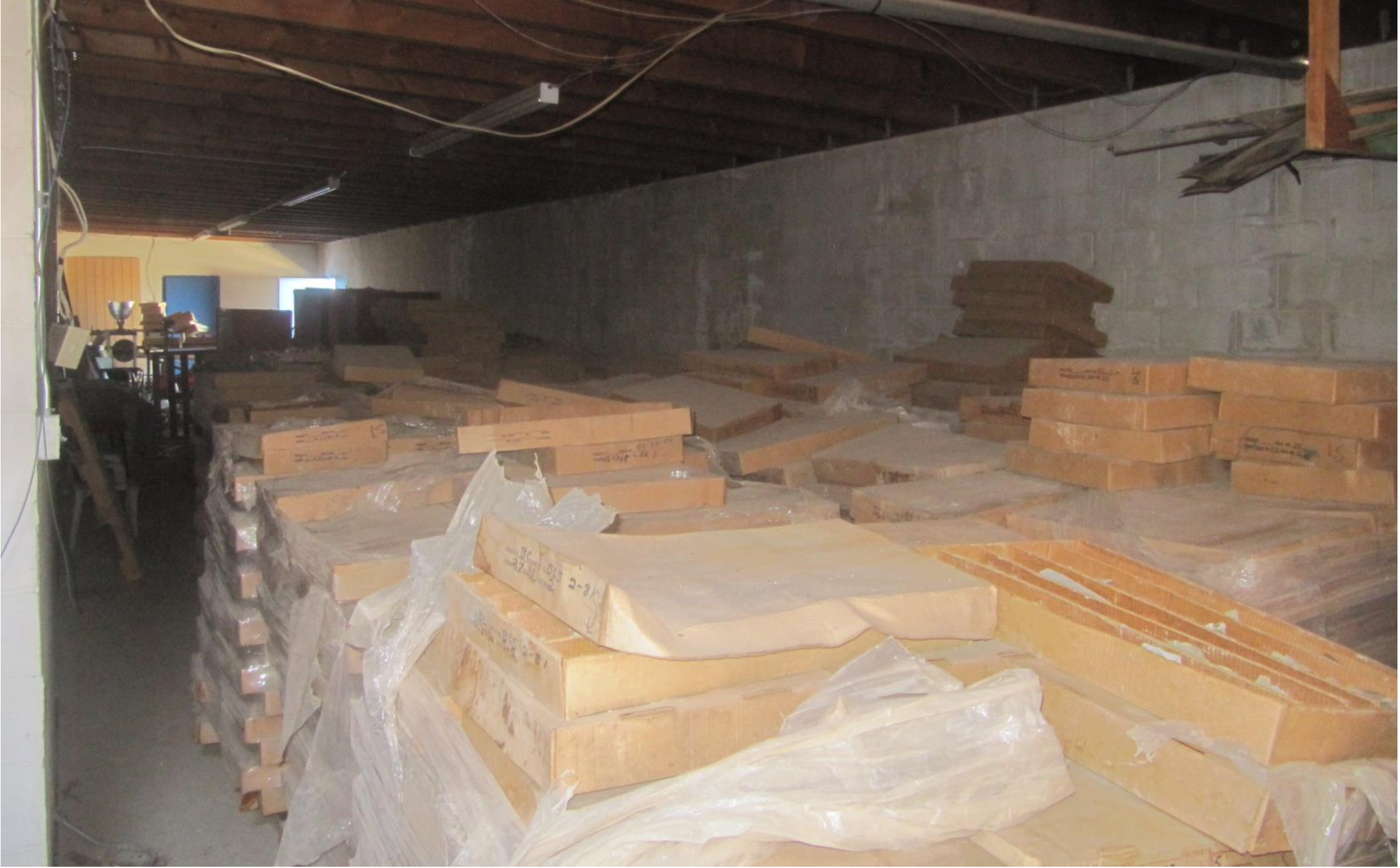 Image 1. Stacked core boxes looking towards south end of storage facility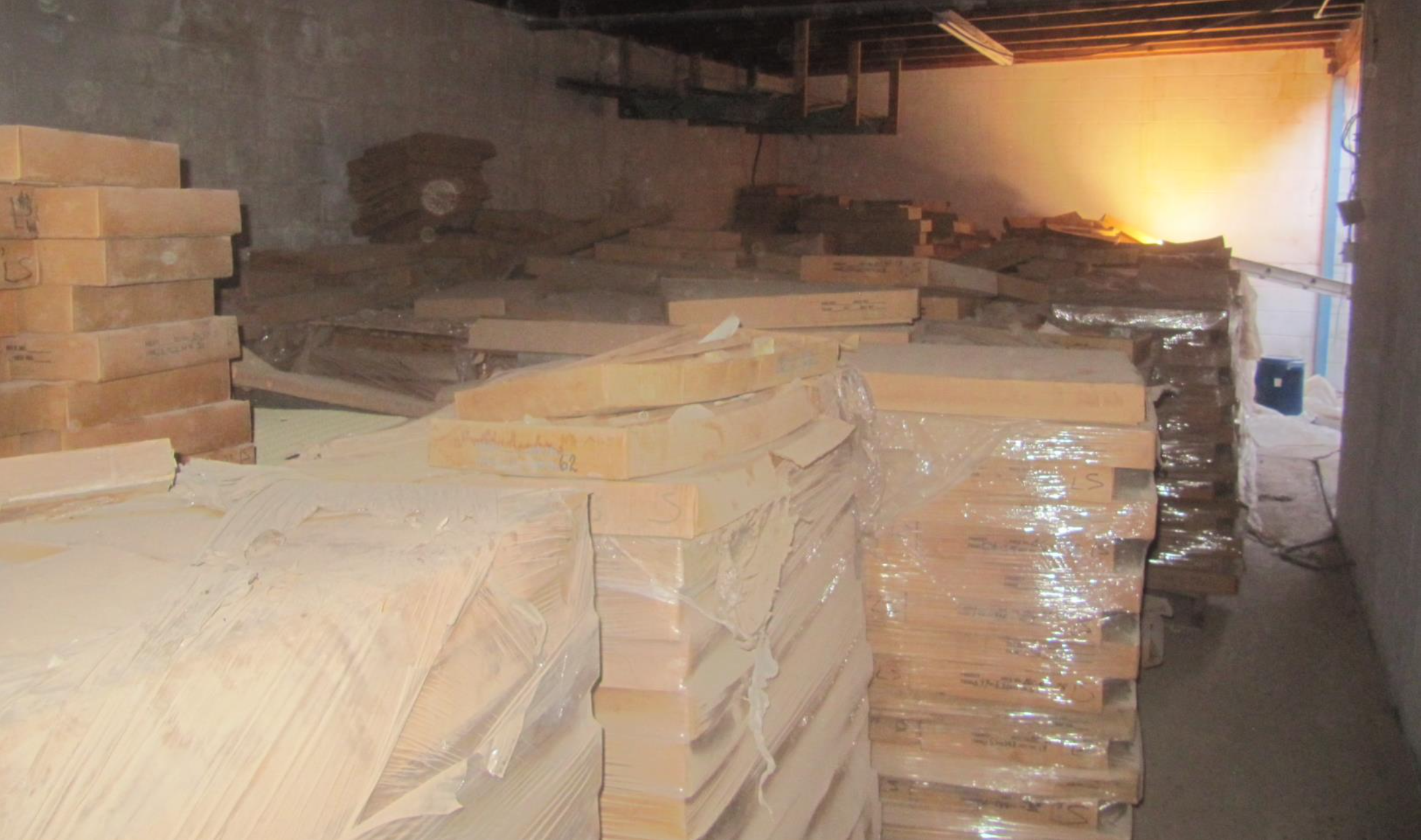 Images 2. Stacked core boxes looking towards north end of storage facility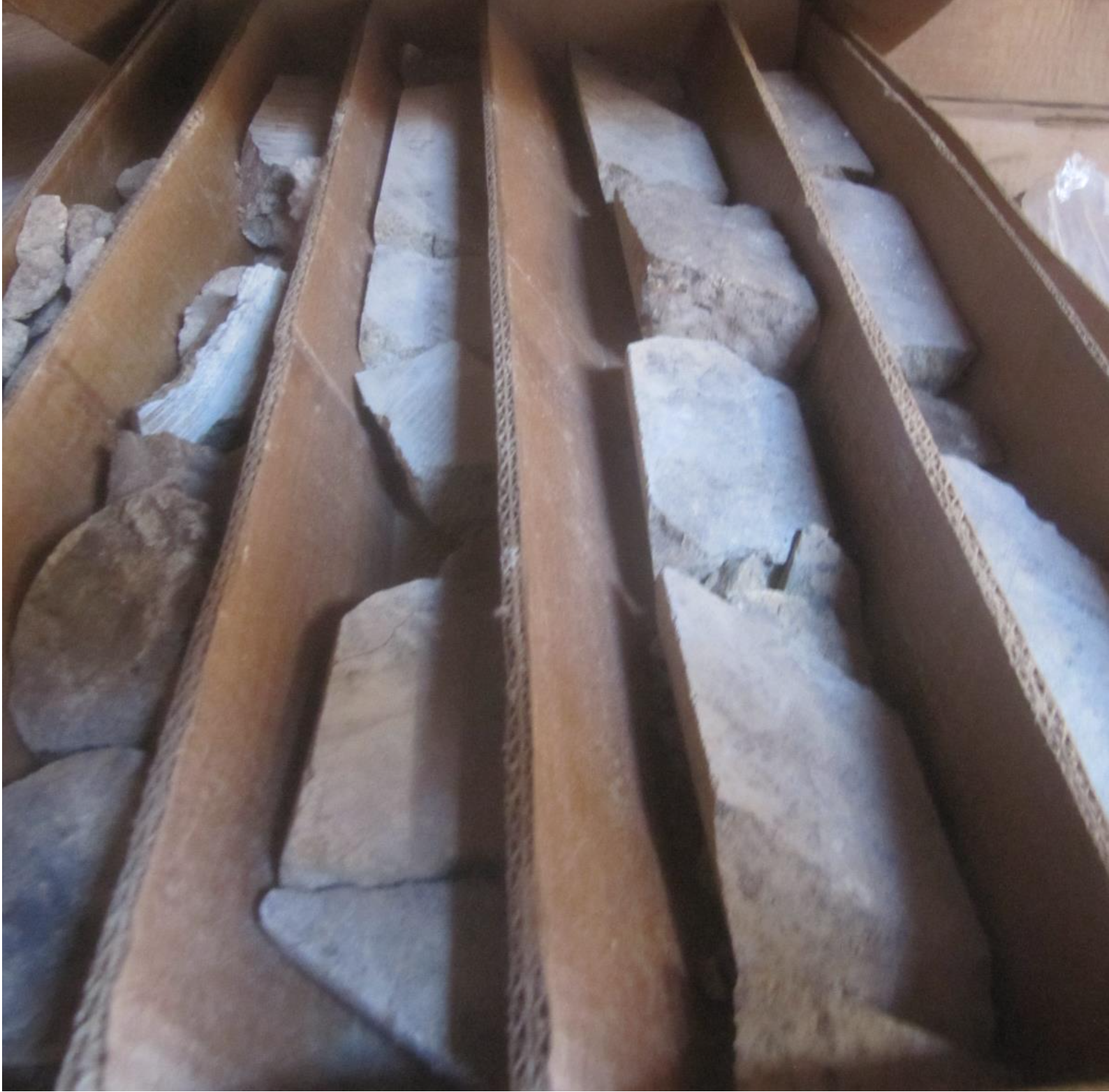 Image 3. B&C Springs core box opened by Sierra with intact core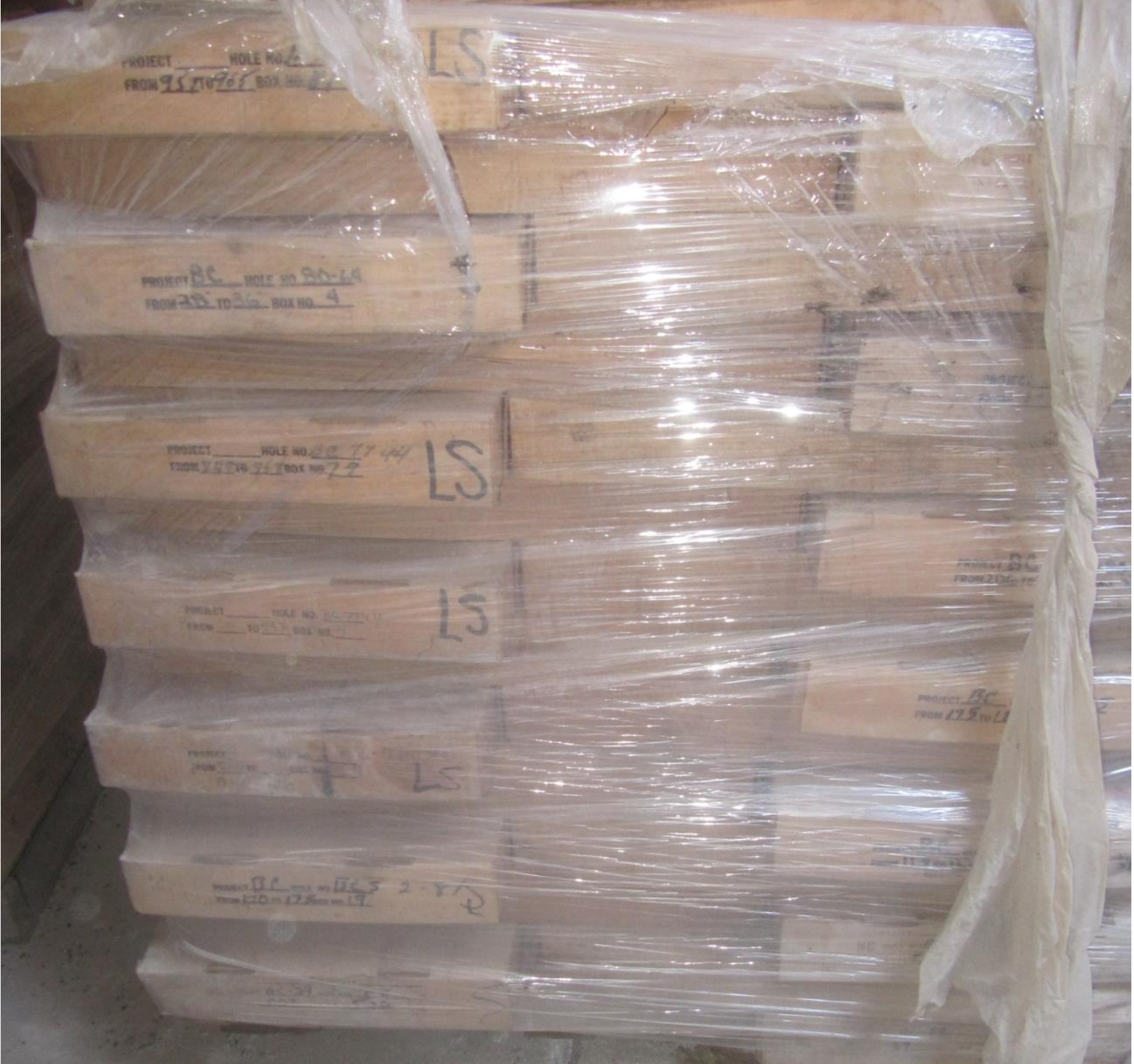 Image 4. Pallet with shrink wrapped core boxes
Director Appointment
The Company welcomes Ben Kramer-Miller to the board of directors. Ben Kramer-Miller has over 5 years of experience in mineral exploration in Nevada. He has worked with multiple publicly traded junior explorers including West Vault Mining, Angold Resources, and NV Gold, focusing on corporate strategy and investor relations. He is a co-founder and former manager of Grandview Exploration, LLC:a private project generator with a focus on gold prospects in Nevada and Arizona.
About the B&C Springs Property
The B&C Springs property is located in the southern Paradise Range in west-central Nevada, within the Fairplay Mining District, which is known mainly for its precious metals potential, but which also hosts a number of copper deposits and occurrences. Notably, the Paradise Peak Mine 5.6 miles to the West/Southwest of the B&C Springs Project produced 1.6 million ounces of gold and 24 million ounces of silver from 1986 to 1994. The B&C Springs property mirrors the potential of the Fairplay District in that it has both base (copper-silver-molybdenum) and precious (gold-silver) metals potential. Much of the focus for previous work at B&C Springs, including a considerable amount of drilling, was on the Mo-Cu-Ag mineralized zone on the east side of the property. However, farther west, in the Mildred Mine area, numerous historical prospecting pits, adits and shallow shafts exist, and the soil geochemical response for gold and silver in that area confirms that there is potential for precious metals mineralization. Still farther west, across the area of the upper pediment blanketing some of the southern part of the property, the Company's expanded property holdings abut Almadex Minerals Ltd.'s Paradise Valley project, which has long been the focus for precious metals exploration (see Figure 1). The historical work on either side of this pediment area hints at expanded potential for precious metals exploration, particularly beneath the shallow overburden of the upper part of the pediment, and that potential was further reinforced by the results of both Sierra's recent drone-based aeromagnetic survey and its staking-related prospecting program, in which grab samples returned values up to 150.5 g/t gold (see above and Image 1).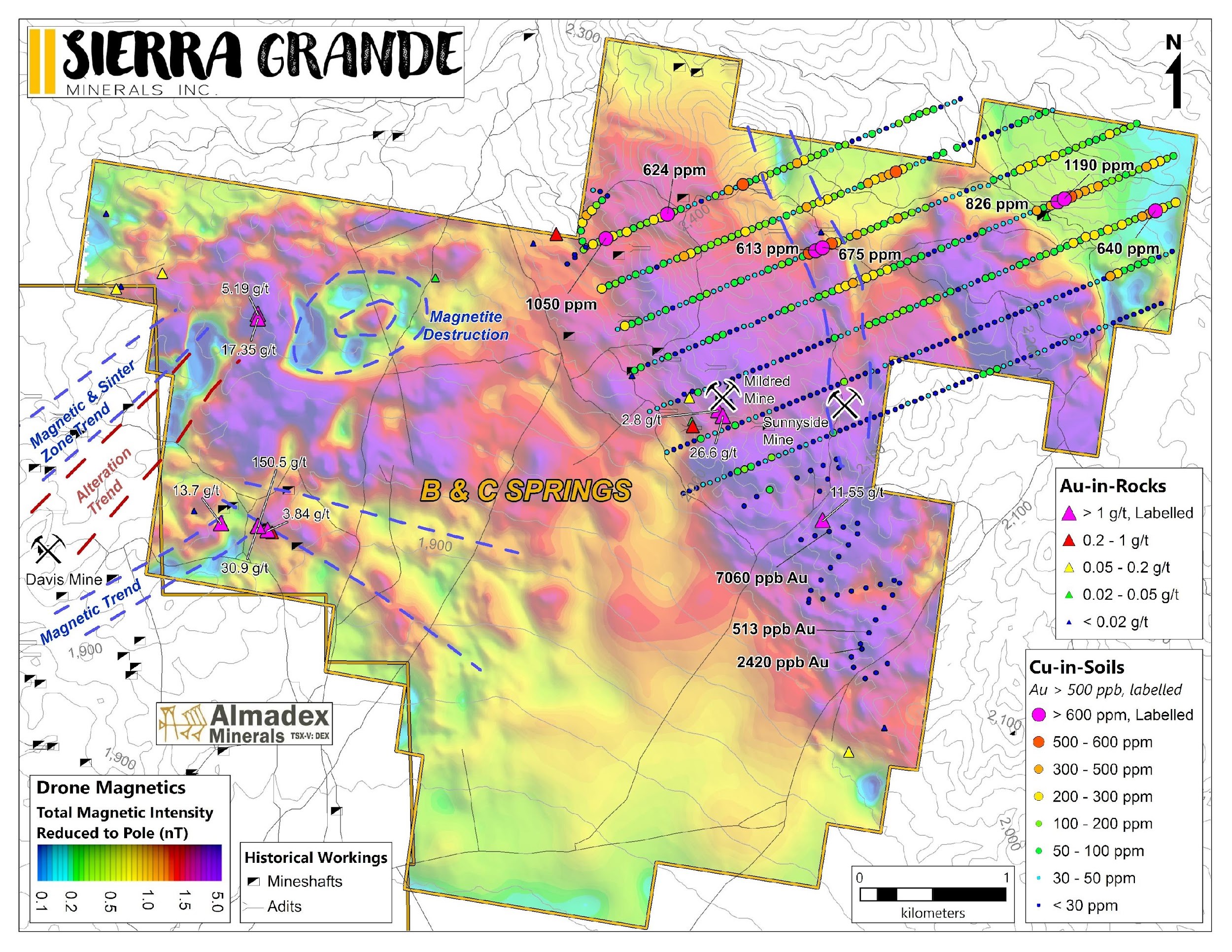 Figure 3. Regional Image of B&C Springs Property with highlighted Cu and Au soil geochemistry results
Technical data pertaining to this new release was reviewed and approved by Charles J. "Charlie" Greig, MSc., P.Geo., a qualified person under National Instrument 43-101.
ON BEHALF OF THE BOARD
Jared Scharf, Director
Contact Info:
Neither the Canadian Securities Exchange nor its Regulation Services Provider (as that term is defined in the policies of the Canadian Securities Exchange) accepts responsibility for the adequacy or accuracy of this release.
This news release includes certain statements that constitute "forward-looking information" within the meaning of applicable securities law, including without limitation, statements that address the timing and content of certain agreements and development. Forward-looking statements address future events and conditions and are necessarily based upon a number of estimates and assumptions. While such estimates and assumptions are considered reasonable by the management of the Company, they are inherently subject to significant business, economic, competitive and regulatory uncertainties and risks, including the ability of the Company to raise the funds necessary to fund its projects and, accordingly, may not occur as described herein or at all. Actual results may differ materially from those currently anticipated in such statements. Factors that could cause actual results to differ materially from those in forward looking statements include Covid-19 restrictions, market prices, exploitation and exploration successes, the timing and receipt of government and regulatory approvals, and continued availability of capital and financing and general economic, market or business conditions. Readers are referred to the Company's filings with the Canadian securities regulators for information on these and other risk factors, available at www.sedar.com. Investors are cautioned that forward-looking statements are not guarantees of future performance or events and, accordingly are cautioned not to put undue reliance on forward-looking statements due to the inherent uncertainty of such statements. The forward-looking statements included in this news release are made as of the date hereof and the Company disclaims any intention or obligation to update or revise any forward-looking statements, whether as a result of new information, future events or otherwise, except as expressly required by applicable securities legislation."

Disclaimer: The above press release comes to you under an arrangement with GlobeNewswire. AfternoonHeadlines.com takes no editorial responsibility for the same.