SECOND FISHER HOUSE UNDER CONSTRUCTION AT AUDIE MURPHY CAMPUS OF THE SOUTH TX VA HEALTH CARE SYSTEM
This Fisher House will double support to veterans of the South TX VA Health Care System
Beam Placement at Audie Murphy VA Fisher House Topping Off Ceremony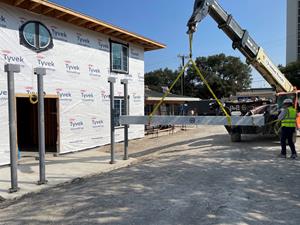 Supporters with Signed Beam at Audie Murphy VA Fisher House Topping Off Ceremony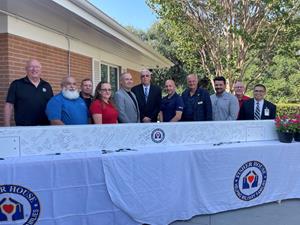 San Antonio, Texas, Aug. 31, 2023 (GLOBE NEWSWIRE) — Fisher House Foundation and the South Texas Veterans Health Care System celebrated the construction of a second Fisher House at the Audie L. Murphy Memorial Veterans' Hospital during a "Topping Off Ceremony." The ceremony, hosted by Deputy Medical Center Director John Mendoza and President of Fisher House Foundation David A. Coker, marked a pivotal moment of the building process as the final beam was placed over the entrance of the new Fisher House that is currently under construction.
Scheduled for completion in 2024, this new Fisher House will join one additional house at the VA medical center, four houses at Brooke Army Medical Center, and three houses at Lackland Air Base. The South Texas Veterans Health Care System Fisher House will be the 14th in the state of Texas and the 97th of the network that stretches across the country and overseas.
The more than 13,000 sq. ft. Fisher House provides lodging for families of veterans and military at no cost, allowing them to be close to their loved ones at the most stressful time, while they are receiving medical care. At full occupancy, it can save military and veteran families more than half a million dollars each year. But more importantly, the new Fisher House allows veterans to receive care they could not readily access in the past without a place for their loved ones to stay.
"We are excited to offer a new option in providing comprehensive care for our veterans and their families," said Mendoza. "The Fisher House will be a place for veterans and their families to find comfort during difficult moments in their care journey. We understand the positive impact it can make for a patient to have family by their side, and the Fisher House makes that possible."
"Military City, USA is home to some of the most incredible military medical facilities in the country," said Coker. "It is only fitting that we add another Fisher House to San Antonio, a community that cares for so many of our military service members, their families, and our veterans."
The new South Texas VA Fisher House has 16 accessible suites, a spacious kitchen, large communal living, dining and family rooms, a laundry room, and a shared patio. The home was gifted to VA upon completion as part of the public-private partnership between Fisher House Foundation and the Department of Veterans Affairs.
Fisher House Foundation proudly recognizes the generosity of the following contributors for their extraordinary support of our military and veteran families: Amazon Web Services, The Adam R. Scripps Foundation, Fisher House Inc., Mr. & Mrs. Peter (Thermis) James, Navy Veteran, James McGinity, Vehicles for Veterans, Master Sgt. James Volstad, US Army (Ret), and the many gifts of a grateful nation.
                                                                                                     ###
About Fisher House
Fisher House Foundation is best known for its network of 95 comfort homes where military and veteran families can stay at no cost while a loved one is receiving treatment.  These homes are located at major military and VA medical centers nationwide, and in Europe, close to the medical center or hospital they serve. Fisher Houses have up to 21 suites, with private bedrooms and baths.  Families share a common kitchen, laundry facilities, a warm dining room and an inviting living room.  Fisher House Foundation ensures that there is never a lodging fee.  Since inception, the program has saved military and veteran families an estimated $575 million in out-of-pocket costs for lodging and transportation.  www.fisherhouse.org
About South Texas Veterans Health Care System
South Texas Veterans Health Care System is comprised of two inpatient campuses: the Audie L. Murphy Memorial Veterans Hospital in San Antonio and the Kerrville VA Hospital in Kerrville, Texas. South Texas VHCS is the fastest growing VA healthcare system and serves one of the largest primary service areas in the Nation.  South Texas is part of the VA Heart of Texas, Veterans Integrated Service Network (VISN 17), with offices located in Arlington, Texas.  With an operating budget of 1.4 billion, South Texas provides healthcare services for 115,000 unique Veterans. 
Attachments
Beam Placement at Audie Murphy VA Fisher House Topping Off Ceremony
Supporters with Signed Beam at Audie Murphy VA Fisher House Topping Off Ceremony
CONTACT: Michelle Horn Fisher House Foundation (703) 819-3177 [email protected] 

Disclaimer: The above press release comes to you under an arrangement with GlobeNewswire. AfternoonHeadlines.com takes no editorial responsibility for the same.